"I lift my lamp beside the golden door." That final and very famous line from the poem engraved on the Statue of Liberty was the inspiration behind the birth of the Golden Door International Film Festival of Jersey City. Not just because of the name, but because of everything it embodies.
Imagine the immeasurable courage it takes to lift yourself up by your bootstraps, leave behind absolutely everything you've ever known, and travel thousands of miles to a place you've never been, with no way of really knowing if it's a good decision or bad ... and no guarantee that what you'll find will be any better than what you left behind. Or even as good as.
The Statue of Liberty was constructed as a tribute to the men, women, and children who risked everything for a dream, based on little more than faith and hope.
It is that same spirit which was foremost in festival founder and director Bill Sorvino's mind when he dreamed up the Golden Door International Film Festival ... and 'dream it' he did, quite literally. Then eighteen months, one hundred and fifty submissions, and forty-three official selections later, his dream came to fruition.
But Golden Door is not your average film fest. Yes, it's about movies. But it is also about so much more. It's about vision. And resourcefulness. And compassion. And freedom. It's about seeing that one shot at a better life and grabbing it, no matter how frightening, no matter how intimidating. It's about looking directly into the unknown and going for it with everything you've got. It's ... well ... simply put ... it's everything. And that's why this festival not only screens independent films exclusively, but reaffirms the heart and soul of what it is to be human, and what it is to be part of a community, by providing scholarships in 'the arts' to young students with dreams of their own, and also, via their own philanthropic initiative, by supporting the surprisingly-widespread but widely-misunderstood issue of Autism.
In fact, this year, the two opening films, "Six Letter Word" (Lisanne Sartor, director) , and "The Odd Way Home" (Rajeev Nirmalakhandan, director), both address the disorder of Autism which afflicts approximately 544,000 Americans (per CureResearch.com). Point of interest, Rumer Willis, daughter of Bruce Willis and Demi Moore, does a delightful job starring in both of these vitally-important films.
None of this came about by accident. It happened because the man behind it all, actor Bill Sorvino, grew up with a belief system firmly rooted in family, community, hard work, dedication, love, and loyalty. Born in Jersey City, coming from a family of Italian immigrants, and growing up enmeshed in the entertainment industry, it's no surprise he feels the way he does.
I must say, as a woman who is passionate about writing, it's easy to spot others who feel the same way about their own craft. That's what drew me to Bill and this festival to begin with, and why I admire him so much. He loves the festival and all it stands for, but he is, first and foremost, an actor. He adores the craft and, while he does involve himself in other things because they are important, the one thing he sees himself doing for the rest of his life is acting. He has performed alongside such industry greats as Paul Sorvino (his uncle), Daniel Roebuck, Eric Roberts, and Sally Kellerman, and has accumulated a bevy of awards and nominations over the past eight years. (Below: Paul Sorvino, Bill Sorvino, and Michele Sorvino)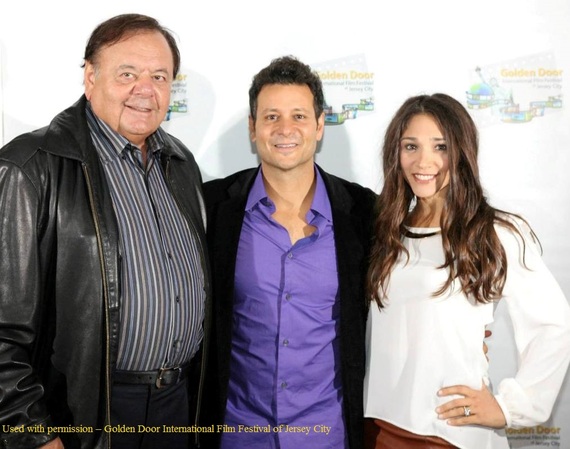 And that's why he does this: he loves the city and he loves the industry, and he is passionate about wanting to provide opportunities for others to live the same dream.
This year, throughout Jersey City, in eight different venues, including the stunning and historic Landmark Loew's Theater in Journal Square Plaza, the Golden Door International Film Festival will screen an impressive ninety-two films, present three seminars, host three galas, two red carpet events, and three after-parties, and provide an all-day filmmakers' lounge at the Grove Square Bistro so industry professionals can network and negotiate.
It is going to be my great privilege, as the official writer of the festival, to be there all four days, attend all of the events, and meet and speak with a whole host of brilliant, talented men and women, including Bill's cousin, Oscar-winning Mira Sorvino, who is also one of the festival's directors. I cannot wait!
The fest will take place on Thursday, September 18th through Sunday, September 21st, with the Tommy Hilfiger-sponsored Opening Gala on Tuesday, September 16th. For more information, please visit the official website: http://goldendoorfilmfestival.org/.
Pamela S. K. Glasner is a published author, filmmaker, social advocate, and contributor to Cabaret Scenes Magazine. Learn more about Ms. Glasner at http://www.starjackentertainment.com/ or Facebook https://www.facebook.com/pamela.glasner.
Copyright by Pamela S. K. Glasner © 2014, All Rights Reserved