What is it you need in the greatest quantity in order to launch and maintain a successful film festival? Well, if you ask Denise Gossett, founder and director of Shriekfest Horror Film Festival, Hollywood's preeminent celebration of independent horror films and screenplays for the past fourteen years, she'll tell you: it's naiveté! As an author and filmmaker myself, I can unabashedly attest to that - sometimes there is grace in not knowing it can't be done!
In 2001, after starring in "Chain of Souls", and then wanting to publicize it, Denise could not find a film festival specific to horror in the US, so she decided, a the end of August, to start her own. "It'll be a nice little part-time hobby," she thought. Yeah, right! She enlisted her sister-in-law's help and, between the two of them, went from conception to 'doors open' in just over two months.

What's even more notable is that 9/11 happened right in the midst of all their plans. It was a concern. Should we do it? Should we not? But in the end, they chose the path that most of America did: keep on living, and keep on living well.
There were 45 submissions, including screenplays (Shriekfest offers screenwriters a competition of their own) and out of them, a dozen films were screened.
Since then, the festival has grown so much that submissions are "through the roof," as Denise describes it, well over a thousand, and it now takes a staff of 40 judges, including herself, to sift through the indescribable talent and finally settle upon the top 10 or 11 features and 35 shorts that Shriekfest's loyal fans will see. "People don't realize how hard it is," she confided just a few weeks ago. "There's just so much incredible talent out there. I would love to grab the entire 'yes' pile and just show them all, but there just isn't enough time!"
But Denise is so committed to the genre and to honoring the artists who worked hard enough to have created a film worth submitting, that all the entrants, even those who do not make the final cut, receive free passes to the festival. She wants them to come; she wants them to network; she wants them to know they are respected and appreciated; she wants them to get all the benefits a festival can offer.
And Shriekfest does have a lot to offer. Because of the status this festival has attained over the years, it attracts films with A-List stars, such as "Malignant" starring Brad Dourif, and it attracts top-of-the-line directors such as Kevin Greutert (the "Saw" movies IV, V, VI, and 3D, as well as "The Collection"), Mike Flanagan ("Oculus" and "Absentia") and Olatunde Osunsanmi ("The Fourth Kind"), plus distributors such as Lionsgate.
I do feel I must confess: until I started truly paying attention, not just to the story unfolding before me on the silver screen, but to the minutia of what was going on behind it - the methods the director used to mesmerize or paralyze or startle or amuse or horrify or disturb (and, of course, just generally entertain!) his or her audience - I never 'got' the attraction to this genre. But now, I have a whole new outlook, a whole new respect for it, and I'm glad, because there is so much that these passionate, talented, incredibly creative, and gloriously twisted artists have to offer! Of course, I still can't abide watching human beings get ground up into hamburger, but there are enough varieties within the overall umbrella of "Horror", that there really is something for everyone.
So, I invite you to join Denise, her staff of 50-plus, the contenders and the submitters, me, and the 3000-or-so brave souls who'll be parting with their hard-earned cash just for the privilege of having the tar scared out of them for four consecutive days, when we all attend this year's Shriekfest Horror Film Festival at the Raleigh Studios, 5300 Melrose Ave., in Hollywood, California, on October 2nd through 5th.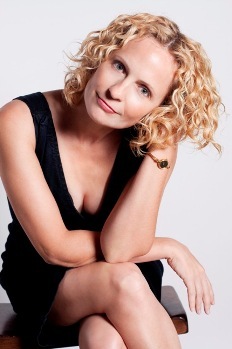 If you are interested in additional details about the fest, please visit this link: http://www.shriekfest.com/
Pamela S. K. Glasner is a published author, filmmaker, social advocate, and contributor to Cabaret Scenes Magazine. Learn more about Ms. Glasner at http://www.starjackentertainment.com/ or Facebook https://www.facebook.com/pamela.glasner.
Copyright by Pamela S. K. Glasner © 2014, All Rights Reserved