The Oxford English Dictionary defines 'phenomenon' as an occurrence, perceived through the senses, the cause or explanation of which is in question. I cannot imagine a more fitting description for The Midtown Men and the exhilaration which both precedes and follows their every public appearance.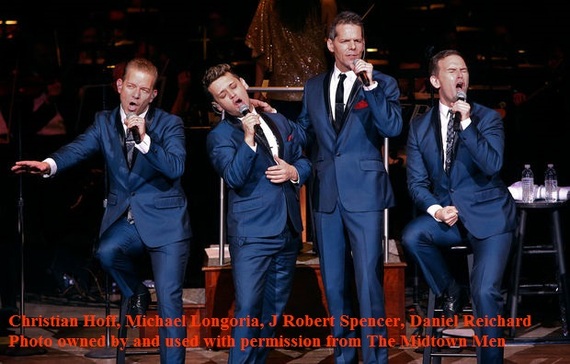 It is going to be my supreme privilege to introduce you, over time, not only to their music, but the intimate thoughts and feelings of these brilliant performers, as well as some of the talented and generous 1960s artists whose music they so exquisitely honor.
So - imagine you're entering a large theater. There's an electric charge in the air. The room is buzzing with anticipation and the sounds of 3400 fans filing in: the murmur of quiet conversations, ushers showing people to their appointed rows, coats being draped over seat-backs. Pretty much like any other evening at the theater. Until the lights go down and you hear, "Ladies and gentlemen - The Midtown Men!" Then all bets are off as four men with boundless energy, glorious voices, and outfits right out of the 1960s, grab you by your gut and keep you absolutely entranced - reminiscing, singing, laughing, applauding, cheering, and whistling - and so thoroughly entertained, you can't get enough.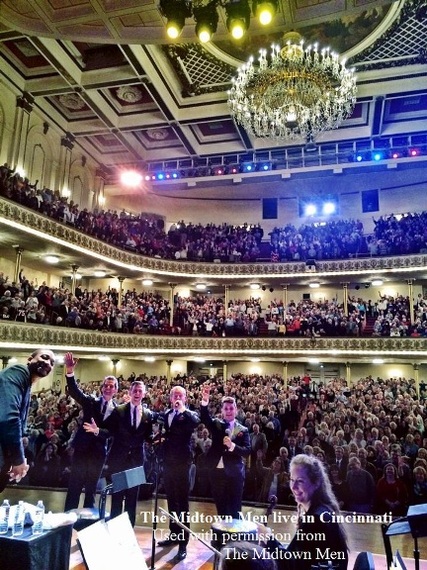 These magical men are Christian Hoff (Tony Award winner), Michael Longoria, Daniel Reichard, and J. Robert Spencer (Tony Award nominee): the four stars from the original Broadway cast of Jersey Boys.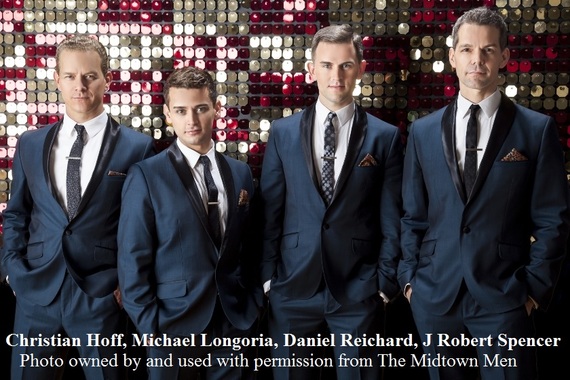 So - what is it about these guys that makes them so different? No-one ever could create another Woodstock - though not for lack of trying - so how is it that these men managed to take that decade of music and make it as powerful and relevant now as it was back then?
Renowned musician Tommy James (Tommy James and the Shondells) explained it this way: "In the 60's, all the ducks were in a row. You had the entire media ... TV, the record business, radio ... all looking for that next big act, all on board. Plus you had about 70 million baby boom kids suddenly let out on the street, all of them with money in their pockets. Everything was right."
And it's happening all over again. "The excitement that comes over the crowd," Tommy said, "is very real."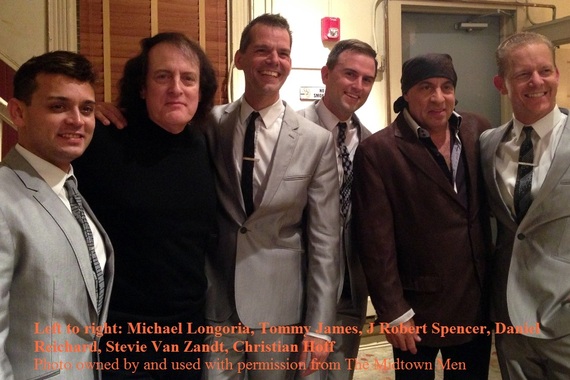 And why is that? There's something about their presence on stage: a combination of their magnificent voices, their unequivocal commitment to excellence, the friendship and camaraderie which is so clearly evident, their unmistakable love and respect not for just the music they are performing, but for the blood, sweat, and tears and passion and sacrifice of the men and women who originated the songs five decades ago. Add all that to a superb band, brilliantly-designed sets, and their unique ability to connect with each member of the audience as though they were singing just for you and no-one else, and you end up with this rarity: the recreation of an historic event which is as good as the original.
Gene Cornish of The Rascals told me, "It's not like I'm just listening to a tribute - it's the real deal. In my opinion, The Midtown Men are performing the soundtrack of our youth." Gene often joins them on stage. Twice he's knocked me out and melted my heart with his harmonica when they performed the 1967 Rascals' hit, Groovin'.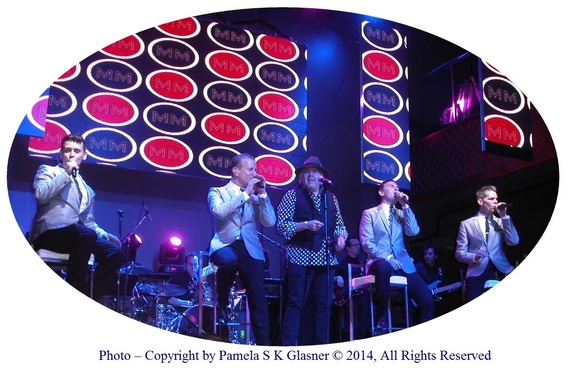 Many 1960s icons, including disk jockey Cousin Brucie and rock icon Steven Van Zandt, have become good friends with The Midtown Men. Jeff Vee, their manager, explains: "Every artist worries, 'when I die, will my music die with me?' But they know these guys are honoring their music, not just mimicking it, so they really feel like, 'my music is safe with them.'"
I suggest you see for yourself. On Nov 29th and 30th, in New York and nearby markets, PBS will air The Midtown Men Live in Concert!, directed by Grammy and Emmy award-winners Pierre and François Lamoureux, who've directed/produced acts like The Who, Peter Frampton, Opéra de Montréal, and Cirque du Soleil.
No surprise ... these shooting stars are rising so quickly, the PBS show's been picked up in Detroit, Atlanta, Seattle, Austin, San Diego, Las Vegas, Tampa, Boston, and other major markets. Keep an eye on your local listings.
One final exciting teaser: In January, The Midtown Men will accompany Tommy James up as he begins recording his new 'unplugged' album. Can't wait to write about that!
Check back with me because I'll be writing a lot more about them!
Pamela S. K. Glasner is a published author, filmmaker, and social advocate. Learn more about Ms. Glasner at http://www.starjackentertainment.com/ or Facebook https://www.facebook.com/pamela.glasner.
Copyright by Pamela S. K. Glasner © 2014, All Rights Reserved