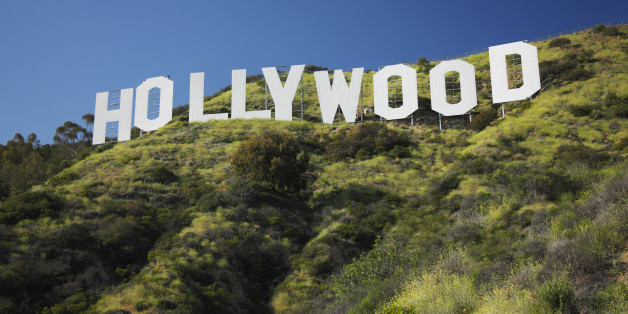 So I sat in the salon awaiting my oh-so-needed pedicure and was handed a few popular entertainment magazines to peruse during my treatment. I really don't read these celebrity publications, so for me, it was a lot of work catching up on Hollywood's latest fashion do's and don'ts, engagements, marriages, babies, affairs, scandals, lock-ups/arrests, rehab check-ins, drug overdoses and more.
Hollywood is a mecca of rising stars, movie and musical wanna-be's. Actors, musicians, producers and filmmakers flock there to make their mark and achieve success and fame. While many have exceptional talent and express their creative soul, many often become captive in a continuous search for more fame, money, EGO gratification and the next handsome hunk or beautiful babe.
There really isn't another city in the U.S. (New York may be a close second) which houses many very creative "entertainment" people searching for that "break" or that next big (movie/tv) "hit." And after having achieved a taste of success, money, worldwide fame, a luxurious lifestyle and more, many people (Brittany Spears, Justin Bieber, Lindsay Lohan, Amanda Bynes, to name a few...) find themselves caught in a downward spiral of drugs, illegal activities, depression and loss of life direction. (And, unfortunately, to this end, we also have lost some very talented musicians and actors/actresses -- i.e., Elvis, Judy Garland, John Belushi and the late Philip Seymour Hoffman). And now, beautiful Miley Cyrus, who, at a young 21-years-old, believes she needs to pose nude on a wrecking ball to attract attention. Sensationalism? You bet! Creative expressionism? Maybe. Her soulful essence? Don't really know. But where does it all end? Why is Hollywood and its creative talent making such ego driven decisions and unhealthy lifestyle choices?
First, I don't believe its all of Hollywood -- generalities never go far. There are many wonderful actresses/actors and people in the music and movie industry who see a much bigger picture to all of the money, glitz, glamour and fame. Look at Mariel Hemingway who blogs about holistic living, a simple lifestyle and spiritualism. Consider Jessica Alba, founder of The Honest Company, whose passion is to create a healthy future for all children in the world. And even the late Paul Newman, founder of Newman's Own, years ago established his own brand and product line dedicated to providing a range of products from organic sauces to pet food! Although these celebrities were and are still in the limelight, they have intentionally focused on using their fame and money toward a very positive healthy end.
So how are some of Hollywood's "best" able to cope and yet other fall prey to vices which can or have destroyed their reputation, their wealth and most importantly, their health?
The distinction is groundedness. Who is grounded? Who isn't? (Take a peek at new Oscar winner, Jennifer Lawrence, who totally "gets it" about being grounded!) Who has the wisdom, life experience and understanding to see the bigger picture of it all? Who possesses a deeper sense of "spirit" -- spiritualism? Which actors, actresses, musicians, producers, etc. are comfortable in their own skin, have a (fantastic) relationship with their own ego, fame and money? Who remains close to their "roots" (check out Vince Vaughn who, I believe, has heeded his mom's -- Shea Vaughn -- advice of staying fit, level-headed and family-devoted) even when swayed by elegant parties, celebrity friends, luxurious material possessions and millions of fans watching your every move? Who can envision a bigger purpose to their life and utilize their money, fame and creativity to create a positive change in the world? Who can be satisfied and happy enough to understand that fame and Hollywood is sometimes like a mirage -- you can't really grasp it and stay there -- you can only pretend to move through it.
Those Hollywoodites that are most grounded are the ones who shy away from the limelight as much as they are able to. Those actors prefer to take comfort in hanging with family and friends rather than being swooned by the next big gala event. Those actresses respect money, fame and understand that abundance is really not all "that" without great health and wellness to enjoy it all. And most important, the people who "survive" Hollywood are those who really can move beyond the "enclave of ego" and express their most creative talents, their passion, their purpose, their soulful essence to inspire, entertain and delight others while keeping connected to the ground. Rooted. Sturdy. Resilient.