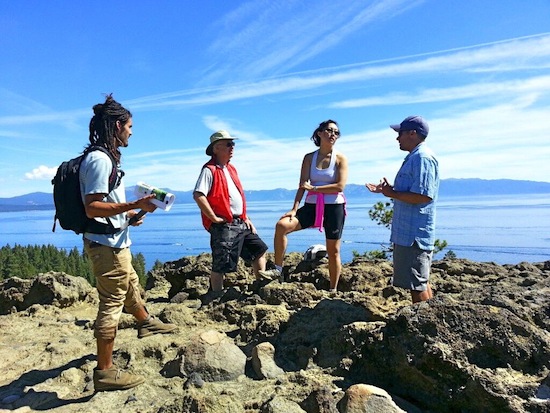 Quick: When you hear the phrase "Lake Tahoe," what's the first thing that comes to your mind? If you said "skiing" or "casinos," you'd respond as probably 99% of Bay Area residents do. If you said "geography," "sustainability" or "culture," you'd be among the minority, but you'd be onto a great new idea.
This time of year, the powdery snow is beautiful, crisp and refreshing on the Lake Tahoe slopes. Many thousands of Bay Area visitors make the mountainous Tahoe ski resorts their homes-away-from-home during the winter months. They add to the region's economy, but exhaust fumes from their personal cars degrade the environment. In summer, another enormous influx of visitors comes to literally play on the Lake. The summer crowd fills the hotels and casinos with business, but their motorboats downgrade the quality of Tahoe's pristine, clear water. With three million annual visitors clustered into two seasons, the Lake Tahoe region is struggling to maintain its environmental sustainability. But what about the off-season? Would it be worth a visit?
After Labor Day, the official end of the summer tourist season, I traveled from Oakland to Lake Tahoe to attend the second annual Tahoe Expo on the recommendation of a friend. This two-day event was deliberately aimed for the "after summer season" crowd. Designed to coincide with the annual Tour de Tahoe ("America's Most Beautiful Bike Ride"), during which more than 2,500 cyclists bike around the Lake, Tahoe Expo is a multifaceted, collaborative, recreational and educational program that aims to "connect (people) to Tahoe at the deepest level."
I had a great experience enjoying the Lake without the seasonal crowds, met some interesting people and learned a lot. I walked away with a new perspective about a place I thought I already knew. Now, I am eager to spread the word to Bay Area cultural and environmental tourists: put Tahoe Expo on your calendar for September 2013. If you are a Tahoe regular, this is a great reason to make another weekend trek. If you are new to the area, the Expo is a profound introduction to the region. No matter who you are, you will experience a bold new concept in international travel: Geotourism. Have you heard about this movement?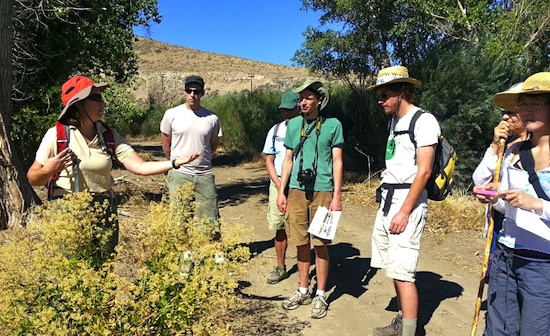 According to the
National Geographic Geotourism Initiative
, "Geotourism" is defined as:
"(T)ourism that sustains or enhances the geographical character of a place -- its environment, culture, aesthetics, heritage, and the well-being of its residents ... Geotourism incorporates the concept of sustainable tourism -- that destinations should remain unspoiled for future generations -- while allowing for ways to protect a place's character ... (T)ourism revenue should promote conservation -- and extend it to culture and history as well, that is, all distinctive assets of a place ... It involves the community. It informs both visitors and hosts. It benefits residents economically. It supports integrity of place. It means great trips.
Great idea; but could it work in Tahoe? Tourists flock to Lake Tahoe in winter (skiing) and summer (boating), creating an annual economic bell curve with a two huge bulges in visitation, along with the changeable ups-and-downs of the gaming industry (casinos) and shows by big-name entertainers. This seasonal "boom-or-bust" tourist economy is a familiar pattern to communities around the world. Lake Tahoe is unique in its geography and its beauty, its recreational and entertainment resources. Although tourism is the foundation of the local economy, heavy visitation at peak times by millions of visitors (in cars and SUVs) places a heavy burden on the environment and its people. Spreading out the tourist year by adding new, region-specific, low environmental-impact attractions before and after the regular tourist seasons could only help sustain the local environment and economy. Geotourism.
Tahoe Expo is the brainchild of a flamboyant, passionate, infectiously energetic and infinitely creative, former Bay Area marketing guru named Jacquie Chandler. As the volunteer Executive Director of Sustainable Tahoe, Chandler attended meetings hosted by the National Geographic Geotourism Initiative, where she was inspired to create a local demonstration project. But, how to interest tourists in learning more about the unique geography and cultural history of the Lake Tahoe region? How to bring the environmental and business communities together for programming and resources? Working with board members John Hara and Cary Crites, Tahoe Expo emerged: a joint marketing and programming umbrella with a collaborative approach, a model for the way year-round Tahoe tourism could be. It was the irrepressible Chandler, with her youthful energy and long silvery-blond hair, intense greenish-brown eyes and youthful level of fitness, who enlisted dozens of individuals, representing large and small entities, to volunteer their efforts and pool their resources to create the Expo.
Apparently, this was no easy feat. Most of us experience Lake Tahoe as one area. But think about it: the greater Tahoe Basin falls under multiple jurisdictions: two states, five counties, at least five cities, the Federal government, National Parks, State Parks, regional parks, city parks and Native land. Not to mention all the individual and resort-oriented private property owners who control great stretches of lakefront and mountain property. Moreover, a great many organizations, both nonprofit and for-profit, along with individual property owners, are working toward the same goal: to preserve and make the Lake region sustainable. With Chandler's facilitation, the combined list of this year's Tahoe Expo active contributors, hosts or sponsors was truly diverse, and included five distinct Internet domain types:
18 NGO's (.org)
38 Business (.com)
12 Agencies (.gov)
2 Schools (.edu)
1 Tribal community (.native)
The Tahoe Regional Planning Agency was established by both California and Nevada in 1969.
The Lake Tahoe Regional Plan,
to restore and sustain the Lake area, is an effort to include all stakeholders in the planning process to regulate future development of the region. It was originally established in 1987, but due to rising environmental concerns, it was amended on December 12. New rules will take effect on February 11, formalizing that all development should be tied to mitigation. These new rules will require not just a shift in behavior, but they encourage the renovation of existing structures to ensure clean runoff in the Lake. The final Lake Tahoe Regional Plan involves compromise on all sides: neither business interests nor the Sierra Club is thoroughly satisfied that their desires were met, but,
says Nevada Department of Conservation and Natural Resources Director Leo Drozdoff
:
"This is an historic plan. For the first time in over two decades there is common ground and we have forged relations between the two states, the environmental community, business groups and local governments. We know this is just a starting point, but Nevada stands ready to continue the work we have done to create a strong and vibrant bi-state framework."
However, if this new cross-state environmental partnership is to succeed, Nevada legislators must repeal 2011's law SB 271, which "provides for withdrawal of the State of Nevada from the Tahoe Regional Planning Compact" unless environmental regulations are loosened to allow for more development. So it is clear that even with a final plan in place and amended, the struggle will continue to find ideal, common ground between the two states on this important issue.
But as with the Regional Plan, instead of highlighting the differences between jurisdictions, Chandler's Tahoe Expo seeks to bring all the players to the table for an environmental feast. This "potluck" approach resulted in an Expo program consisting of twelve distinct "geo-tracks" or "Adventure Tracks" where agencies, researchers, naturalists, museums, environmental advocates and like-minded businesses organized environmental tours of the area. Visitors could choose one Track for each of the two days of the Expo. Each organization provided guides and low-carbon-footprint transportation: bicycles, boats, hiking, even water paddling, kayaking, and water taxis! I loved it. Historical and cultural attributes were highlighted along with the environmental history of the area. Sample "Adventure Tracks" included: "Flyfishing Fun Crawl," "Early Birds and Bear Tracks," "Water Yoga Crawl" and the "Wild Mustang Track."
On Saturday and Sunday, I attended the "West Shore Time Track" and the "Truckee River Restoration Track."
The first tour combined bicycling, hiking, a picnic lunch, a museum visit and concluded with a water taxi ride across the beautiful blue Lake. It was great -- and a great bargain for what was offered. The $55 price tag included bike rental, lunch, museum fee and water taxi fare -- such a deal! for an eye-opening, all-day excursion.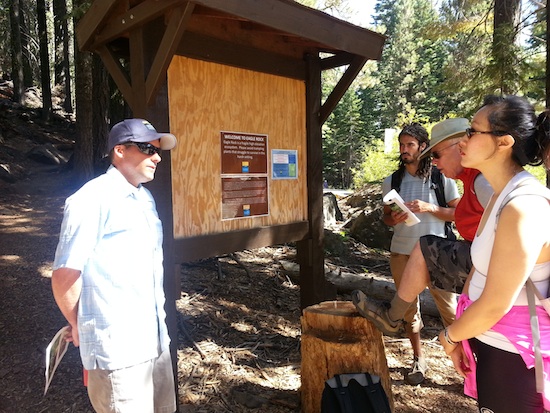 First, Adventure Track coordinator Adam Henriques of the Tahoe Resource Conservation District led bicycling visitors along the Lake's bike path system, touring a brand-new Tahoe City lakeside redevelopment project with a floating, performing arts stage for Sunday concerts. At the next stop, Scott, a restoration expert with the California Tahoe Conservancy, led an uphill hike to Eagle Rock, a dormant volcano on the water's edge, explaining not only the breath-taking view, but also the project management challenges of creating a brand-new, environmentally-sensitive hiking trail from the Lake to the Rock's summit, with limited funds. The Eagle Rock Trails Restoration and Improvement Project was a partnership between the Conservancy and the California Conservation Corps, the United States Forest Service and the Washoe Tribe. Following the hike to the summit, we enjoyed a delicious lakeside lunch provided by a local, sustainability-sensitive restaurant. After lunch the Tahoe Maritime Museum transported us back to 1920s-era Tahoe via historical objects in the museum's collection. Finally, a leisurely motorboat ride back to our original destination left my tour group relaxed and satisfied after a day of adventure. I especially enjoyed the water taxi ride and wondered why these were not commonly used on the San Francisco Bay. At the end of the day, I visited a charming historical gem, the Gatekeeper's Cabin Museum in Tahoe City before heading out to a local restaurant for happy hour and dinner.

On Sunday, I attended the "Truckee River Restoration Track" to view a six-mile, environmentally transformative intervention: a "healing" project for an entire section of the river by the Nature Conservancy. The tour, led by the Conservancy's Patty Bakker, included a hike through the legendary Mustang Ranch, founded in the mid-50s and eventually becoming Nevada's first licensed brothel. The Ranch is now closed (tax evasion), cleared and maintained by the Federal Bureau of Land Management. I could only imagine the historical characters, celebrities and dramatic events at the Ranch over the years.
A short hike down the riverbank past the Mustang Ranch lies the sprawling McCarran Ranch, purchased by the Conservancy to be restored to its natural state. Before-and-after photos (see above) showed the amazing results. Wild mustang horses roamed the hillsides above the now-sparkling, cool, clean river, where I waded to refresh myself under the big sky and hot sun. Preserving a natural habitat can produce real and lasting results for anyone -- and everyone -- to enjoy.
My fellow Expo visitors hailed from the greater Bay Area: San Francisco, the Peninsula and Oakland, like myself. And like me, most had only heard of the Expo a few days earlier. They worked in tech, engineering, healthcare and social services. This was a group of happy campers, friendly and full of questions for the guides. As "geotourists," we added very little to the area's carbon footprint, but we did leave our mark on the local economy. After each day's events, we happily frequented local eating and drinking establishments, shopped the outlet mall and visited the casinos. Through it all, everyone fell in love with the ubiquitous Executive Director Jacquie Chandler. She was everywhere, arranging details for all the tracks, coordinating volunteers from the various agencies and infusing everything with her energy and devotion to the ideals of the project.
After my experience, I can imagine that a year-round series of Tahoe Expo-like tours, hosted during the off-season, could help the region become economically sustainable, evening out the effects of heavy summer and winter visitation and encouraging public transportation. If the Tahoe Expo idea takes hold, it could provide a new way for Lake Tahoe's local businesses, non-commercial attractions and environmental organizations to work together year-round for the good of all.
"This is a historic moment for Tahoe," Chandler said in a recent article. "We will be able to sustain our environment and economy. The expo is an incredible demonstration of the future of how we can sustain the area." "We're aiming to make education, recreation and conservation a fun adventure."
I like what she is trying to do and I'd like to share the good news.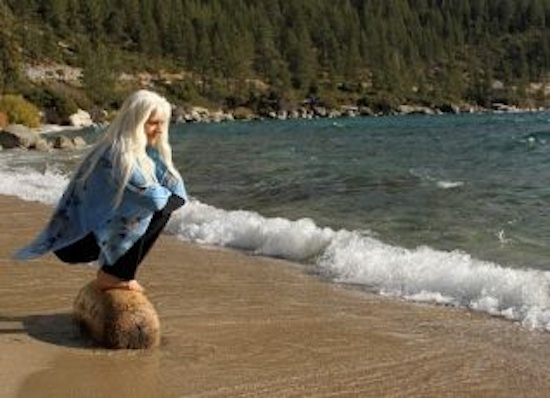 On Thursday September 27, Chandler (shown in above photo by the Lake) and her organization, Sustainable Tahoe, received the annual Lake Spirit Award, honoring "real people making real progress protecting Lake Tahoe" as an organization with "not only a strong commitment to the Lake Tahoe environment, but also model(ing) a spirit of collaboration and cooperation in their efforts." According to the event's press release:
"Jacquie Chandler was the Lake Spirit Award winner in the citizen category from the North Shore. She was nominated for her tireless work as the volunteer Executive Director of Sustainable Tahoe, and the Tahoe Expo, a Geo-Tourism event designed to link "Prosperity with Lake Clarity." Her work began with the development of National Geographic's Geo-Tourism model here at Lake Tahoe, which is now promoted by the Sierra Business Council in their Sierra-wide campaign. The Geo-Tourism model links economic development of "adventure tourism services" to ecosystem valuation, with an overall goal of inspiring participants to embrace sustainability practices and stewardship roles in their everyday lives."
This year, Chandler also received the Geotourism Contribution Award from the Sierra Business Council and the Geotourism Award -- Honorable Mention from the Tahoe Chamber of Commerce. As the world mourns the death of Barry Commoner, the pioneering 20th century environmentalist and creator of the concept of sustainability, people like Jacquie Chandler and her Tahoe Expo volunteers are advancing the combination of sustainability and tourism, in a collaborative fashion. They are creating a new community which defies jurisdictional boundaries. And with the addition of 50 students from San Jose State University to help develop new Adventure Tracks this year, youthful enjoyment and education will be a prime motivator. According to Chandler, in 2013 the Expo will expand to include tailored Tracks for groups looking for unique adventures in Tahoe and renewable energy "Power Tracks," partnerships and demonstrations.
Geotourism is a concept worthy of our times. And it's fun, entertaining and informative. So enjoy the winter snow and the summer boating seasons. Meet me next fall at the Lake -- before the snow starts to fall, for Tahoe Expo 2013.
(Photo credits: Photos #1-3 by Pamela Mays McDonald; #4 courtesy of The Nature Conservancy; #5 by Lori A. Cheung )