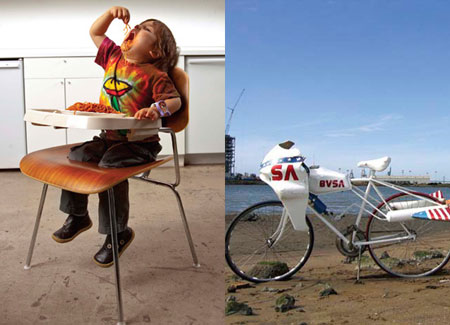 To the list of things that have been declared dead over the years -- painting, the author, irony, print magazines -- it's tempting to add the designer. At least that's the first impression one might get from "TechnoCRAFT," an ambitious new exhibition of make-your-own sneakers and do-it-yourself lighting, self-customized chairs and consumer-generated packaging that opens this summer at San Francisco's Yerba Buena Center for the Arts.
But Yves Behar, the star designer who curated the show, is in no danger of losing his day job. Instead, "TechnoCRAFT," Behar's curatorial debut and Yerba Buena's first design show, brilliantly captures the field's evolving practices -- namely, the blurring of professional and amateur, creator and user -- to portray a discipline on the cusp of titillating new possibilities. "It's a new era," Behar says, "where individualization, mass-customization and industrialization are coming together in an emergent way."
Consider Puma's Mongolian Shoe BBQ program, which allows you to create your own mix-and-match sneakers. Or the online retailer Threadless, which allows customers to vote on what T-shirts to produce. Then there's furniture you can repurpose, remake and rejigger (think Ikea hacking and Martino Gamper's 100 Chairs in 100 Days project) or self-produce with just a set of instructions (Lindsey Adelman's You Make It chandelier).
Organized into sections called Crowdsourcing, Platforms, Modules, Blueprints, Incompletes and Hacks, "TechnoCRAFT" shows how social networks, open-source platforms and new fabrication technologies have reached a critical mass with grassroots creativity, allowing for fertile new modes of collaboration between designers and non-designers alike. In the end, consumers turn from passive recipients to active participants -- an idea that extends to the show itself. "With Puma, we'll have a shoe-making area that lets people be the creator," Behar says. "They can then choose to display their shoes, making them a curator, or sell them in our shop so they become the retailer and consumer." After all, even in a gallery the customer is king.-- Aric Chen
For more info, visit the Yerba Buena Center for the Arts and Papermag.com