Strip away the concierge, heated pool and freshly made beds. Lose the velvety bathrobe that "mysteriously" ends up in your luggage. In fact, pare the hotel down to one element: its bar.
Party Earth is betting you'd still want to go to the following hotels, just like Hemingway, Picasso and several other famous drinkers did too.
Hôtel Le Bristol, Paris, France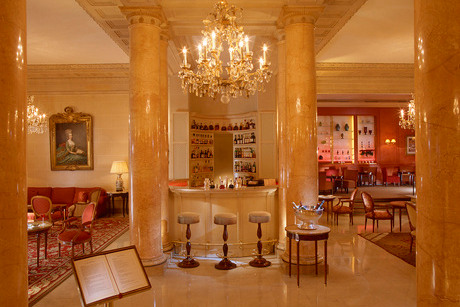 Opened in the 1920s, Hôtel Le Bristol quickly became a hangout for fashion barons and successful artists, including Dalí, Picasso and Coco Chanel. Le Bar du Hôtel le Bristol, the hotel's marble-floored drinking den, is staggeringly grandiose, studded with chandeliers and flowery sculptures, while the seasonal courtyard is where today's see-and-be-seen laze about their summer days sipping €35 cocktails.
Travaasa Hana, Maui
Regularly voted one of Maui's top resorts, Travaasa Hana is an all-in-one retreat, offering everything from spa treatments to net-fishing to a stylish restaurant overlooking the sea. Granted, Hemingway never slung any of the bar's delicious mojitos (Travaasa didn't exist yet), but he adored the stunning Hamoa Beach down the road. Grab a pitcher to go and hit up this black lava-lined pocket of paradise.
The Empire Hotel, New York, NY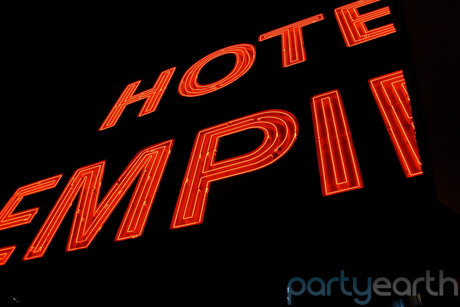 The Empire Hotel may not be one of the fanciest bars in NYC, but its exclusive rooftop bar is still a hotbed of sultry fashion shows and celebrity after-parties. Big names have been coming to The Empire Hotel Rooftop since the '20s, but whether visitors grab a spa treatment by the pool or dance the night away to DJs, the views of the Upper West Side make everyone feel like a star.
Gran Hotel La Perla, Pamplona, Spain
The balconies of the opulent La Perla were Hemingway's favorite to watch the Running of the Bulls during San Fermín -- and its luxurious bar was a favorite of his to drink during the other 51 weeks a year. Orson Welles and Charlie Chaplin were notable regulars, too. Surely they could handle the $2,200/night room rates during San Fermín nowadays.
For more articles and reviews, go to Party Earth.