With centuries upon centuries of vast history, the cities in Europe might just be the most fascinating places to visit in the world. Some of the architecture dates back as early as the 1500s, the museums practically overflow with magnificent pieces of art, and the city streets are rich with culture. But everyone who's been to Europe knows that when you're touring around the cities, all the walking and public transit can easily lead to complaints of empty stomachs and aching feet. The ubiquitous double-decker tour buses can get really old, really fast when you're riding around in them in every city you visit. That's why, in order to make your next Eurotrip the coolest and most interesting experience it can be, we've compiled a list of unique sightseeing tours in classic European cars so that you can see all of the sights of the cities without the yawns or stress.
Paris - Citroën 2CV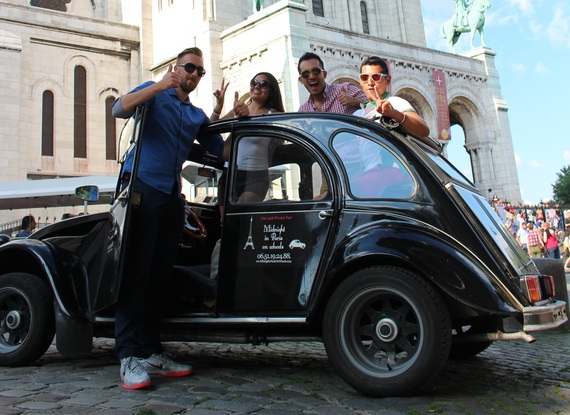 Historically speaking, the Citroën 2CV is arguably the most successful model of car in the twentieth century French automobile market. For many, the car represents France's very successful society in the 1950s-60s. Nicolas Manac'h, owner of the sightseeing company Midnight in Paris on Wheels, explains that when he takes visitors in his 1954 Citroën 2CV on tours around Paris, that people stare at his beautiful vehicle with longing and nostalgia in their eyes. With the help of his vintage car, his extensive knowledge of Paris, and his charismatic personality, Manac'h specializes in fun, romantic tours of the city of l'amour. His tours offer visitors the opportunity either to simply see all of the sights or to have the most romantic night of their lives. Manac'h drives his customers around Paris in his vintage 2CV with the convertible top down and a bucket of champagne in the back seat, giving them a sightseeing experience unlike any other.
With each of his tours, Manac'h provides a red rose for the lady and an antique Polaroid camera for any photo ops that arise, and he offers to photograph his customers with a professional camera in any place they want. Every tour features fun, music, insight into French culture and secrets about Paris, and Manac'h's warm and hospitable services. Manac'h takes the time to adapt his tours to his customers, ensuring that each tour is a unique and personal experience for everyone who takes a ride in his 2CV.
Read more about Midnight in Paris on Wheels and contact Manac'h for your perfect night on the streets of Paris today!
Berlin - Trabant Safari

Named by TIME magazine as one of the worst cars of all time, the Trabant was the people's car of East Germany during the division of the country. East German citizens would be on a waitlist for several months to get their Trabant, only to receive a car that lacked basic automotive features, such as brake lights or turn signals, and have it fall apart on them within a few months. Despite their severely faulty nature, the Trabi has experienced a resurgence in popularity in recent past, and they're now used as a fun and unique method of sightseeing transportation in Berlin. With Trabi Safari Berlin, tourists can book group tours or private tours to see the sights of the city. For the group tours, customers drive a Trabi in a convoy led by a professional tour guide. Each type of tour focuses on a different aspect of Berlin's extensive history, from the division between the East & West, to the rise and fall of the Nazi regime in Berlin, to Berlin in imperial times as it was under Prussia's rule in the later half of the nineteenth century. In the private tours, customers are picked up from their hotel in a Trabi and driven around the city by a professional guide, who shares insider knowledge about the city that customers wouldn't hear on a standard tour.
Take a look at all of the tour options on Trabi Safari Berlin's website and book your Trabi Safari tour today!
Rome - Vespa/Fiat 500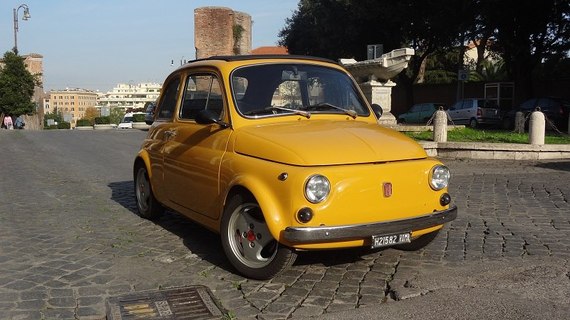 When in Rome, travel like the Romans do. Nerone Tours Italy gives visitors the option of skipping out on the walking tours and seeing the sights of Rome from the back of a Vespa or through the open roof of a classic Fiat 500. Built in response to Italy's post-World War II market demand for economy cars and affordable modes of transportation, the Vespa and the Fiat 500 are classic Italian automobiles frequently seen all over the cities of Italy, especially Rome. Customers are driven by a professional tour guide, and they get to choose between four different tours of Rome, including a special tour of all Rome at night, €160 per person for a Vespa or €310 for a total party of two in a Fiat 500. Customers get to stop to take photos, wander around to look at all of the sights, and -- of course -- have a gelato or a cappuccino during their tour.
Be sure to look at Nerone Tours Italy's website and book a tour of Rome on a Vespa or Fiat 500 today!
So there you have it -- three tours that are sure to alleviate your sightseeing headaches and make your next trip to any one of these cities a fun and unforgettable experience. These tours all sell out quickly during high-travel times, so be sure to make your reservations today!
This article written by Alexandra Wuerfel, Party Earth writer.
Click here to get the inside scoop on the best concerts, festivals, parties, and more in your city every weekend!