We all love taking trips down memory lane, wishing that someday things will go back to the way they were in the good 'ole days. Anyone who says they wouldn't kill to see Madonna perform "Like A Virgin" before they lost that v-card protected innocence is lying, and so is anyone who claims that learning to solve a Rubik's Cube wasn't their sole purpose in life for at least a day. So why, then, does the sound of an '80s-themed extravaganza send a tingle of trepidation up your spine? Maybe it's that decades-themed events historically have a reputation for feeling a bit cheesy, or maybe it's the shoulder pads. Probably both.
BUT, ladies and gentlemen, whatever the cause for your worries, on March 22 it's time to let it go, because Ouija Entertainment's I Love 80s Party at Guilt in Boston, is anything but corny, tacky, or any adjective typically associated with a decades-themed event. In fact, it's the exact opposite: the result of a budding partnership between Ouija's CEO Matt Orlove and top DJ Brek.One, this duo's party will capture the entire spirit of the 80s and repackage it into one top-notch club night filled with '80s-style music and dancing. When they met, Matt and Brek bonded over a mutual love and appreciation for good music, and it is this love that will inspire a not-to-be-missed club night.
The Soundtrack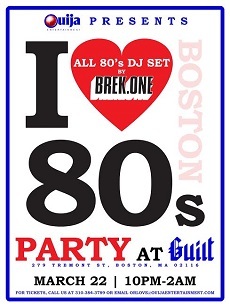 "My '80s set is not going to sound like your uncle playing '80s records," promises Brek, who plans to surprise guests with unconventional combinations that will keep them glued to the dance floor. "It's on a Saturday night. I wouldn't be DJ-ing some cheesy '80s party. It's going to be cool," he says. And knowing Brek like we do, we know that any party with his seal of approval is a party we'd give our favorite pair of legwarmers to attend.
The Music Man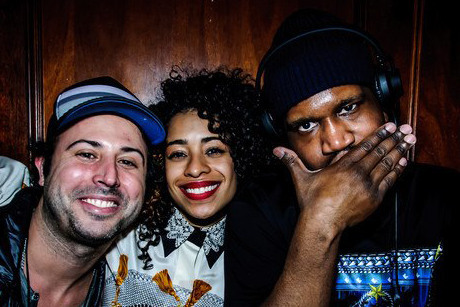 Brek, a graffiti artist turned DJ, claims that he's not a musician in the traditional sense. Instead, he says that he turned to DJing as a form of expression. Since then Brek has secured residencies both overseas and in the U.S. at premiere nightclubs like Boston's Royale. For the I Love the 80s Party, Brek plans to blend the sounds of the decade with his own unique style of DJing. "A lot of people don't realize what the 80s gave us," says Brek, but we have a feeling that he's going to show us. The result: a party that's nothing short of epic.
The Mastermind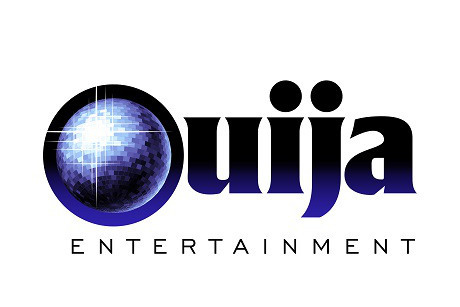 For Matt, the party is simultaneously an ode to ragers past, and a step towards innovating stagnant areas of the country's party scene. "There's a bit of apprehension in Boston because something like this hasn't been done before," he says. "But I want to try something new. I think it's going to be amazing, and maybe open some eyes."
The duo aims to establish the I Love the 80s Party as a weekly club night that will eventually be able to travel to clubs in cities across the country. But as they look forward to this kickoff, the thing that's got Brek and Matt most excited is the music. "I've always thought 80s parties were fun," says Matt, "I'm happy to be the one giving them a come-back."
This article is by Courtney Roseborough, Party Earth writer.
Click here to get the inside scoop on the best concerts, festivals, parties, and more in your city every weekend!