I am in one of the most exciting cities in the world -- one blessed with 53 museums, a world class opera company, a gorgeous street for shopping called Maxmillians Platz that gives Rodeo Drive a run for its money, and where am I in this scheme of things? In my hotel room trying to chill for a day in order to get a leg up on jet lag and all manner of travel residue that comes with traveling 12 hours before a flight change on a flight with seats that don't lay flat (though the airline advertises otherwise). I didn't sleep a wink in flight. Jet lag is no fun -- especially in a city as rich with things to do such as Munich. But jet lag must be dealt with --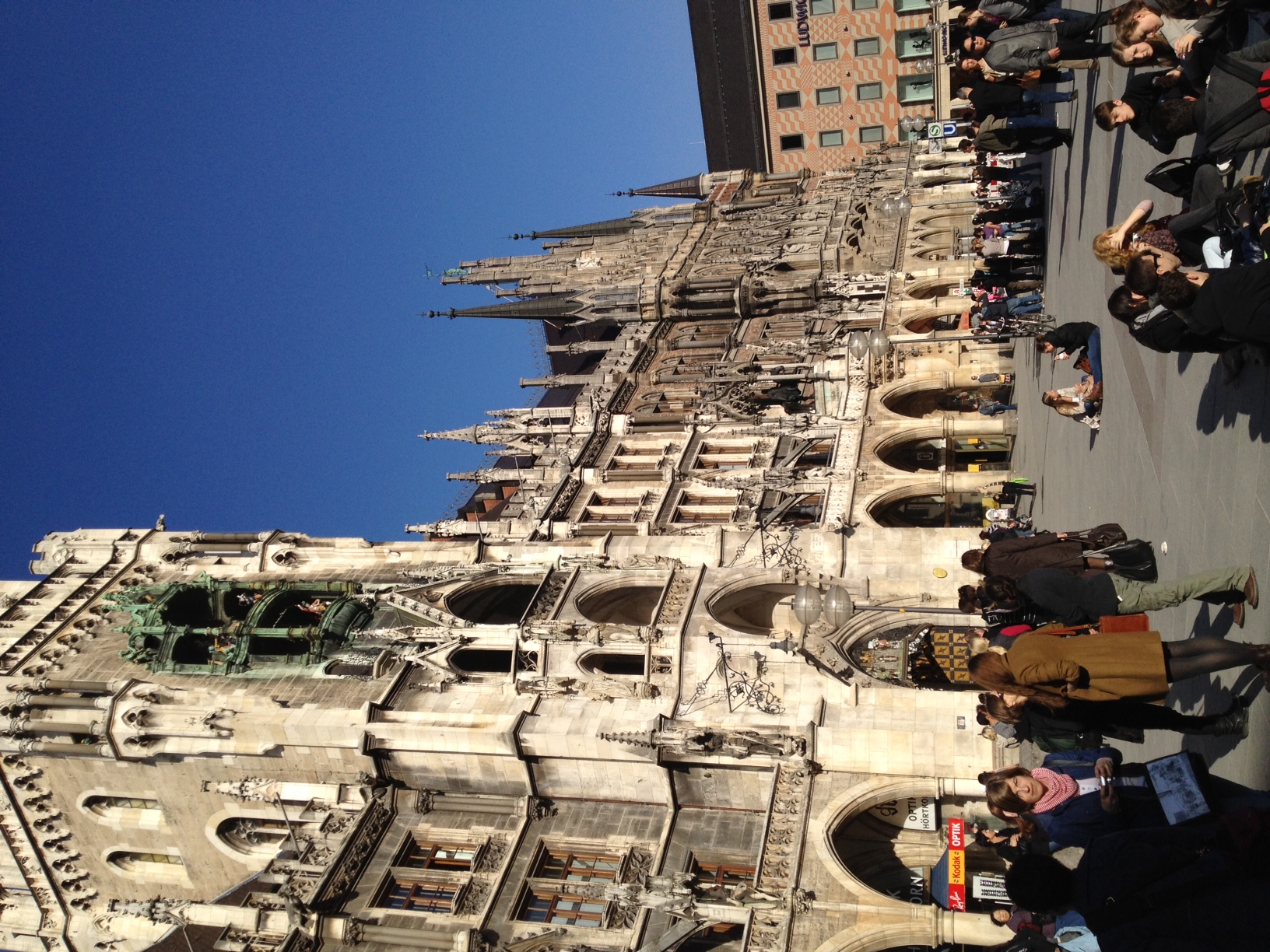 From my room numbered 444, I can see out the window into a beautiful courtyard of the ergonomically appointed Sofitel Hotel. The in-room brochure shows photos of a world-class spa and a black leather bar. Their restaurant is called the German equivalent of black and white or Schwartz & Weiss and given that the Sofitel is a French hotel, the food is French and superior. The spa has a cave feeling with a luxurious row of tubs that lead you to the pool. The spa is first class with top spa services and treatment lines, too. Eating and spas make jet lag sense.
Last night, I dined on a Michelin-starred meal at Terrine which involved a thick bouillabaisse in a ravioli over a divine sole with a smattering of beans and carrots after a starter of sashimi of king fish with some nuts chopped over it which was buttery good with a delicate light flavor and made me think I was in Hawaii with Iron Chef Morimoto in the kitchen. And everyone speaks English!
During dinner, little things to try or "amuse bouche" were brought to the table such as some fresh peas topped by mackerel with a grapefruit foam. It was this side of of heaven as were their home made chocolate truffles and all manner of desserts such as the passionfruit sorbet, coffee-milk ice cream, lemon-cake, and chocolate date-nut bread.
Usually, one is stuck in a hotel room or inside when it is raining or snowing outside but the cold spell in Europe has finally broken giving way to glorious sunshine and everyone seems to be out and about though still warmly dressed. Munich has a strong fashion sense and I am dying to see it in action.
The cosmetic surgeons of Western Europe are holding their meeting here at this hotel and had a big display of everything new and I cruised around their meeting booths last night and saw all the new gadgets to make new Gidgets and they were intriguing: New breast implants that looked like white tennis balls, new things to inject into the face (and they had free samples)!, oh, and ace bandage-looking-bras for apres breast surgery, and more. I didn't last long as I felt a little faint! I am not exactly an ideal candidate and am happy to promote the natural look!
Today, I long to meet with these fellows (I saw only men) to find out whether they have any new tricks up their sleeves ahead of their American counterparts. Given the strong advertising push of the suppliers I saw, I doubt whether anything is any different. They may use different techniques but they all have the same tools available to them. (I keep thinking about those awful looking bandage bras.) Nevertheless, I owe it to my readers and Joan Rivers to report back if I have the scoop on anything new! It's a perfect jet lag activity, too!
I could head downstairs, get a little exercise by taking the stairwell, and see what else I can find out. Anything in the name of research, right? Besides, if one has cosmetic surgery, rest is no longer needed! Maybe those bandage bras could be worn with those chic little bandage dresses that came out a couple of years ago? Is my jet lag is showing?
Or, I could just stay in my room as originally planned. Are those snowflakes I see suddenly coming down outside! Wunderbar! Nature has spoken! Forget the plastic surgery updates -- I am going to read a book and catch a movie, both which put a smile on my face which has to be the greatest beauty treatment of them all in Munich or anywhere in the world jet lag or no jet lag!
Until next time, friend me on Facebook, comment on my column, and thank you for your loyal readership! Please share my column with your friends...