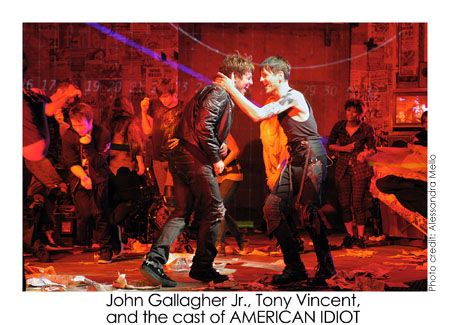 From the moment I entered the corridor to the St James theater I was looking around and worrying, "Am I too old for American Idiot?" I had worn my short black pointy booties, tight black pants, a semi see-through black sweater and a black coat -- because I was so nervous about standing out. I fantasized I might be too scared to go into a mosh pit; I'd heard chatter about Green Day concerts generating some legendary ones. But then the first thing I saw was someone a lot older than me scribbling in black ink on the wall, joining his name to the thousands of others who have needed the tagging moment to feel connected.
Feeling connected is what the creators of American Idiot -- the much anticipated musical created by Green Day's Billie Joe Armstrong and the director Michael Mayer (Spring Awakening) from Green Day's eponymous album -- want you to feel. They want to remind us that we were all disaffected and alienated when we were younger, and that music was often the vehicle which took us from feeling left out to feeling left in. That this is punk rock music (confession: a genre that I know more from its Lou Reed and Nico side than its commercial Green Day side) is almost irrelevant, as the by now classical tropes of this Odyssean journey have been well worn by other rock musicals like Hair, Jesus Christ Superstar, Rent and even the Mickey Rooney-Judy Garland let's-put-on-a-show movies that graced our (grand)parents' childhoods.
Boy (it's always a boy, alas) or boys, feel disconnected from society, their parents, sometimes even their girlfriends. In order to find out who they are, they leave home, only to see that the wide world, too, is a venal, dangerous place filled with self-destructive weapons (heroin needles) and destructive weapons (guns). There are people that lure them towards evil, and those who show them man's humanity to his fellow man.
Ok: got it.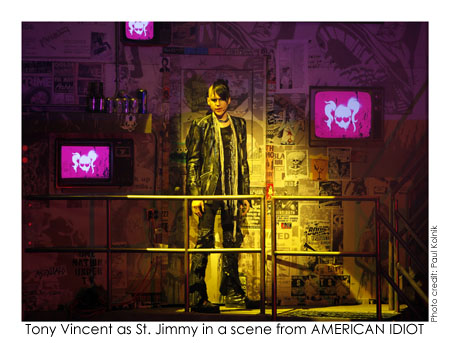 Even though, behind me, three blondes from LA are talking about how one of them is creating a reality show with her "b.f." Steve, and behind her sits a former employer of mine who was recently pushed aside in a palace coup, I try to stay in my disaffected warm-up space--and since I am a veteran of seeing the 1968 Hair (and the recent revival) and know all those lyrics by heart, I am waiting to see young people feeling like their hearts and minds are united in watching this show the way ours were, and not worrying about whether a Tori and Dean knock off--the flip side of the Green Day generation who did want very much to be like their parents as it turns out--is going to get past pilot season.
Indeed, the show has been wrapped in some very conventional trappings. The prevailing choreographic ethic is Martha Graham-meets-punk, which produces contractions that make everyone look like they are feeling a bit sick, or have been punched in the stomach. There's even strains of West Side Story's Sharks and the Jets when the girls (Rebecca Naomi Jones, Cristina Sajous, Mary Faber) come out to meet their boyfriends. Most of the women characters are co-dependent with their restless boyfriends, and only a few are able to move from being receptacles of male angst and fantasy to defining themselves: as in most rock musicals, it is the guys who rule.
The high octane opening number -- fueled by the multi-media television screens flashing flags, and George Bush (what would we do without Bush-the-punching-bag) playing golf amidst a really effective multipurpose city backdrop -- sets us up for our journey, which includes Iraq, protests, sex, and having babies (counterpointed with shooting up).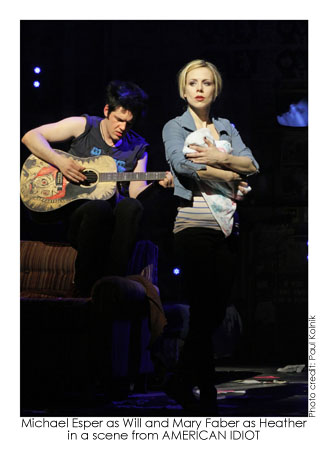 The loud, angry, lost boys are singing about how everyone is so full of shit and they don't want to end up like their hypocrite parents. Okay, now that I am one, but lived through a similarly I-won't-grow-up trajectory, I understand the need to vent--to feel this we are all in it together. Some moments are so drawn from Hair as to be eerie: the pregnant girlfriend, the war induction, the dawning of the (Hair: "Age of Aquarius") (Idiot: rest of our lives). Now that the kids have had a chance to see Hair in revival, I'm wondering if the rock musical genre can now safely be put into the classics category like Hamlet.
For those who like spoken narrative-lite, the absence of too much chatter in the operatic way is in fact something of a blessing. The Green Day songs are lyrically clear eyed and didactic and don't leave much to the imagination, and everything else is spelled out quite clearly by Mayer. When the three leads (John Gallagher Jr., Stark Sands and Michael Esper) do break out into a solo acoustic quieter moment, it is truly a relief--bad boys forced to sit and take a time out. If the ultimate tragedy is indeed wearing a tie or a dress, then the disenchanted boys and girls of American Idiot wear their leather well.
It would have been wonderful to see this in Berkeley, where counter culture rebellion--or its remnants--is always happily in the air. Yet if every generation needs its defining rock musical than American Idiot can certainly be a candidate.
To hear an interview with Michael Mayer and Billie Joe Armstrong of Green Day about their collaboration, go here.
To hear and see other stories about the development of American Idiot, go here.
To get tickets to American Idiot, go here.