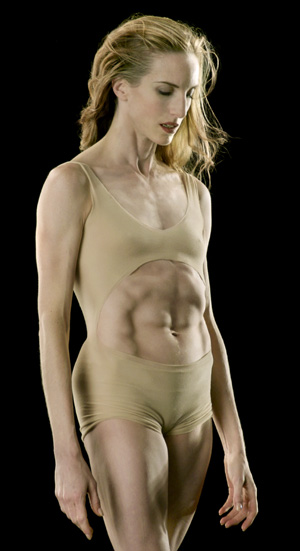 Wendy Whelan. By David Michalek.
What's it like to be a muse to famous artists? What is it like to inspire creativity, to have people study your body, the way you move, the tilt of your head, the way your arm undulates as you reach out, and then take that and make art out of it?
Wendy Whelan, a veteran New York City Ballet principal dancer, is just that. She doesn't think of herself as a ballerina whose body conforms precisely to conventional norms. Lithe and incredibly buff, with the killer abs and bottom I dream of, Whelan transcends perfect line and step to being a vessel of pure sensuality who knows how to fit just so into the arms of the men who partner her, and anticipate their every move.
All I can think is: she must be great in bed!
Whelan, a Louisville native who came to New York the summer of her fourteenth year to study at the School of American Ballet, was immediately offered a permanent spot at the school but did not enroll until a year later, a year after she had rotated out of her Louisville catholic school into a public school to get herself ready for the polyglot, buzzy nature of New York. She lived with the family of dancer Jacques d'Amboise, who has dedicated his post-performance life to mentoring young dancers.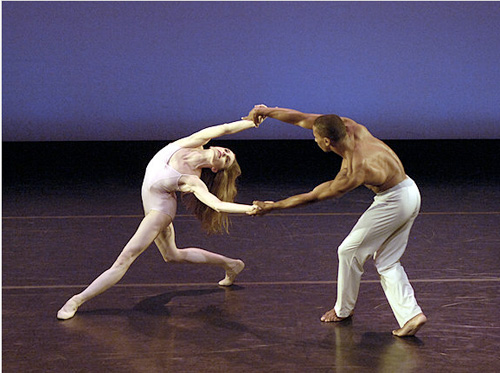 Wendy Whelan and Craig Hall in "After the Rain"
But her most important mentor may have been her father, an accountant who ran track and from whom she says she got her two most important dance attributes: "moving and counting."
Whelan says she feels 30 (she is 41). She shows absolutely no signs of aging and outdances a good many of the younger, less intense dancers some of whom are almost half her age. Seeing her in Christopher Wheeldon's Liturgy and After the Rain at Guggenheim Works and Process and then Alexei Ratmansky's newish Concerto DSCH, there is no doubt that this woman can be a bird or a plane, she's a superwoman. Indeed, she says the first images that come to her when she's thinking about how to attack a piece are "abstract and animal."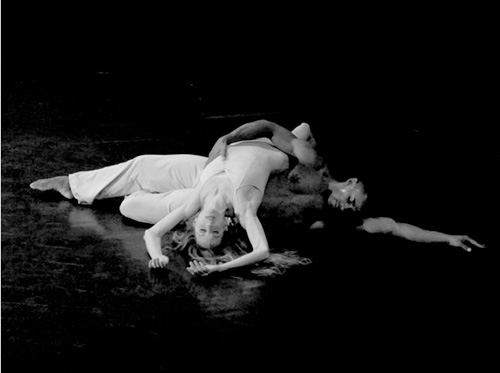 Wendy Whelan and Craig Hall in "After the Rain"
She is nevertheless "happy to be dancing with younger men" (Craig Hall, Sebastian, Marcovici, Benjamin Millepied), and let's just say you would never know they were younger.
She is married to photographer/"projecteer" David Michalek, with whom she had a fifteen year courtship, a talent in his own right, someone who has melded photography, film, video and performance. (Check out his very cool Slow Dancing project, which is touring all over the world, and his film of his wife.)
But she is also fiercely independent: she says Peter Martins, head of the NYCB tells her he wishes all the dancers were as self-starting. During the winter Nutcracker season (just ended) she dances the Sugar Plum fairy in New York on weekdays and flies somewhere to be a guest artist with her current partner, Philip Neal, many weekends, to make extra money.
Once a TV junkie (her husband David weaned her of her addiction to Law and Order by taking out the television; her other addiction to eBay has been cured by designer resale), Whelan admits when she is not dancing she now likes to sleep; that her best performances come "when I am tired because then you're not nervous." She suddenly thus reminds me of another famous muse, Marie Therese Walter, the young, blonde beauty whom Picasso became besotted with and painted even when she was sleeping.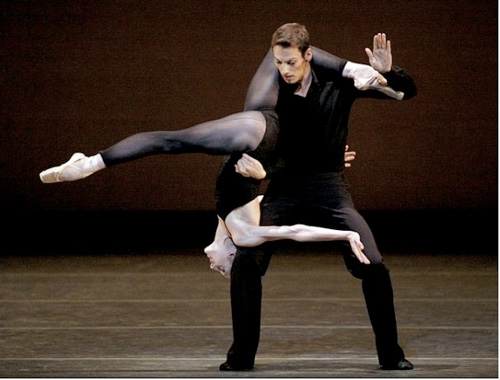 Wendy Whelan and Philip Neal in "In a Landscape"
Her husband David confesses he is addicted to The Huffington Post, however, and she says now it's her turn to say, "turn off that porn!" (I love that The Huffington Post is so addictive to people that it's up there in the category of porn, which I take to be the ultimate flattery!)
Her favorite music: Stravinsky, Bach, Brahms, ("I learn to love the music through the steps"), but she wants to learn everything, to eventually dance for choreographers and companies she hasn't worked with yet -- Suzanne Farrell in Washington, Peter Boal in Seattle and Pina Bausch, and to work again with the other great European choreographers, William Forsythe and Jiri Kiliyan. Her newest collaborations will be with Adam Hougland in Louisville and Lynne Taylor-Corbett.
Seeing Balanchine was her "bolt from the blue," but he died shortly after she became part of the company. She did have numerous chances to work with Jerome Robbins, and when I comment on how tight the dancers who rehearsed the Goldberg Variations seemed she acknowledges that there is just something different about dancing Robbins ballets, a camaraderie that develops. I even know from watching: radar is all important -- which is why I love his work so much. She found echoes of this collaborative spirit in DSCH and told Ratmanksy it was a true homage when it went up as part of the NYCB Robbins festival this past spring.
Whelan knows a dancer's life is not forever, but she isn't thinking about that. She is proactive about finding new collaborators because she knows she can't "rely on NYCB to keep feeding me new material." She'd like to be dancing more even when she's in season with them, but there are a lot of younger principals and soloists NYCB is trying to groom; it's a balancing act. And she allows, she's thought of more "as a woman than a girl" so some roles, even today, don't come her way.
She doesn't want to choreograph, and cackles when I ask her if she could see herself proselytizing about anal sex like another ex-NYCB dancer, Toni Bentley, who took all her bravery and put it on the page instead of the stage.
Rather, once self-described as "nervous," she has found, somewhat later than she found the perfect pointe, a strong confidence in herself.
Ballerinas are mostly thought of as pretty girls who stand on their toes in white tulle, but anyone who has seen Whelan dance knows that ballerinas can be much more than symmetrical adornment. They didn't have ballet dancers (or any dancers) at the Lincoln Memorial HBO show in DC on Sunday. But Whelan and Albert Evans, her partner in Liturgy, should have been on the list. On the eve of our historic presidency, their dance is the physical embodiment of change.
Wendy Whelan will be appearing in repertory throughout the winter NYCB season, as well as special performances in Louisville, Spoleto, Vail and other cities throughout the year.