In San Francisco this past Thanksgiving weekend, even with spectacular weather and sales at all the stores, the museums were mobbed. This is a very good sign and an indicator of just how much is going on in the Bay Area.
With all the ink on new museum buildings, one that not only lives up to but exceeds its hyperbole is the the de Young. The photographs do not do it justice. The coppery galvanized mesh skin (looking much like the beautiful Martin Puryears at MoMA ), the in and out of natural light, the-fan like formation of the galleries that splay out into nodes of loveliness, this is a contemporary structure that does just about everything and not incidentally fulfills the first mandate of art museums, making the art look wonderful. The architects' (Jacques Herzog and Pierre De Meuron) retrospective at the Tate Modern a few years ago did not convince me that they weren't Emperors New Clothes-y, but when I saw this building and its chic, fenestrated garb I became a total convert. Here's a design team that really, really thought it through, that has helped the curators think big while still giving them everything they need to make cogent, warm, engaging exhibits.
A small show upstairs (the de Young is one of the few museums which have managed to make the atrium a real place, with stairs that become part of the space instead of add-ons) of the work of David Seymour, the Polish born, American photographer who was one of the founders of Magnum with Robert Capa is a gem. Cartier Bresson, another founder, said of Seymour, or Chim as he was known for the mispronunciation of his polish surname, "Chim picked up his camera the way a doctor takes his stethoscope out of his bag, applying his diagnosis to the condition of his heart. His own was vulnerable."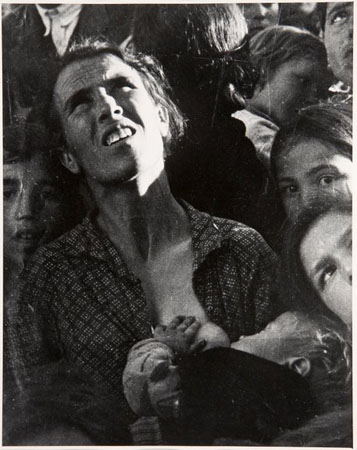 Chim (David Seymour) 1911-1956, Land Distribution Meeting, Estremadura, Spain, 1936. Vintage gelatin silver print. Gift of Ben Shneiderman to the Fine Arts Museums of San Francisco.
This extreme empathy is evident in almost every photograph, many iconic images of the Spanish Civil War, post war children and refugees. As someone who documented the devastation of war and its aftermath, but very personally, he is the precursor to Sebastian Salgado and those who have found in the Middle East, Africa and India extreme fodder for their moving contemporary photographs of the victims of internal political strife. But it wasn't just politics that got Chim--and that he got; as a humanist, he was able to focus on the torment behind the eyes, the scavenging in the street for a sofa or a three legged chair--each line on a nursing mother's face at a land distribution meeting a testament to the wrongheadedness of war. Children especially caught his eye and hungry Austrians, German miners, and hookers too, but they were given the same respectful treatment as Picasso or Callas or Rossellini, each of them refugees in his/her own way.
He had a little bit of a thing for Hollywood--Bacall, Joan Collins, Kirk Douglas, Sophia Loren, Gina Lollabridgida-- but every photographer has to eat and of course now these cinematic icons are almost as evocative as the refuges. One of Audrey Hepburn during the filming of Funny Face took my breath away, her gamine profile and style as modern as any of the current crop of Russian beauties and a lot more elegant.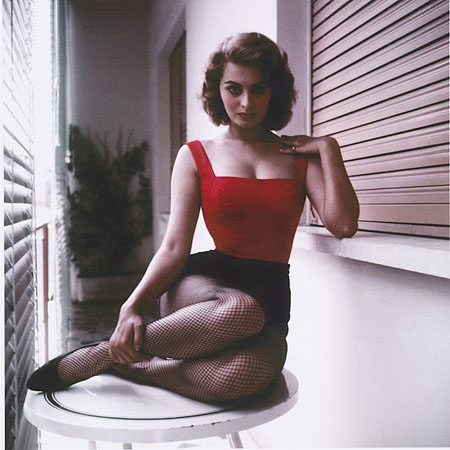 Chim (David Seymour) 1911-1956, Sophia Loren at Home, 1955, printed later. Color digital print. Gift of Ben Shneiderman to the Fine Arts Museums of San Francisco.
The street smarts of Chim spill over into Louise Nevelson, an exhibition of her sculpture which originated at the Jewish Museum and is brilliantly installed at the de Young, and in fact may have found its natural home despite Nevelson having been an Eastern girl. Nevelson was a forager, but unlike her male contemporaries David Smith and Calder who used metal for their work, Nevelson referenced Duchamp with his Ready Mades. In the way of a woman who needs to keep body and soul together by making an artful meal out of leftovers, Nevelson prepared a veritable feast.
Her early work is smaller and pure with a rough hewness and surprise (the wood shows through, not nearly as slick and opaque as her later work). One early drawing, a red-crayoned figurative nude in an adjacent gallery showed that Nevelson had what it took to go in a totally different direction and shows how for her, the pieces of wood that became her limbs and arms were as seductive as these.
The Black series gave over to a White collection which to me is the most beautiful. The two works in the show that made my heart stop were the re-assembled collection of whites originally made for the MoMA show Sixteen Americans that she was part of in 1959. She was already 60, but her fellow artists, all male, were Frank Stella, 23, Jasper Johns, 29 and Robert Rauschenberg , 34! The show offered an alternative to abstract expressionism, then very much in ascendance. The assemblage Dawn's Wedding Feast ranges over an entire gallery and leaves current installation artists looking wan and over their shoulders. The white constructions, the tones now varying considerably (MoMA's are the most yellowed) line up together in rough luxury like attendants coming late to the ceremony and stand up for the bride and groom as guests from all over the world assemble around them. This gallery-sized work was sold off piece-meal, sadly, because today an institution would have surely stepped up to keep it together. No matter, it is a testament to the curators that they have gotten almost all of it back ---it alone is a reason to journey to San Francisco.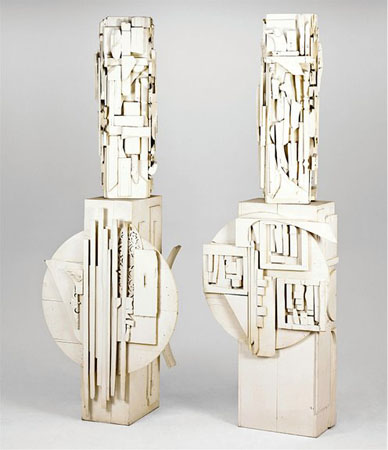 Louise Nevelson, Bride and Disk and Groom and Disk, 1959-67, from America-Dawn, 1962, originally from Dawn's Wedding Feast, 1959, Painted wood. The Art Institute of Chicago, Grant J. Pick Purchase Fund, 1967.387. c. Estate of Louise Nevelson / Artists Rights Society (ARS), New York. Photograph by Robert Hashimoto. Photography c. The Art Institute of Chicago
The other white work that thrills is White Flame of Six Million, a maquette for a temple front in Long Island that cannot be any more powerful life-sized than it is at this small scale. An hommage to those who died in the Holocaust, the small wooden figures huddling in their cell-like blocks have a wordless beauty every bit as poignant as the names carved in the Vietnam memorial in Washington.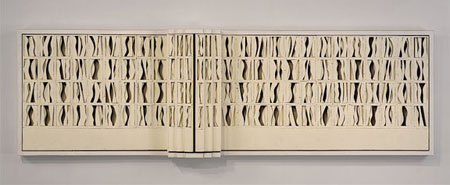 Louise Nevelson, Model for The White Flame of the Six Million, 1970, Painted wood, 22 x 74 inches. Collection Reed and Delphine Krakoff, New York. c. Estate of Louise Nevelson / Artists Rights Society (ARS), New York. Photo by Ellen Page Wilson, courtesy Pace Wildenstein.
I met Nevelson as a teenager in the sixties through a collector of her work. One could often glimpse her in NY in those years at openings and dinners. Clad in her signature loose-fitting black garb with grand silver jewelry , she completely embodied the idea of a famous woman sculptor, the hat pulled down low over her dark rimmed, multi-fake lashed eyes which missed nothing, especially how quickly one attended to her. She was fashionable and quite commercial, I thought; I didn't see a lot of "new" in Nevelson at the time, just a lot of "look at me" even though she had been annointed by the Met and the Modern and her work was already in many well known collections.
How surprising then to feel the jolt of the contemporary from her work here and the realization that as a woman sculptor working at large scale, and thinking really, really big, she was a true original. She seized her moment of glory because it had come so late, and because if she hadn't, nobody would have handed it to her. A piece in the current New York Magazine about MoMA's continuing impoverished display of works by women makes this today's news as much as it was in Nevelson's time. You still have to get dressed up and party to be noticed (ergo, Art Basel).
Joined at the hip just across town is the enchanting Joseph Cornell show at SFMOMA, its third and final stop after the Smithsonian and Salem. Cornell was another artist who impressed me as "over" and bourgeois, beloved by those, I thought, who needed their art in digestible, pretty bites. This retrospective, the first since one at MoMA in 1980 is another eye re-opener. Cornell's flotsam and jetsam is another man's (or woman's, except maybe Nevelson's) castoffs, and for someone who felt everything could be used in a lifetime, he made this swap meet-flea market girl's heart turn over. Emerging from a Victorian home into the Depression, Cornell took the collecting bug that emerged in the former era and turned it into the saving-scavenging bug that was by necessity the theme of the latter. An armchair traveler who claimed not to have left his Flushing NY home (though his childhood not downmarket via Andover) Cornell made out of his sublimated desire for women and nature a perfect storm of incandescence. Nymphs, pinups, ballerinas, Lauren Bacall (again, and another Chim favorite, postwar children) and Hedy Lamarr brought desire up against chastity; contained within his boxes, the repression had a charm all its own. The vitrines filled with clippings and memorabilia of lost performances, the birds, parrots, macaws and natural objects look at first like habitats but though Cornell worked small, he thought big: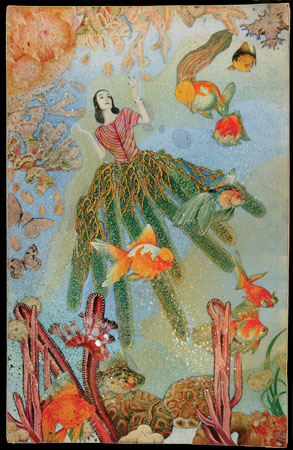 Joseph Cornell, Untitled (Tamara Toumanova), ca. 1940; collage with tempera on paperboard; [dimensions]; Smithsonian American Art Museum, Gift of The Joseph and Robert Cornell Memorial Foundation; c. The Joseph and Robert Cornell Memorial Foundation/Licensed by VAGA, New York; photo: Lea Christiano
Cornell mutates then easily upstairs to the larger scale but still connected natural impulse of Olafur Eliasson (coming to MoMA in the spring) A copper scroll almost identical to one in a Cornell box reappears in a room which recreates his white shelved studio,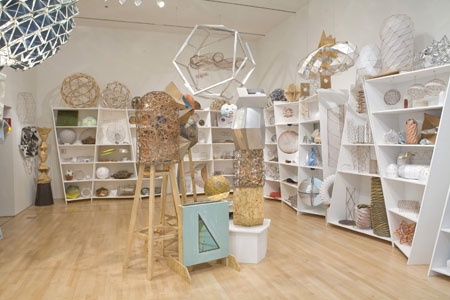 Take your time: Olafur Eliasson, installation view at San Francisco Museum of Modern Art; c. 2007 Olafur Eliasson; photo: Ian Reeves, courtesy SFMOMA
with models and maquettes of all stripes (though mostly earthy, circular and global)--you feel as if you've gone down Alice's rabbit hole: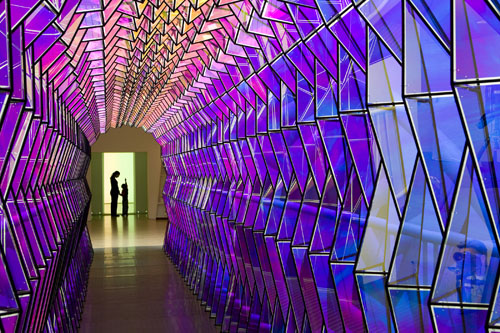 Take your time: Olafur Eliasson, installation view at San Francisco Museum of Modern Art; © 2007 Olafur Eliasson; photo: Ian Reeves, courtesy SFMOMA
and with a pinch of environmentalism soon find yourself in a rock lined passageway to a waterspray-fall or a darkened room of waves reaching to infinity: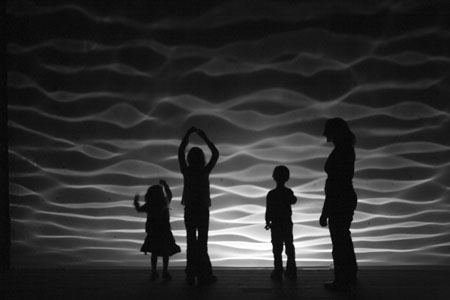 Take your time: Olafur Eliasson, installation view at San Francisco Museum of Modern Art; c. 2007 Olafur Eliasson; photo: Ian Reeves, courtesy SFMOMA
Having seen the Matthew Barney retrospective here, I felt Eliasson (Icelandic, probably friends with Bjork, Barney's wife) was imbued with the Nordic thing that seems to have gripped so many artists now that global warming is upon us (and why hordes of tourists are now getting stuck in sightseeing boats in the Antarctic).
Eliasson wants to make us sit up and take notice of the things all around us, to Take our Time as we make our way around the planet. How this will play in New York where "light, air, water and moss " are at a premium is anyone's guess but the rhetoric and art-y gobbledygook of the accompanying brochures a/k/a conceptual artistic doublespeak disserves the free spirit of the work and let's hope somebody who really wants to affect the public and global warming will figure out how to help Eliasson deliver his playful but grave written message in a less opaque way.
San Francisco was at its absolute perfect best over Thanksgiving, on display with a full moon, and if you were at the Embarcadero farmer's market Saturday morning, the ripest and creamiest Camembert and Goat cheese, the youngest Hydrangea and poppies and the most piquant blood orange marmalade. As much as I love the LA farmer's markets, San Francisco puts us to shame, the outdoor temples to their foodie-ism just a little ahead on the curve. (If you haven't already eaten at the Slanted Door, also in the Embarcadero building, well then, I am sorry for you)
Best of all: I met my new step grandson who in the spirit of all things Bay area is named after a mountain! Olafur Eliasson, Louise Nevelson, Joseph Cornell and Chim have nothing on our family. We aim to keep the natural world front and center, recycling his stuff, urging him to think big, and mostly keeping his heart open and vulnerable to life.