The Washington, D.C. restaurant industry is not only a haven for big shot restaurateurs, it's quickly becoming a strong industry for restaurant workers as well. Let's just take a look at some of the ways this is true.
Recently, the D.C. City Council passed the Fair Criminal Records Screening Act, which would prohibit ongoing discrimination against returning citizens by only allowing employers to deny someone a job in the restaurant industry if their crime was directly related to the job they have been offered. The Council also just amended their wage theft protection law to make it one of the strongest wage theft protection laws in the country (find out more here). The changes to the law will help restaurant workers fight back against their employers cheating them out of the compensation they deserve; a problem that is more rampant in the restaurant industry than any other. Finally, the Council also expanded its paid sick days law on the books to finally include restaurant workers. After all, does it not make sense to allow the people who prepare and serve your food when you eat out some time to recover from an illness without having to worry if they'll be able to pay the rent that month?
All of this progress is to be celebrated, as they were hard-won victories for countless restaurant workers across the District. However, the fight is far from over. Despite all that the Council has done for restaurant workers in the past year, issues such as access to childcare, paid family leave, and rampant sexual harassment are still major problems that restaurant workers face on a daily basis. However, the biggest issue of them all, which the Council has continually avoided addressing is their wage. The Council did raise the minimum wage for workers in D.C. to $11.50 by 2016, but that applies only to non-tipped workers. In other words, tipped workers, like servers in your favorite restaurants are still going to be paid $2.77 per hour, and will have to rely upon your generosity with your tip to make their rent for that month. And as a result of this, 87 percent of restaurant workers in D.C. do not make a livable wage. As a server myself, I know exactly what this is like and no matter how good a server you are, you are still at the mercy of whether you can get the busy shifts, or if the restaurant will be busy that night, or if your tables will tip you the customary 20 percent.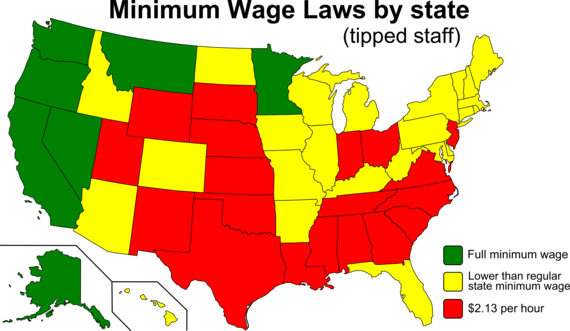 However, imagine if there was no difference between the minimum wage for a tipped worker versus a non-tipped worker? Imagine if there was one fair wage for all? If you knew that you were going to be getting a fair wage in your paycheck, no matter if you had some good nights or some bad ones, that would put your mind at ease, wouldn't it? It would for me. The bottom line is that no industry should be exempt from paying their employees a fair wage, so it's about time we make one of the fastest growing industries in the District do the same as all others.
So, if you are a restaurant worker in D.C., or a D.C. resident who thinks its about time everyone be treated fairly, then I urge you to become a part of this fight by teaming up with ROC-DC (Restaurant Opportunities Center - DC) and joining their campaign for #1FairWage @ROCDC.
Photo above credited to WonderWhy on Flickr.