This morning a tragic story appeared to me via the magic of the Facebook wall.
It seems a dedicated Boston father took his 10-year-old daughter to Fenway Park yesterday, where her favorite player hit a three-run homer in the bottom of the seventh that would prove to be the game winner.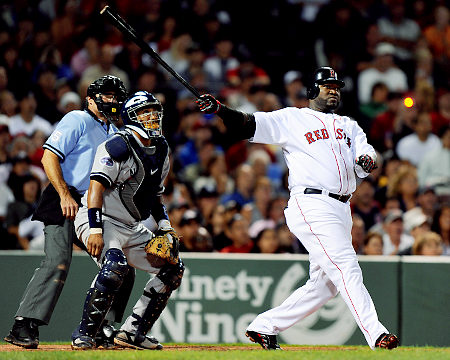 The young fan's Red Sox hero? David "Big Papi" Ortiz.
It was a great time at the ballpark, Daddy-Daughter Day nonpareil...But now comes the hard part. Pops has to explain that Papi (and former partner-in-crime Manny Ramirez) used performance enhancing drugs.
Take it away, Helen Lovejoy.
Won"t somebody please think of the children!
Well, parents of Red Sox Nation (especially the fishy-smelling one, you know who you are) somebody is thinking of the children.
Me.
My papers are legit. I'm the son of a pediatrician and a former Head Start teacher, I know at least 25 children personally, and I've seen the Red Sox in person five times.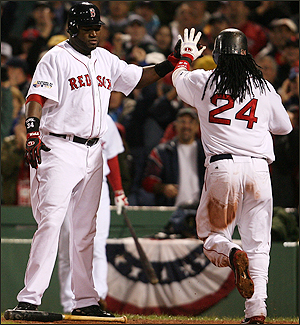 Here then are nine easy ways to have the David Ortiz used(s) steroids "talk" with your children. That's one for every inning, which has the advantage of allowing for plenty of Sam Adams courage while keeping your kids from indulging in a ridiculous time-wasting activity like keeping score. ("Look, Daddy! I just made a backwards K! Isn't it neato!")
There's been a lot of "teachable moments" in Beantown this week and the revelation that Ortiz's name is on a list of players that was meant to be confidential with anonymous testing and is currently under a court seal and was probably leaked illegally in the first place, shouldn't be wasted.
We'll keep ManRam out of it; he's Joe Torre's Rasta-headed-Dodgers-headache now. Here are delicate conversation starters to help the most innocent among us understand that their heroes are fallible. It'll be tough on wide-eyed youngsters like 48-year-old Chris Healy, but parents, know that when you sit your kids on your knee and explain the facts of life, you're the one thinking of the children.

1.) "Kids, Big Papi is from a country called the Dominican Republic. There's an old saying down there that 'you can't walk off the island.' What that means is that non-English-speaking 16-year-olds can't be signed to meager contracts without union representation to help feed their families in a country where 43% live in poverty that's rife with steroids and baseball academies promising a better life than earning $2.50 per ton of sugar cane they cut down. They should know better, right kids? Just say no."
2.) "Son, you know who plays the game the right way? Kevin Youkilis, Dustin Pedroia, Jason Bay, Jason Varitek, Jonathan Papelbon, Josh Beckett and Jon Lester. You know what they all have in common, son? Think about it...That's right...None of them played for the Minnesota Twins, an organization that clearly doesn't play the game the right way. They play indoors, son. What does that tell you?"
3.) "Kids, I think I can best explain the situation by paraphrasing Jack Nicholson as Frank Costello in the greatest movie ever made, The Departed. You don't want to be a product of your environment. You want your environment to be a product of you. Years ago we had the church. That was only a way of saying - we had each other. The Knights of Columbus were real head-breakers; true Guineas. They took over their piece of the city. Twenty years after an Irishman couldn't get a fucking job, we had the presidency. May he rest in peace. That's what the niggers don't realize. If I got one thing against the black chappies, it's this - no one gives it to you. You have to take it....Now stop asking me about the cop and the egghead over in Harvard, I'm trying to watch the Sox."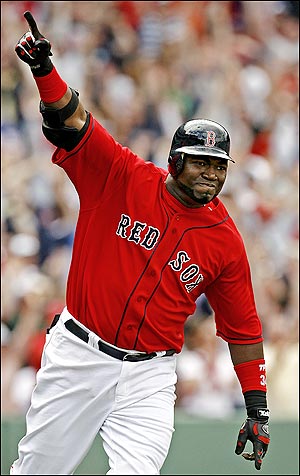 4.) "Kids, I'm not going to say all Latins cheat because Luis Tiant, El Tiante, didn't need nothin' stronger than rice-and-bean burritos or whatever they eat in Cuba there to make hitters look loco. So I won't say all Latins cheat...But, I'm like the umpire here, sweet pea. Gotta call it like I see it. All Latins cheat."
5.) "You know who never took a steroid in his life? Tim Wakefield. He's older than Mommy and Daddy and he's makin' $4 million this year. He just made his first All-Star team for the love of Teddy Ballgame. How many hours a day you been practicin' your knuckleball, son? NOT GOOD ENOUGH! I said minimum four hours a day. How do you expect to play for the Sox with those chicken wings you call arms? You wanna go to college? You think your Father can afford to send you to college? What do you think, I'm made of money? I'm a goddamn Kennedy? When we get home after the game, two hours off the bump in the backyard. I don't care if it's midnight, I said FOUR HOURS OF KNUCKLEBALLS EVERY SINGLE DAY!"
6.) "You can keep your Tom Brady poster up, honey. He's never done nothin' to embarrass us Bostonians ever. That woman was blessed by an angel to have that baby out-of-wedlock. She should be countin' her lucky stars Tommy didn't pull the Tuck Rule on her. That baby is set for life. But don't get any funny ideas, you can meet a nice Pats QB when you're 18. For now, we'll just tear that Papi picture off your wall and burn it in the fireplace like we did with Daddy's autographed Roger Clemens autographed ballcap. You remember that hat, Mommy showed you the pictures from our wedding..."
7.) "Son, I know Ortiz, let you down. When times are tough like they are now, I just close my eyes and sing to myself. It's very soothing. It keeps me centered. Try it with me...eyes shut? ready? I'm a sailor peg, And I lost my leg, I climbed up the topsails, I lost my leg..."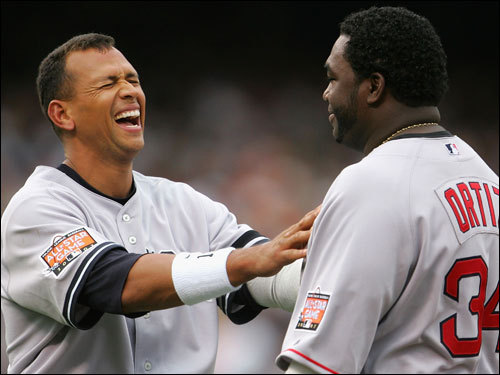 8.) "Kids, the important thing to remember is that people make mistakes and we're all human. Just try and live your lives without being a humongous asshole. PEDs I can live with, but if either of you end up like Curt Schilling then you have no chance of getting your Father's season tickets in the will."
9.) "Listen up. If you think just because Ortiz took a few pills to perform better, like so many of us mortal husbands, that I am going to stop wearing my $189 authentic MLB jersey, then you are sorely mistaken. I don't care about steroids, what I care about is Derek JeetAH is a wicked cawksuckah and A-FrAHD can lick my nutsahk. Yankees fucking suck, kids. Nevah forget that.
PAPI FOREVAH!"