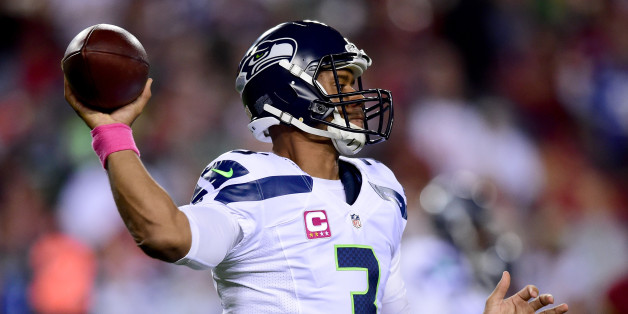 The Predictalator has run every Week 6 2014 NFL game 50,000 times. Below we present the up-to-date top three at each fantasy position for the week, a sleeper likely to have a breakout game (generally chosen as the best $/FP value on daily fantasy sites), a player to avoid (the worst $/FP value) and some injury situations to monitor heading into the week. Also, check out free projections for every player in every future week in our Rest of Season Fantasy Football Rankings.
Quarterbacks
1. Peyton Manning 26.6 FPs (DEN @ NYJ) - Manning faced a top five pass defense in the league last week and torched for his career record passing yards, four touchdowns and just one pick. The Jets are phenomenal against the run, yet pedestrian against the pass and just allowed 27.5 fantasy points to Philip Rivers last week.
2. Russell Wilson 25.2 FPs (SEA vs. DAL) - Wilson may not match his 100+ yard rushing output from Monday night in Washington, but expect another great game in a relative shootout versus a Cowboys' defense that is allowing a league-worst 6.5 yards-per-play.
3. Jay Cutler 24.9 FPs (CHI @ ATL) - The Atlanta Falcons have the league's weakest pass rush and are allowing a league-worst 8.0 yards-per-pass. Cutler has four weapons in the passing game with 35+ targets and will need to throw in a shootout inside on Atlanta's fast track. The Bears are already throwing the ball 63% of the time.
Breakout Candidate: Brian Hoyer 19.3 FPs (CLE vs. PIT) - Pittsburgh's defense is not healthy, but it still is average against the pass. This has more to do with Hoyer than the matchup. He put up 7.4 yards-per-pass in his first game this year against Pittsburgh and has averaged 290 yards and two passing touchdowns in his last two games. Every Browns game this season has gone OVER and this looks no different (especially as Cleveland will likely be without Joe Haden and Phil Taylor).
Must Avoid: Matthew Stafford 18.7 FPs (DET @ MIN) - With Calvin Johnson hobbled and Joique Bell, Theo Reddick and Joseph Fauria all out last week, Stafford had just 14 fantasy points last week. Bell may be back, but Johnson and Reggie Bush are looking questionable at best. And remember that Minnesota is playing outside this season, which should slow the Lions down even more.
Running Backs
1. Marshawn Lynch 17.4 FPs (SEA vs. DAL) - As mentioned with Wilson, Dallas gives up the most yards-per-play in the NFL and has a bottom five pass and run defense. As he often has been recently, particularly at home, Lynch could pick up plenty of touches late to ice the game with Seattle ahead.
2. Gio Bernard 16.9 FPs (CIN vs. CAR) - In the previous game that A.J. Green missed (all but three snaps), Bernard led the team in passing targets and amassed 169 total yards on 32 touches. Topping that would be tough, but 75% of that productivity still ranks him this high.
3. Le'Veon Bell 15.2 FPs (PIT @ CLE) - Bell is averaging 138 total yards on 22 touches a game and had 197 total yards the last time these two teams met. The Browns defense is without two of its best players this week as well.
Breakout Candidate: Branden Oliver 13.9 FPs (SD @ OAK) - Oliver broke out last week with 172 total yards on 23 touches. It's not a total fluke... mostly because he is the last man standing for the Chargers who are without Ryan Matthews, Donald Brown and Danny Woodhead at the position.
Must Avoid: Carolina RBs (CAR @ CIN) - Last week's top Panthers back, Darrin Reaves, is not practicing this week. Jonathan Stewart has on a limited basis. De'Angelo Williams is likely out. Chris Ogbonnaya and Fozzy Whitaker are also on the roster. It's a mess.

Wide Receiver
1. Julio Jones 15.5 FPs (ATL vs. CHI) - Jones has at least eight targets and 80 yards receiving in every game this season, consistently putting him in the conversation for top WR of the fantasy week. With 50+ points expected in Atlanta and both teams throwing the ball 60%+, plus having Harry Douglas and Devin Hester likely out, it should be a monster game for Jones.
2. Jordy Nelson 14.0 FPs (GB @ MIA) - Miami is actually very good against the pass, but much of that comes from its pass rush. Nelson is one of the consistently better players in the league at breaking big plays with the ball in his hands, scoring a TD in three of his last four games. He has also had double-digit targets and at least nine receptions in three of the team's five games this season.
3. Antonio Brown 13.1 FPs (PIT @ CLE) - Have I mentioned that we love a high-scoring game in Cleveland? Brown is third in the league in receiving yards and is third on this list.
Breakout Candidate: Mohamed Sanu 12.4 FPs (CIN vs. CAR) - No A.J. Green. No Marvin Jones. No Tyler Eifert. Ben Tate and Dane Sanzenbacher are the other wide receivers right now for the Bengals. Sanu had 17.4 PPR fantasy points when Green missed most of the game against Atlanta. That was on just four targets. Expect far more targets this week.
Must Avoid: Calvin Johnson/AJ Green 0 FPs - As we have seen in Weeks 4 and 5 with Johnson and Week 3 with Green, even if these star wide receivers do suit up at far less than 100% health, it is often as a decoy. Sit both for this week as each tries to rest for future weeks.
Tight End
1. Julius Thomas 11.4 FPs (DEN @ NYJ)
2. Antonio Gates 11.0 FPs (SD @ OAK)
3. Delanie Walker 9.8 FPs (TEN vs. JAC)
Breakout Candidate: Austin Seferian-Jenkins 6.9 FPs (TB vs. BAL)
Must Avoid: Jason Witten 4.6 FPs (DAL @ SEA)
Kickers
1. Justin Tucker 10.2 FPs (BAL @ TB)
2. Shaun Suisham 9.9 FPs (PIT @ CLE)
3. Nick Novak 9.8 FPs (SD @ OAK)
Breakout Candidate: Billy Cundiff 9.7 FPs (CLE vs. PIT)
Must Avoid: Graham Gano 6.0 FPs (CAR @ CIN)
Defense
1. Tennessee Titans 12.6 FPs (TEN vs. JAC)
2. San Diego Chargers 9.5 FPs (SD @ OAK)
3. Cincinnati Bengals 9.4 FPs (CIN vs. CAR)
Breakout Candidate: Minnesota Vikings 8.5 FPs (MIN vs. DET)
Must Avoid: Baltimore Ravens 2.2 FPs (BAL @ TB)
Injuries to Watch
1. Feature Running Backs - Montee Ball, Rashad Jennings and Ryan Matthews were each strong preseason picks as likely feature backs in their respective offenses. Each will miss this week, opening the door for possible break outs. Ball will be replaced about half the time by Ronnie Hillman, though Juwan Thompson and C.J. Anderson (neither of which is fully healthy) are in the mix. Jennings has Andre Williams filling in for him, but it's worth noting that Williams has just 3.1 yards-per-carry and literally caught zero passes last year in Boston College. Branden Oliver is the best fill-in this week and he's fourth string on the Chargers. Benny Cunningham (for Zac Stacy) and Theo Reddick (for Joique Bell and Reggie Bush) are also possible replacements at running back this week. Do not overplay their value, however, as Oliver is the only must start in this group (Williams is fringe starter in standard scoring leagues). Also, I would recommend picking up Joseph Randle as soon as possible. DeMarco Murray cannot sustain this pace and stay healthy and the Cowboys running game focus could make Randle the most valuable back up running back going forward.
2. Skill Positions, Detroit Lions - Calvin Johnson, Joique Bell, Reggie Bush and Joseph Fauria have all missed practice time this week. While Bell has cleared most of his hurdles coming back from a concussion, he is not expected to be very effective even if he comes back. Those issues clearly impact Matthew Stafford. As noted above, he ranks just 17th among quarterbacks in our projections. Golden Tate should be in for another decent day, but that is all that should be expected positively from this offense in Minnesota.
3. Jordan Reed, TE, Washington Redskins - Reed is one of the more athletic and dynamic players at the tight end position. He is also rarely healthy. Practicing in limited fashion this week, we expect Reed to play against Arizona. For this week, that essentially saps value from all other pass catchers on the Redskins. The Cardinals have a strong secondary (despite what we saw last week) and Kirk Cousins has distributed the ball inconsistently throughout the season thus far. Reed, Pierre Garcon, DeSean Jackson and all other WR or TE for Washington are not startable in most formats. Jackson would be close without a healthy Reed. Reed should still be owned, but I would not start him until he proves he is healthy and the matchup is decent.