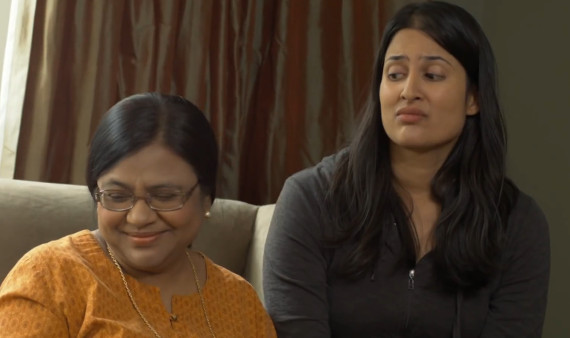 If you're an upwardly-mobile Indian-American, quitting your job in aerospace and defense to make an Internet comedy series is almost certainly not a part of the plan.
But that's what rookie producer/screenwriter Janaki Tambe recently did, moving to Atlanta to live with her parents while she got to work on Bad Indian. The six-episode series, which airs Wednesdays on YouTube, explores the hilarious highs and lows of a first-generation female Indian-American failing to live up to expectations.
"Stuff like job interviews, dating, her perfect childhood friend's wedding, and living with her parents," are terrain that Bad Indian explores, says Tambe. "[Janaki is] first generation American, so there's the cultural clash, as well as the generational clash with her parents."
In episode one, Janaki loses her job and is forced out of her apartment when her gay roommates decide to turn her bedroom into a nursery for their baby. The thirty-something goes apartment hunting, where she encounters a privileged white drug dealer who thinks she's too unstable to sublet, a rental agent who mistakes her for the cleaning lady, and a creepy guy who tries goading her into a seedy webcam operation. Destitute, she moves back in with her parents.
That's where the story for Bad Indian really kicks in, and it makes for some supremely awkward situations. Occasionally, the humor is an inside joke that only Indian-Americans will understand; like bringing non-vegetarian food to a puja, or Janaki's mom trying to find her a mate via personal ad.
But part of the broader appeal of Bad Indian is that while the comedy draws on the experience of one particular ethnicity in the United States, many first generation Americans -- no matter what country their parents came from -- can find some of the humor applicable. If, for example, you were Jewish fifty years ago, Janaki could have been you.
"I just thought this was a sitcom I really wanted to see, so I made it myself," Tambe explains. "Certain audiences are really looking for something different, and mainstream TV/filmmakers underestimate them. There's so much talk about the lack of females/racial diversity on network television, but if it's funny, people will want to watch it."