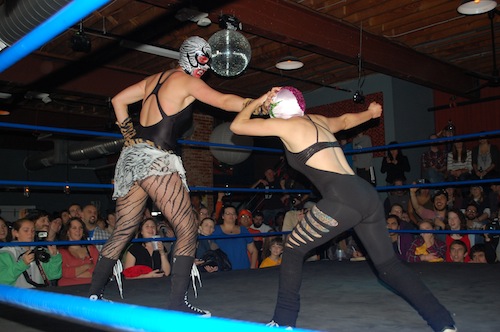 It seemed impossible, thought La Aguila Dorada, as she looked up to see the towering figure of La Amazona in the ring. The people cheered as the two female Luchadoras faced each other. "Que terible!" La Amazona stood more than seven feet tall, legs as thick as trees, arms as strong as iron pipes, a face hidden behind a hideous black mask. But it was the eyes that struck fear into the heart of La Aguila Dorada: terrible red globes of death stared out at her.
La Aguila Dorada shook off her fear and lunged at the giant. "Para mi gente! For my people!"
More than 500 spectators cheered the little "Golden Eagle" on as she launched herself against her opponent in Durham, N.C., in January. They were witnessing the final conflict between 10 luchadora women competing in traditional Mexican Lucha Libre wrestling. But these women were fighting for more than just cheers.
Members of the North Carolina Dream Team are used to taking on fearsome foes, whether demonstrating for the DREAM Act, the federal legislation that would allow students without papers to attend college and get legal, or organizing campaigns to keep undocumented youth from being deported. Now female members are donning masks to get in the ring and literally grapple with their opponents to help raise support for their cause.
"I think people's minds have been opened more," says Victoria Bouloubasis, a member of the NC Dream Team and a luchadora herself. "A lot of people care but they have never been politically aware or engaged."
The Luchadoras events are the brainchild of King Kenney, a Durham-based events promoter who came up with the idea as a means to raise funds for local food programs for the poor. Kenney knew Bouloubasis along with other Dream Team members and asked them to help. The first two Luchadoras events have sold out at Durham's Motorco Music Hall. A third match is planned for Feb. 25th.
The entertaining events have caught on in a big way, but more importantly, they've been another way for young Latino activists to get their message out about the Dream Act. Spectators stay and begin to ask questions about the movement. "People have this idea in their head of what an undocumented person looks like and then they meet someone and it shocks them," Bouloubasis says.
Even though La Aguila Dorada fights behind a mask, she is up front about her undocumented status. She asked not to reveal her secret identity. This is traditional as many Mexican luchadoras often keep their true identities hidden.
"We fight for the undocumented youth," La Aguila Dorada says. "I'm out. I'm undocumented. I have to drop the fear. I have to drop the shame," she says without hesitation. "It's a revolutionary thought to say you're undocumented, but once you do it you have the power and that revolutionary thought starts to spread."
La Aguila Dorada was born in Mexico, and brought to the U.S. as a young child. She grew up in Texas and graduated from college there. But she became actively involved in the fight to pass the Dream Ac when she moved to North Carolina.
"People become heroes in Lucha Libre and they help people," says Areli Barrera de Grodski one of the Luchadoras at the event. "I would like to think I am representing something than just wrestling."
Barrera was born in Tijuana, moved to the U.S. with her family as a young child and later obtained legal status with a lot of effort and money. She thinks this form of political theatre is empowering to the community and the movement.
"Lucha Libre started off as being entertainment but it has a lot of metaphors in it of good versus evil--but the struggle is universal," she says.
The Luchadoras say there is tremendous power donning the masks and assuming a new identity.
For Latino youth, identity is a big issue because so many feel at odds in a country where they feel alienated. Wearing a mask and being a fighter for the people allows them to fully express themselves when they step into the ring.
"You get that adrenaline rush, you're like, "Oh my God!' you're under a mask, you have another story, you're completely liberated and you can go crazy," says La Aguila Dorada.
Loca--going crazy--is what La Aguila Dorada did in the ring against La Amazona.
Luchadoras 3 is set for Feb. 25th at Durham's Motorco Music Hall from noon--3 p.m. It will benefit the NC Dream Team. (http://www.ncdreamteam.org) and Inter-Faith Food Shuttle, an organization committed ending hunger in communities. You can watch video here from Brandon Hoe.