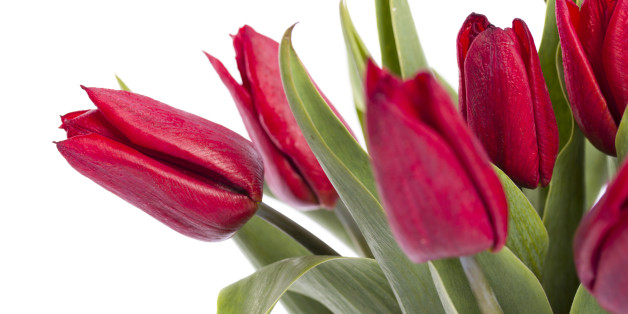 It's hard to accept when a relationship has ended, and it's even harder to let someone go. In the fall of 2010, I had broken up with my boyfriend of seven years, and after months of solitude and grief, I was convinced that I was incapable of falling in love again.
My friend Scott took me to a party at the Griffin in the Meatpacking District in an effort to help me meet new guys. I entered the party reluctantly. I had been to many gay parties in Manhattan, but never as a single man. Manhattan is a different world when you're single, and I was afraid. I could not see myself as one of the shirtless gladiatorial bodies on the risers, dancing with his arms flung to the ceiling. But the martinis did their trick, as they always do, and by the end of the night, I had found myself on the dance floor, shirtless (though not gladiatorial), with my lips pressed up against another boy's. Who this boy was I don't remember. But an interesting revelation occurred to me as we kissed: I could kiss another boy and not fall in love. It was a fact that must have been so painstakingly obvious to everyone at the Griffin, and perhaps to the boy I was kissing, but not to me until that moment.
After I left the Griffin and was on the A train heading uptown to some other party, I remember believing I could partake in the Manhattan dating scene and not get emotionally invested. I had seen the mistakes that my friends often made, how neurotic they'd become over unanswered text messages, and how they'd wonder endlessly why the cute guy from the gym had blocked them on Grindr. All that had seemed so petty compared with the pangs of building a life with someone.
You see, I was in a curious position after my ex and I separated. I had been through relationship war and was now disillusioned. I didn't want carriage rides in Central Park, nor did I even want to go on a second date. I'd already done all that. As far as I was concerned, love was now reserved for those who hadn't suffered a seven-year relationship.
So I dated. I met men at bars, on the Subway, on Grindr, and even at work. It seemed that everywhere I went, I could strike up a conversation with a man and we'd be on a date the following night, no strings attached. This trend continued for months. Eventually, however, I met a man named David at some place or another, and he put a halt to this trend.
For our first date, David took me out for drinks at the Empire Hotel because, as he sold it, it was a filming location for Gossip Girl. I failed to be impressed as I went through the hotel's revolving door, and I mentioned to him that I do not watch Gossip Girl.
We sipped lychee martins, his drink of choice, and I listened as he told me about his brother's bachelor party in Atlantic City (an event he called one of the best night of his life) and his adventures as a former political staffer.
The waitress came by to see if we wanted another round, and he replied, "If I'm lucky he'll stick around for another drink."
I did, and something happened in between the rounds of lychee martins, something that is easy to spot in movies, in books, and even on television shows. It's the precise moment when the hero falls in love.
David kissed me, and I was naïve enough to think that the kiss would have no consequences. With that first kiss I imagined possibilities with him: I saw us dating, going to expensive dinners, and coordinating a Butch Cassidy and the Sundance Kid Halloween costume. This sort of magical thinking seemed innocent at the time, but it would be my undoing.
That night we walked to his apartment, which was located on 72nd Street, right by the Dakota. The Dakota is important to mention because I had not seen it in the years that I'd been living in Manhattan. When I was growing up, my dad spoke about the Dakota as if it were myth, because it was the site of John Lennon's death, an event I found particularly arbitrary until my junior year of high school, when Dad refused to let me read The Catcher in the Rye because of its role in Lennon's death.
I confronted Dad, arguing that I couldn't pass my English class without reading the book. Dad took a moment and recounted where he was on the evening that Lennon died. He had been watching Monday-night football, the New England Patriots vs. the Miami Dolphins, when Howard Cosell had abruptly interrupted the game to announce Lennon's death.
"It was the day my youth ended," he told me. "I had lost my innocence."
I continued seeing David after the first date. Our dates were always at his apartment, ordering in from Dinastia China and talking about the day's events, news and our interests.
David had a glass cabinet in his living room. It was large and antiquated and housed keepsakes from all his life adventures. He showed me some of the keepsakes. Two in particular stood out to me. One was a napkin from a flight attendant who had written her number on it.
"I was unshaven and wearing a cap," he said proudly, "and she thought I was straight."
The other was a photo him and Hillary Clinton, hand in hand, smiling. The photo wasn't staged. It was candid, and Hillary was holding on to him like he was a trusted companion.
I asked why he kept the napkin. What was so significant about a random girl thinking he was straight? He laughed, carefully placing the napkin back in the cabinet, and said, "Don't read too much into things."
The last night we spent together, I brought him tulips for his birthday and finally told him I liked him.
"You say that too much," he replied, reluctantly accepting the flowers.
I had never outwardly told him I liked him, but I could see where my feelings were loud and clear. It was obvious just in the way I looked at him and how I teased him about his rosy lips.
I had also brought him a book that night. The book was Jon Stewart's Earth. I was working for the publisher, and my department had designed the ePub. It was my first time working on such a high-profile book, and I hoped it would rest somewhere between the napkin and the Hillary Clinton photo in the cabinet.
David held the book, weighing it in the palm of his hand, before placing it on his table.
We didn't order Chinese that night.
In the morning I didn't leave his neighborhood as quickly as I should have. Instead I stood in front of the Dakota, sipping an iced coffee, observing that the torches at the entrance were powered by light bulbs rather than actual fire. I realized in that moment that I had fallen in love with a man who would never love me back.
I never saw David again. His choice. And on the nights when the Empire State Building was gold or pink or orange -- really, it didn't matter what color it was, because all the nights eventually blurred into one -- I would listen to Green Day's "Wake Me Up When September Ends" on my iPod, hop over the subway grating, and try to recapture the same foolish arrogance I once possessed. But I couldn't. I had gone through that revolving door at the Empire Hotel a pessimist and come out a believer again.
I owe a lot to David. I have a better understanding of relationships because of him. He taught me the dangers of loving someone for who I think they are vs. who they actually are, a lesson that has aided me in both love and friendship to this day.
So who was David from 72nd Street by the Dakota, really? I'm not quite sure. But if there was another lesson I took away from my time with him, it was to let it go and not read too much into it.