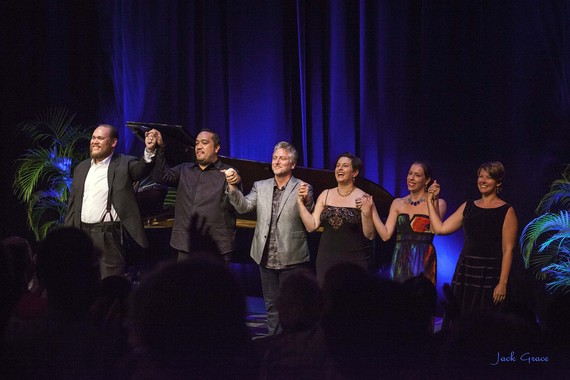 Photo by Jack Grace
When Maui Academy of Performing Arts hired Jim Price to portray Jean Valjean in their unforgettable production of Les Miserables last year, they had no idea what he saw happening here on Maui after that production. Mr. Price, was the artistic administrator of Hawaii Opera Theater for three years, but the stage won out over the desk and he decided to return to his opera career. Now he is establishing an opera company on Maui. If their July 17th show was an inkling of what he can produce, Maui is in for world-class treat.
The best way to describe this event is stupendous! Tremendous! Astounding! Price has some really good friends who also happen to be among the most exciting young talents in opera and one of the best accompanists I have ever heard, Mai'kai Nash.
Audrey Luna, who is a Metropolitan Opera singer, is an exceptional talent. She recently, appeared as Ariel in Thomas Ades' The Tempest. The New York Times, said,
"The role of the spirit Ariel is written for a coloratura soprano singing in a stratospheric range, here the physically and vocally agile Audrey Luna. This punishing part should probably never have been written. With her radiant voice flitting about in super-high fidgety bursts, Ms. Luna can hardly make a single word clear. It doesn't matter. Mr. Adès's Ariel is a dazzling creation, and Ms. Luna conquers the role."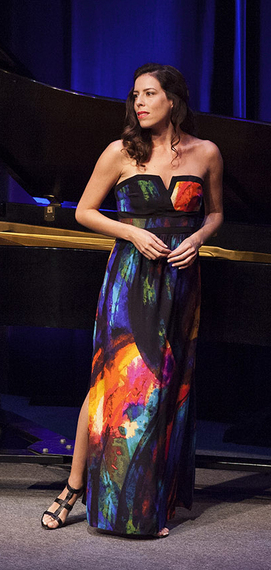 Photo by Jack Grace
The New York Daily News said, "Oregon soprano Audrey Luna commands as Prospero's airy, sometimes scary, fairy. Adès' punishing score pitches her notes up to space-jumper territory. This is an exotic, unforgettable Ariel."
New York Magazine said,
"Adès's most magical creation is Ariel, who levitates both in body and voice. She sings in the register of sprites, so high and soft as to float nearly out of the range of human hearing (and far beyond any singer's ability to distinguish syllables). Get the casting wrong and you're in for a long night of shrill squeaks, but Audrey Luna surfs on clouds, and in the final scene, her offstage voice blends with the orchestra's eerie whistle, making it clear that while human order is restored, the isle remains a perpetually enchanted place."
Her voice is not only powerful, but she has absolute control of it. Even when she reaches the stratospheric, coloratura soprano range, she is able to gently and quietly touch the note, like a butterfly landing on dandelion ready to seed without disturbing it.
She sang Gilda's aria from Rigoletto. Then, the hits kept coming. She was joined by the marvelous mezzo, Shoshanah Marote for the famous flower duet from "Lakme." She then, closed out her portion of the first act with Musetta's "Quando M'en Vo" from Puccini's "La Boheme."
In act two her only aria was Leonard Bernstein's "Glitter and Be Gay" from "Candide." This was the only true coloratura piece in the show and it allowed Ms. Luna to soar into the ionosphere. She began the piece, which is among the most difficult for a coloratura soprano, by removing her shoes. At one point she crawled under the piano and landed on the lap, coquettishly, of the young page-turner, who turned bright red and had a little difficulty regaining his place in the score. Ms. Luna's performance brought the house to its feet. Her power, control, beauty, and expressiveness make her a real force to be reckoned with.
The other star on the bill was Hawaii's own, Quinn Kelsey. Mr. Kelsey, one of the most in demand baritones in the opera world, has sung in most of the great opera houses and his presence on the Maui stage was an uncommon treat. He opened the program with one of opera's most famous aria's and among the baritone's most difficult, Figaro's "Largo al Factotum" from Rossini's "The Barber of Seville." Mr. Kelsey had a lot of fun with the Figaro's in this and the Italian in the allegro vivace sections was flawless.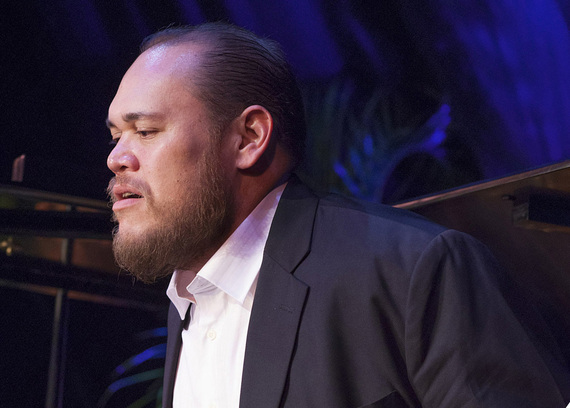 Photo by Jack Grace
Mr. Kelsey then returned for Rigoletto's "Pari Siamo" where Rigoletto sings that he and the assassin Sparafucile are the same, "He kills with the sword and I with words." He finished act one with a rousing rendition of the "Torreador Song" from Bizet's "Carmen."
Mr. Kelsey opened the second act with Yeletsky's aria from Tchaikovsky's "The Queen of Spades," "Ya Vas Lyublyu," but his final number, like Ms. Luna's, was the best. His rendition of "Morir Tremenda Cosa" and "Urna Fatale" from Verdi's "La Forza del Destino" was so good that the audience gave Mr. Kelsey a tremendous ovation when he completed the cantibile section of Urna Fatale. Kelsey waited patiently as the audience heaped praise on his performance with standing cheers and bravo's resounding in the hall. Then launched into the cabeletta section of the aria.
Shoshanah Marote is a fine mezzo who really shined in the familiar duet from "Lakme" as well as her Carmen in "The Habanera." She was saucy, sexy and thoroughly beguiling. I was also impressed with her version of Bernstein's "I am Easily Assimilated" from "Candide."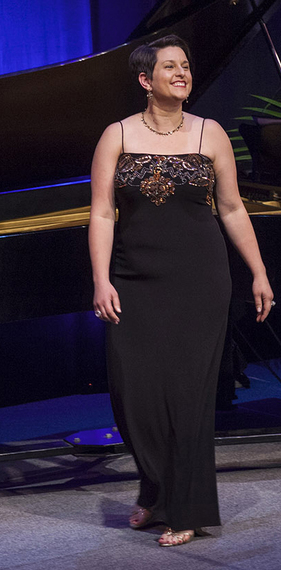 Photo by Jack Grace
Jim Price also had some chestnuts to throw into the mix including a nice version of "Una Furtiva Lagrima" from Donizetti's "The Elixir of Love," "E Lucevan le Stele" from Puccini's "Tosca" and a stirring interpretation of "Nessun Dorma," but his highest moment came in the hana hou (encore). He reprised a beautifully delicate performance of "Bring Him Home" from "Les Miserables." After all that he did, it was a remarkable end to a great night of opera and the audience adored it.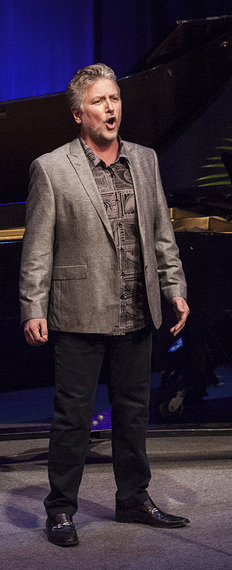 Photo by Jack Grace
Maui's own Leighanna Locke was also on the bill. She sang the lovely "Laurie's Song" from Copland's "The Tender Land." Its a delicate work that needs real precision in both the intonation and execution. Ms. Locke was completely up to the task. Her voice is like crystal and her expressiveness added tremendously to the audience's enjoyment.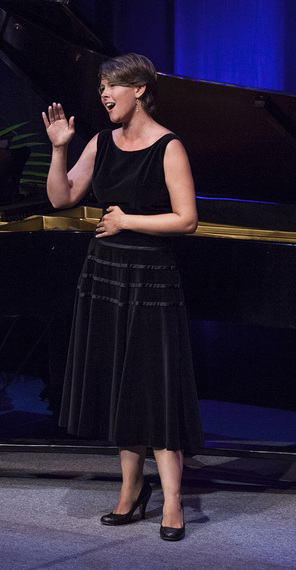 Photo by Jack Grace
Mr. Price promised to bring more, and judging from what I saw, Maui can't wait. Neither can I.