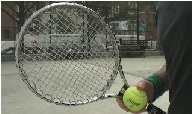 The petition linked in 'About' this tennis video on YouTube has been signed by tennis greats Billie Jean King, Chris Evert, Evonne Goolagong-Cawley, Andy Roddick, the Bryan Brothers, and Ana Ivanovic: "Briggs on the Bench, a Racquet in My Hand".
My wife Briggs had always wanted me to make a video like it. The "Briggs on the Bench" is because I had a small framed photo of her leaning against my tennis bag while I shot it.
We used to have a hit together at these handball courts in New York every Saturday or Sunday morning, even through winter. Briggs had problems with her (wondrous, sparkling blue) eyes as a girl, and because of that she'd never been good at sports. She said the only thing she was good at was "the pogo stick," because she knew where it was. But she was eager for me to teach her to play tennis. I was so pleased for her that she could finally not only play a sport but that it was beautiful to watch her playing it.
The last time she held a tennis racquet in her hand was in her hospital bed. I'd bought her a new one as a surprise, a vintage Wilson T2000, the kind Billie Jean King and Jimmy Connors used. (It's a T4000 I use in the video.) Neither of us ever thought we were going to lose the battle to save her. At that moment, nothing else mattered to us. I remember the sun was shining in the windows in lower Manhattan. The shiny stainless steel was glinting as she happily swung it back and forth, and we were just laughing.
Twenty stars of film and media have also signed the petition, including Bradley Cooper (no slouch at tennis himself), Scarlett Johansson, Naomi Watts, Penelope Cruz, Rob Lowe, and Meredith Vieira. The other stars are all mentioned in the petition. Please join them and me in signing to begin ending cancer in Briggs's memory within years instead of decades. It's linked at the end of the 'About' description: Briggs on the Bench, a Racquet in My Hand.