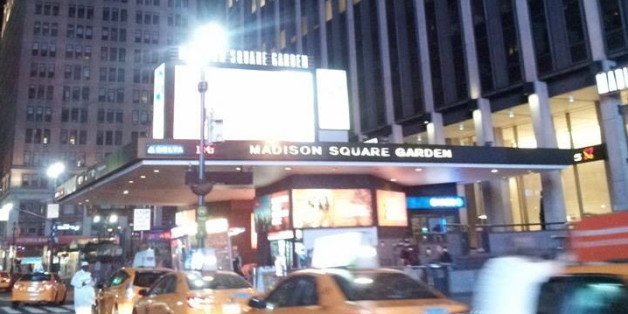 Anytime I am in a rink, I am happy. It doesn't matter if it's the NHL, KHL, ECAC or AHL. It could be Iorio in Walpole or outdoors on Walman in Central Park or on Red Square in Moscow. My motto is just keep me skating!
During my NHL refereeing career, my favorite arena was Madison Square Garden. It still is, as a matter of fact. I'm looking forward to seeing the newly renovated building again.
When I was refereeing, I actually liked the closeness of the fans to the ice, and the level of interaction that created. I loved the whole electric atmosphere of big-time hockey in Manhattan. I enjoyed walking into the arena, kibitzing with the fans, and just basking in the history of the venue in all its many incarnations.
What a history it was, too. Think about it: Tex Rickard, epic boxing matches, the world's greatest musicians, Willis Reed, Clyde, Earl the Pearl, the Ringling Brothers circus, Ching Johnson, Rod Gilbert, Eddie Giacomin, Brad Park and Emile "the Cat" Francis. I think also of my pals Sam Rosen and Marvelous Marv Albert. Oh, and lest I forget, the rough and toothless Duke of Dorchester, Pete Doherty, counting the arena lights in the monthly curtain jerker while the crowd was still filing in and waiting impatiently to see Bruno or Pedro or Andre take on the villain du jour in the headliner.
I always thought I was destined for Broadway, anyway. Even being from Boston, when my first chance to wear an NHL uniform came at MSG in a 1976 preseason game as a member of the Rangers, it was a monumental night for me. Madison Square Garden will always hold a special place in my heart.
The hockey games usually ended at 9:30 p.m. By 10 o'clock, I was on 7th Avenue with a full day's meal money and New York stretched out in front of me. When I think of my nights refereeing at MSG, I think of stopping off to see Mike Cosby at Gerry Cosby's. I think of the outdoor vendors with the pralines and chestnuts. Once my work for the night was done, it was off to to Il Vagabondo for a bocce ball and an Amaretto di Sarrano!
My least NHL favorite arena had to have been the first rink that the Tampa Bay Lightning played in. No offense to Phil Esposito, but that place was a barn. On the other hand, after the game it was usually 60 degrees warmer than your average night in Winnipeg or Edmonton, so I guess I could survive it.
Apart from my unquenchable love for the game itself, what I love the most about coming to the rink is the people I get to know and interact with there. It's the friendships, the camaraderie and the old war stories.
Some of the best times I ever had were in the minor leagues. When you came to the arena -- whether it was as a player, an official or even as a fan -- you know anything could happen on a given night and it would sometimes get pretty bizarre.
As an official, I developed a unique relationship with the minor league team owners, GMs, arena employees and regulars at the games. In terms of the team management, people often wore many different hats in their job descriptions. Everyone had to hustle to make a buck, since none of us were going to get rich in minor league hockey. As such, in the AHL, we tried to do whatever we could to help each other out.
For example, the New Haven Nighthawks perpetually had problems drawing fans to the aging and decrepit Coliseum. One year in the mid-1980s, team owner Joel Schiavone -- the New Haven team had quite a few different owners over the years, by the way -- got so desperate to sell tickets that he informed the local newspapers and broadcasters that he was going to live on the garage roof at the Coliseum until he sold something like 1,000 season tickets.
Schiavone took up residence on the roof, as promised. Finally, as a spell of cold and rainy weather hit shortly before opening night, people took pity on him. He sold the tickets and was able to move back down from his makeshift new home.
At any rate, one time I was refereeing a game in New Haven. Shortly before my linesmen and I were about to go out on the ice after the pregame warmup, management knocked on our door.
"Stewy, we're having a big walkup crowd at the box office. It could be our biggest gate of the season, but there are still a lot of people outside. Is there any way we can hold off on starting the game til 7:30? Please!"
"Well, here's the thing," I said. "We're under pretty direct orders from the league about when to drop the opening face-off."
He was crestfallen but said, "I see."
"I'll tell you what, though," I continued. "I have no idea how we're supposed to start this game on time with that broken zamboni at center ice. How did that thing run out of gas, anyway?"
By some strange coincidence, the start of the game was delayed 30 minutes that night due to zamboni equipment failure.
Over in Springfield, Teddy Shore (the son of hockey legend Eddie, who owned the Indians for many years) ran the concession stands. Somehow, the intermissions seemed to take just a bit longer and there was a patch of ice that needed repair or a loose pane of glass when we got the signal that there were long lines at the snack bar.
In return, our meager AHL meal money seemed to miraculously stretch just a bit further at the local establishments owned by friends and relatives of the acquaintances we made at the rinks. Officials are like most old-time hockey people when it comes to parting with a dollar, so those sorts of gestures were greatly appreciated especially when we weren't making much money in the first place.
Ah, the hockey life in those days. The town-to-town rides were interminable, the money was lousy but the conversations en route, the thrill of game nights at the area and the camaraderie of going out afterwards was when we truly came alive.
********
Paul Stewart holds the distinction of being the first U.S.-born citizen to make it to the NHL as both a player and referee. On March 15, 2003, he became the first American-born referee to officiate in 1,000 NHL games.
Today, Stewart is an officiating and league discipline consultant for the Kontinental Hockey League (KHL) and serves as director of hockey officiating for the Eastern College Athletic Conference (ECAC).
The longtime referee heads Officiating by Stewart, a consulting, training and evaluation service for officials. Stewart also maintains a busy schedule as a public speaker, fund raiser and master-of-ceremonies for a host of private, corporate and public events. As a non-hockey venture, he is the owner of Lest We Forget.
Stewart's writings can also be found on HockeyBuzz.com every Monday, Tuesday, Thursday and Friday. He is currently working with a co-author in writing an autobiography.