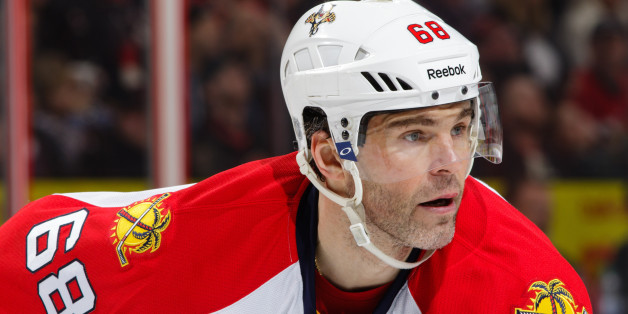 I have been in the professional hockey business for 40 years since my graduation from the University of Pennsylvania. Believe me, it has been a bumpy ride to get here. I have experienced more than my share of rejection along the way in my life.
As an athlete or an official, getting cut is absolutely the worst moment that you can live. I know all about it. You want to fight someone but there's no one to fight because the decision will not change. I was accepted to Penn but I got my share of thin envelopes from other universities. During my collegiate hockey playing days, I got cut from the varsity team as a junior. As an NHL referee, I was annually sent home by officiating director Bryan Lewis by the end of the first round of the playoffs. After I retired as an official, the NHL let me go as AHL supervisor.
So, yes, I know all about rejection. The late Barry Ashbee said to me after I got cut from Penn's team my junior year, "if you quit, they win. Don't quit. It took me 12 years to get here, myself. You'll make it, just keep working and outwork them all."
"Ashcan" was right. I stuck with it and, guess what, I played in the NHL and the WHA. That's something no one can take away from me and something that many, many players with far more natural ability than I ever had never accomplished. I wanted it more. I trained harder, day after day. I took lots of extra skating. I lifted weights in an era where it wasn't common. I studied martial arts and boxing to give myself an edge when I fought on the ice (because being an enforcer was my only realistic path to my goal). On the ice, I literally scrapped and fought and spilled my blood night after night to make my dream a reality.
As an official, I wasn't a natural like some of the people with whom I've been fortunate to work. I did, however, have great mentors who took me by the hand and taught me everything about being a professional referee. I traveled anywhere and everywhere I was sent, regardless of the league. I took the rule book everywhere with me (even to the bathroom) and studied it whenever I had a chance to do so. I worked and worked and worked at my craft and agonized over missed calls.
These are the reasons why you are reading this today. It's the same reason why I am now 12 years post-retirement as an NHL referee and still working in this game. There is no substitute for passion and work ethic and you cannot fake either one.
A few months ago over on HockeyBuzz, I wrote a tribute blog to the great Jaromir Jagr. While most folks think about all the goals and assists that he has racked up in his storied career, I am most inspired by his longevity.
Quite frankly, it ticks me off when people hold an athlete's longevity against him in discussions of where someone ranks among the all-time greats. For instance, "Yeah, Hank Aaron broke Babe Ruth's home run record but it took a hell of a lot more at-bats to do it. It's not a 'genuine' record."
Well, let me ask you this: How much help does a retired player provide to his (now-former) team? It's the guy who keeps going and going at a solid level of performance who wins the marathon in the end over the sprinter who runs out of gas.
Recently, I saw a quote from Jaromir that really struck home with me. As a preface, in case you don't know, Jagr has been known to skate at midnight after playing in games. He outworks much younger teammates in the gym and adheres to a training regimen that borders on the surreal. That is why he's still around and still scoring goals.
This is the quote:
It's 11:15 p.m. Most people are asleep and I'm just finishing my last exercise with my 30-pound vest. I sit on the bench to have some rest. I look at myself in the mirror. After a while, I ask myself a question: "Is it really still worth it?" Unfortunately, I don't think I can answer this question. I really can't. I keep thinking, "You are alone, no family, you work like a horse, there is no one waiting for you at home." This doesn't sound too great, I think. But then another question pops up: "Then why do you keep doing it?" I know the answer to this question without hesitation. "Because I love it."
Regardless of profession, anyone who goes at it in the same profession for as long as Jaromir Jagr has can relate. It's not about statistics or legacy for him; it really isn't. It about doing what he truly loves to do and being willing to pay whatever price it takes to keep doing it.
I tell my sons this, and will also share this with my readers: When you reach a moment of doubt -- of which I've had plenty of my own -- ask yourself the same question that Jags asks and then decide if it's worth it. Only you can determine if the reward of your goals are worth the sacrifices, the work and the risk of failure. It can be any goal -- personal, athletic, scholastic, financial, etc. There is no right or wrong answer, but make your decision without looking back and without regrets.
The late, great Fred Shero used to say, "There's no room at the top to sit down." Even once you've attained your goal, the work does not end. Those who are willing and able to keep paying the price are the ones who stand the test of time.
Longevity is something to be celebrated, not criticized.
********
Paul Stewart holds the distinction of being the first U.S.-born citizen to make it to the NHL as both a player and referee. On March 15, 2003, he became the first American-born referee to officiate in 1,000 NHL games.
Today, Stewart is the chairman of the officiating and league discipline committee for the Kontinental Hockey League (KHL) and serves as director of hockey officiating for the ECAC.
The longtime referee heads Officiating by Stewart, a consulting, training and evaluation service for officials. Stewart also maintains a busy schedule as a public speaker, fund raiser and master-of-ceremonies for a host of private, corporate and public events. As a non-hockey venture, he is the owner of Lest We Forget.
Stewart's writings can also be found on HockeyBuzz.com every Monday, Tuesday, Thursday and Friday. He is currently working with a co-author in writing an autobiography.