Even though the 2012 Atlantic basin hurricane season is off to a fast start--with Tropical Storm Alberto last weekend and the likelihood of a second system along the Southeast coast this week--NOAA predicts a near-normal season overall.
NOAA predicts a 70% chance of nine to 15 named storms (tropical storms and hurricanes), including four to eight hurricanes (sustained winds of 74 mph or greater) and one to three major hurricane (sustained winds of at least 111 mph). An average season, based on statistics from 1980-2010, produces 12 named storms, including six hurricanes and three major hurricanes.
This forecast would represent a decrease in the number of storms from the past two years; however, NOAA is advising residents in coastal areas along the Gulf of Mexico and the East Coast to remain alert. The number of storms is much less important than whether storms make a direct landfall.
Hurricane Andrew, which devastated South Florida 20 years ago, is a reminder of the dangers during a season with a low number of storms. Only six named storms occurred in 1992, but the Category 5 hurricane (the most intense category) killed 61 and caused an estimated $27 billion in property damages.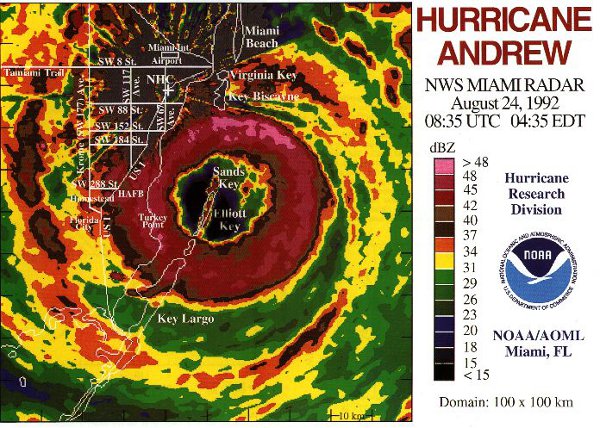 (Image courtesy of NOAA)
The weather factors that NOAA expects to reduce the overall number of storms are similar to those noted by non-government entities that issued forecasts earlier this year: the potential presence of vertical wind shear in the Atlantic basin, cooler-than-average sea-surface temperatures in the eastern Atlantic, and the possible development of an El Nino in the Pacific ocean.
Wind shear represents higher-than-average winds in the atmosphere above the Atlantic Ocean, and these winds tend to inhibit the develop of tropical systems or weaken storms that have developed. Tropical cyclones are surprisingly fragile, especially in their formative stages.
The cooler water in the eastern Atlantic decreases the likelihood of systems developing far out in the Atlantic as atmospheric disturbances emerge from Africa; however, this cooler water would not decrease the threat closer to land, again emphasizing the importance of impact over the number of storms.
Even though El Nino, which is a warming of sea-surface temperatures in the Pacific Ocean, occurs thousands of miles away from the Atlantic Basin, there tends to be fewer storms in the Atlantic once one has developed.
A couple of factors that remain conducive to Atlantic basin hurricane formation are the continuation of overall atmospheric factors associated with the multi-decade cycle of the Atlantic basin and near-normal sea-surface temperatures much of the tropical region and the Caribbean Sea.