While more than 15,000 warm temperatures records were broken in the United States in March, global temperatures were the coolest since 1999, according to NOAA climate statistics.
The warmth across the United States was widespread and intense, especially across the eastern two-thirds of the nation. Many states -- 25 to be exact -- recorded their warmest March in the 118 years of such records, and it was the warmest March on record for the contiguous United States.
It was also warmer than average across much of western Europe.
Globally, however, the story was much different, with widespread cooler-than-average temperatures in Alaska, Australia, eastern and western Russia, and parts of New Zealand balancing the intense heat across much of North America and parts of Europe to some extent, according to NOAA's global climate report for March.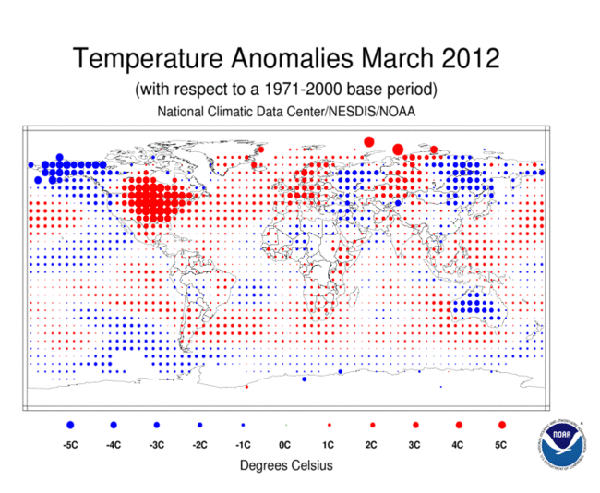 The combined global average temperature over land and ocean surfaces for March was 55.7 degrees Fahrenheit, which is the coolest since 1999 and the 16th warmest on record. The temperature was 0.83 degrees F above the 20th century average.
The balancing of U.S. warmth by relatively cool weather globally in March is a trend that has continued throughout the first three months of 2012.
For the year to date, the average global land- and sea-surface temperature was 0.70 degrees F above the 20th century average, which is both the coolest since 1996 and the 21st warmest such period on record. Meanwhile, across the contiguous United States, the first three months were the warmest on record, with temperatures averaging 6.0 degrees above the 20th century average.
The exceptional warmth across the eastern United States provided the fuel for an early-month tornado outbreak that killed 40; the tornado outbreak was the first billion-dollar-plus weather disaster of 2012.