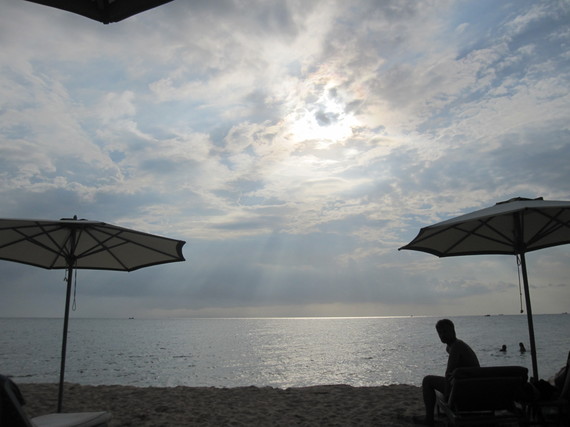 Phu Quoc is a tiny, idyllic island at the very southern tip of Vietnam that takes about three hours to traverse over dirt roads. An airport was installed about four years ago, roughly the same time a small patch of road on the West Side of the island was paved and resorts were built, including the exclusive La Veranda, where honeymooning couples go to snuggle on the beach and get their tan on. The hotel's brochure lists activities to do on the island, like "snorkeling, reef diving, waterfalls, hiking in virgin forests, shopping at the market..." at the very bottom of the list, on the back page is "Coconut Tree Prison." Located at the far end of the island, the prison is not a very popular destination for La Veranda guests - the hotel employees gave me a strange look when I told them where I wanted to go and it cost me a whopping forty dollars for someone to take me there.
The actual prison memorial is like a live re-enactment of the Josef Goebbels Handbook, complete with (American) mannequins torturing (Vietnamese) mannequins in perpetuity.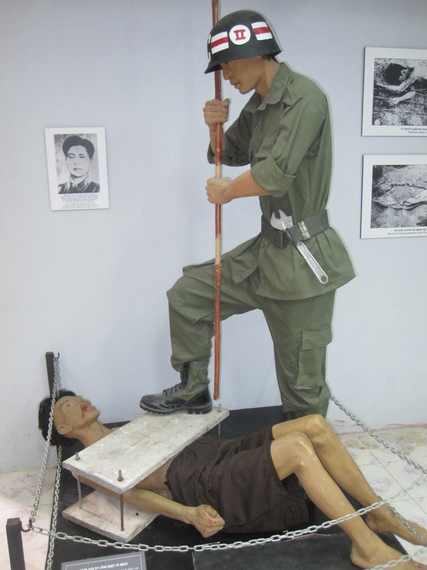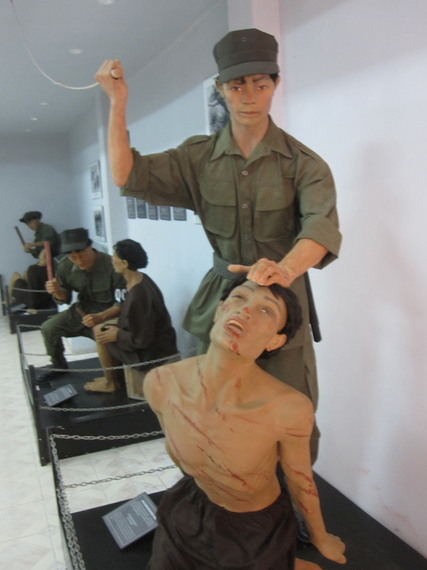 Just in case you still don't get the point (or want to try this at home), there's a set of instructions for each torment, no matter how self-explanatory it may seem, including:
To break Prisoners Tooth: Torturer puts tip of wood chunk on prisoners tooth. He strikes violently. Tooth breaks immediately.
To Drive Nails into prisoners body: The torturer drives nails of differing lengths (three to ten centimeters) into vulnerable organs of the prisoner: fingertips, backs of hand, instep, shoulder blades, knee and even skull.
for the full list (and even more absurd pictures) click HERE. Its insane. Trust.