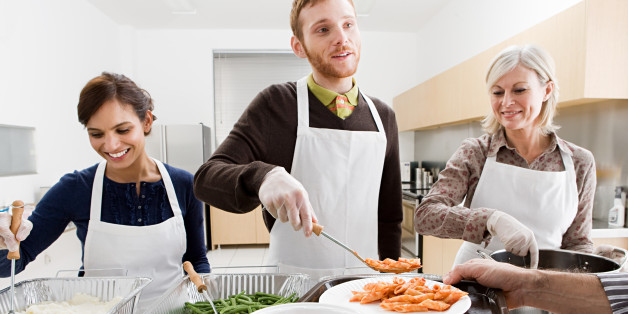 After receiving 48 hours' notice to leave their home in Venezuela following changes in the government's leadership, my grandparents arrived in New York City in 1920 with their children to start a new life. They were grateful for this opportunity to rebuild -- but knew no one and were not sure where to begin.
But from finding housing to finding work, local volunteers from community organizations gave their time to help my grandparents find their way. This connection to their new community in Washington Heights helped my family shape new friendships, but more importantly -- it gave them something they thought they had lost.
Hope.
Volunteer service has influenced my life path in many ways, but it began with my grandparents' story. It is a constant reminder of how the time and talent contributed by others impacted their lives, and in turn, my mother's and my future.
When I began my professional career, I plugged into my community by making volunteering a constant in my life. I taught English to Chinese immigrants, mentored teenage girls in an all-girls detention center, helped raise funds for the United Way, and today, serve on the board of the YMCA d'Haiti.
Each time, I've formed bonds with people I would have otherwise never crossed paths with, had opportunities to help others see their talent and potential, built confidence in my own abilities, and heard many courageous stories that touched me and continue to fill me with hope through every life challenge and opportunity.
American author Robert Byrne once said, "The purpose of life is a life of purpose." Over the last 20 years, as president of the YMCA of Greater New York, president of National Urban Fellows, executive director of the Fund for Public Advocacy, and now New York City's Chief Service Officer, I have consistently been reminded of this when witnessing the powerful impact of volunteerism.
Studies show: people who volunteer tend to be healthier, happier, live longer and experience greater career success. Do not doubt it -- every person has a talent to contribute. Our amazingly diverse city of 8.4 million people flourishes when we all pitch in for one another and give back to our neighborhoods.
Through my work at NYC Service, we want to inspire and empower all New Yorkers to volunteer for their City and each other. So in 2015, I hope we can all resolve to volunteer and invite others to make volunteering a resolution in the New Year. Because volunteering is both good for you -- and good for your City.
When I look back at my family history, I am reminded of the sacrifices my grandparents made to build a better life. But I'm also inspired by the people that helped my grandparents make every sacrifice count.
Those people may never know how much of a difference they made -- but I always will. It is a source of inspiration to me for a life worth living and a life of giving to others.
This post is part of a series produced by The Huffington Post and NYC Service, the latter of which is an organization within Mayor Bill de Blasio's Office that drives volunteerism to impact New York City's greatest needs. Paula Gavin is the Chief Service Officer for NYC Service. To learn more about NYC Service's Resolve to Volunteer in 2015 Campaign and volunteer opportunities in New York City, click here.