One recent day during a visit to beautiful Florence, I needed a pedicure.
Since 'maintenance' is important to me as a 'mature' woman who is still concerned with her appearance and since 'maintenance', for me, requires planning and execution, I have, fortunately, found nail salons everywhere in Italy. It remains interesting to me that my priorities involve my manicures and pedicures, but so be it...
Italian nail 'salons' are different than the ones I am used to in the States, where walking in to a salon without an appointment is common and easy and where most of the salons are owned and operated by immigrants who work long and hard; each salon here in Italy did offer an insight into Italian life in many ways and each is owned and operated by Italians, not by immigrants. Since I lived in each city/town for an extended period of time, I was able to establish some kind of relationship with the people in the salons I found in my neighborhoods.
In Florence, my first Italian residence, I found a small, well-lit little hair and nail salon on a lovely pedestrian alleyway near my apartment. I don't think I ever learned the name of the lovely woman who became 'my' manicurist, sadly. My Italian language skills were pretty minimal then, so I doubt if I was able to talk with or understand her well; I am sorry I didn't engage with her some more. I am amazed the process worked as well as it did and I managed to frequent the salon pretty regularly while I lived in Florence.
Then, in Ortigia, Sicily, I took the advice of Giuseppina and walked weekly across one of the three lovely little bridges to Siracusa to go to 'Comfort and Beauty,' a tiny nail salon owned by Simone. Although the walk seemed long at the beginning of my stay in Ortigia, I really enjoyed it, especially because I got to stroll through Ortigia and by the water. In the winter I also got to see the beautiful young men who play 'kayak polo' every afternoon in the little harbor; I loved watching, for obvious reasons!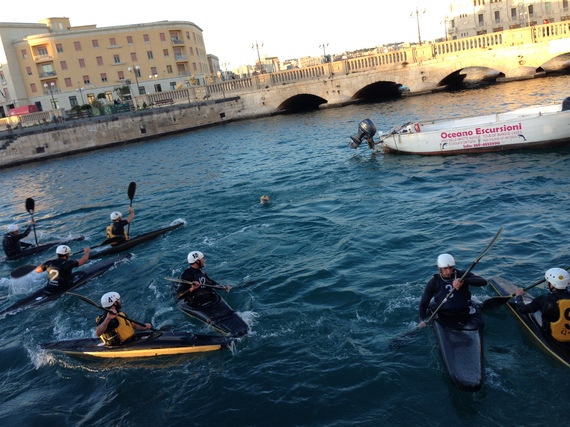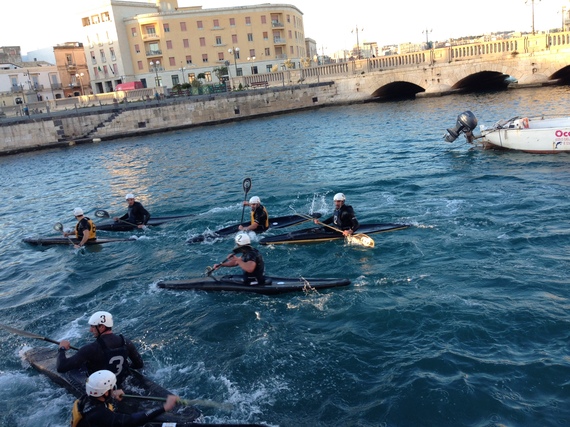 Simone is a big and beautiful woman who always acted very happy to see me, so I really liked her. She also has a young assistant who is small and beautiful and very competent, so I was always taken care of well. Simone has a back room where some kind of skin treatments go on, but I never did figure that part out, and I stayed in the front room for manicures. Both Simone and her assistant were, as I found so many Sicilians to be, very expressive and warm; each appointment started with kisses (actually, with Italian 'cheek touches', one on each cheek, starting with my left cheek on her left cheek) and ended with kisses. It was fun.
Rome was my next stop, and I found Rome to be pretty impersonal and hard to navigate. It took a while, but I did find a nail salon near my apartment. It is interesting to me to note that I don't remember any remarkable people or events there. All in all, Rome was not my favorite place.
Here in Spoleto, my last stop and my present residence, I have found a lovely salon again. This one, while providing great services, seems to have a bit of an 'identity crisis,' as my friend Karen noted after looking in the window. This salon sells jewelry, shoes, manicures and health foods; I have only sampled the manicures and find them to be great.
So, my Florence pedicure was only one in a series of Italian treatments I have had, and it feels as if it was the strangest, too, because it was just so different.
I was delighted to get an appointment at the pedicure place across the street from 'my' Hotel Davanzati, having temporarily forgotten that the place was a bit unusual. Once I got there I remembered, but I think I retained a bit of hope that I was mis-remembering.
Up the narrow stone stairs (of course!) and into the long, narrow 'salon' space with lots of individual 'rooms' with closed sliding doors, I was greeted by one of the family members, an officious man in his early 40s or so who seems to be the manager. The place seems to be always abuzz with activity, with lots of staff people (mostly men, interestingly) coming in and out of the 'rooms' on important-seeming errands. Somehow, all of the staff people (mostly the men, interestingly) look alike and yell back and forth, treating each other as family in a true Italian way. The men (I think there were three generations of them there) also seem to 'do' the pedicure, using some kind of electric nail file machine which was pretty intense. The first time I was there, I remembered, Grandpa ('Nonno', in Italian) wielded the electric nail file machine as if he had been doing it for about a hundred years, which, perhaps, he has been. It was a bit disconcerting for me, however, and I don't think I found the usually delicious treatment of my feet to be relaxing.
This time, after a bit of a wait for my turn, I learned that Grandpa was busy with someone else, and I was immediately grateful. Instead, I was treated by a man who, I assume, was a brother or cousin, and he used the same machine, again with skill on his part and a bit of anxiety on mine. I yearned for the old-fashioned, un-mechanized nail file and a gentle buffing of my toes.
Now, Cousin was not 'easy on the eyes' (kind of unusual here in Italy, I must admit), and Cousin talked incessantly (not so unusual here in Italy), and Cousin did not seem to care that I didn't understand him. He pointed out some imperfection on the bottom of my foot, a little 'warty-type' thing, and then he proceeded to talk about and/or instruct me in the wisdom of the feet. I am sorry I missed the conversation, but I just didn't understand his steady barrage of words. And then he put a little ointment and a bandage on my 'warty-type' thing. I have no idea what it was. Our conversation remained completely one-sided, with him talking and me not comprehending.
And it appears that Grandpa and Cousin's skills are limited to manning the electric nail file, because they each left the room, never to be seen again, after my toes were filed.
Next, in each instance, a young woman appeared, and she is, apparently, the 'color' person who applies the polish, with no conversation at all. In each instance, she was professional and quick and no-nonsense.
My feet never got creamed or massaged, but they got filed and polished. And the warty-thing has disappeared, miraculously. The whole experience was all both weird and wonderful, as so much in Italy is for me...