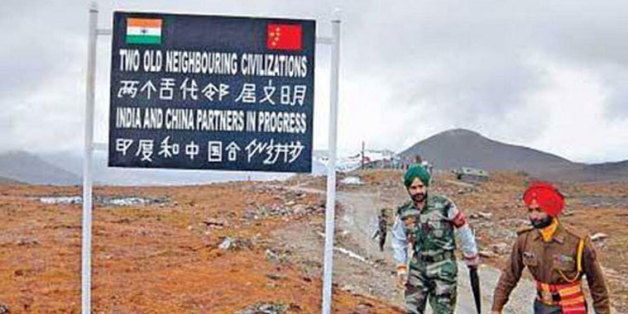 NEW DELHI -- The actual outcome of the recently concluded high profile visit of President Obama to India is wrapped in noise, hype and optics. In the early part of the last decade, the two countries had begun emerging from the Cold War hangover of mutual suspicion. This visit was another step in the same direction.
The exaggerated symbolism of the visit hides answers to several key questions, and it will take time to sift grain from chaff.
From personal chemistry between Barack Obama and Narendra Modi, to trade and commerce between U.S. and India, the short-term transactions are aplenty. The major strategic takeaway from the visit is India's proactive willingness to revive the Quadrilateral Security Dialogue, which had breathed briefly between 2007 and 2008.
Obama and Modi announced their joint expression of strategic interest through the U.S-India Joint Strategic Vision for the Asia-Pacific and Indian Ocean Region. The reference to maritime security and freedom of navigation and over flight throughout the region, especially in the South China Sea, is a clear response to Chinese adventurism in that region.
Born out of what was termed as the Trilateral Security Dialogue between U.S., Japan and Australia in 2002, it incorporated India in 2007 at the initiative of Japanese Prime Minister Shinzo Abe. The underlying idea behind the QSD was an "Asian Arc of Democracy" by getting on board the Korean Peninsula and Mongolia, countries of Southeast Asia, that are on the periphery of China. This idea of an "Asian NATO" sunk into cautious oblivion after some joint naval exercises in the Bay of Bengal. When Kevin Rudd (world's first Chinese-speaking non-Chinese PM) assumed office, he expressed his opposition to Australia becoming a pawn in what some termed as the new "Great Game." In fact, Stephen Smith, the then foreign minister under Kevin Rudd, informed China during a bilateral strategic meeting that Australia would not be a part of the QSD.
The decision to sell uranium to India was taken by the Howard Administration in Australia. With the change of government, that decision was reversed. Japan, too, has not been consistent with its China policy. When Yasuo Fukuda succeeded Shinzo Abe in 2008, he reversed the hawkish China policy of Abe and became the first Japanese prime minister ever to have sent Lunar New Year greetings to the Chinese communities around the world. Within America, too, there are powerful voices of dissent against QSD in any form as a tool to contain China.
China's military, and more importantly its economic rise in recent decades, has made the world squirm in discomfort. Its territorial and navigational aggression makes matters worse. China's trade with ASEAN increased more than 13 times between 1993 and 2005 -- from $8.9 billion to $113 billion -- while America's just doubled from $75.7 billion to $153 billion. China has pursued a strategic buying up of American debt and Treasury bills. According to some estimates, China owns over $388 billion in T-bills, almost 20 percent of the total. While America may feel the need for a balance of power in the region to neutralize China's influence, America and China share deeply entrenched economic interests.
However neatly wrapped, self-interest is the underlying theme of foreign policy. India will have to tread with extreme caution on this path of a joint strategic vision for the Asia-Pacific. The U.S. will only walk on this path up to a point. Australia and Japan have not exhibited consistency in their China policy. India's foreign minister is in Beijing next week. She will find it challenging to balance India's strategic overtures to U.S. with India's geo-strategic interests in China, which has been plagued by riparian and territorial disputes in the Himalayas.
PHOTO GALLERY
Obama In India