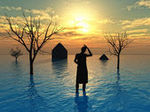 More than 275,000 people lost their lives in the Indian Ocean Tsunami of 2004.
One girl miraculously found her way out of that statistic, but it took 10 years of her life, and some would argue, the grace of God.
Raudhatul Jannah was just 4-years-old when she slipped from her father's grasp during the catastrophic Tsunami. She was presumed dead, but recently the 14-year-old was reunited with her family, alive and well.
Raudhatul had been swept to Banyak Island, where she was found by a fisherman. He returned her to the mainland where his mother raised her by the name of Wenni.
The family is hopeful Raudhatul's brother, who would be 17, is alive, too. They're searching Banyak Island. It's hard to imagine a life lost and found. I've heard that the grief of losing a child is insurmountable.
As American president Dwight D. Eisenhower put it: "There's no tragedy in life like the death of a child. Things never get back to the way they were."
But what happens when a child is found? Joy, I believe, mends the heartache. There must be unspeakable gratitude for Raudhatul, the girl with two birthdays.
We can only hope Raudhatul's brother also will be an erroneous statistic.

To find out more about our one-minute blog, watch our video at www.gratitudereport.com.