The other day I was looking in the window of one of my favorite stores in San Francisco -- Belle'occhio at 20 Brady Street across Market Street from The Zuni Café. The display in the window only hinted at the humor and delight of the curiosities within. I had to find out who was smoking what and why in the bed in the window of this tiny enchanting store.
Owner Claudia Schwartz is a Francophile if there ever was one. She curates for shoppers the essence of fanciful and rarified French merchandise -- handsome task-specific boxes, brushes, and baskets. Also on display are uncommon candles, calligraphy sets and papers, ribbons, jewels, chapeaux, and little boxes in the shape of olives, raspberries, lemons and black truffles.
It was the truffles that drew me in and Claudia was quick to explain what the two truffles were doing in a dolls' bed, snuggled together, upper bodies resting upon a tiny red bolster in the window of her store. It should have been obvious, I suppose, the male was smoking a glowing cigar replete with smoke. They had just had sex, of course!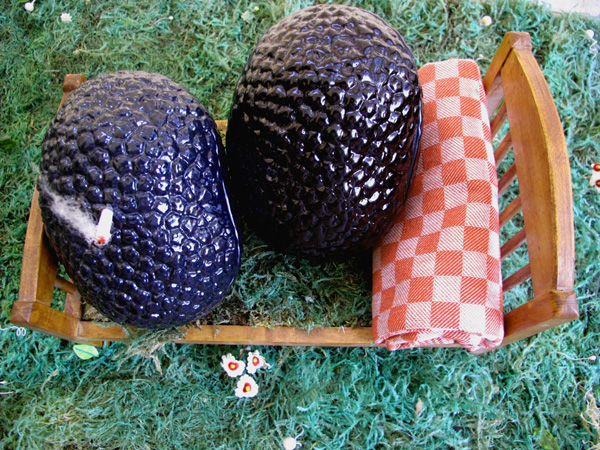 Photo by Claudia Schwartz
I would have known, but I missed the article in the NYT in March of 2010 called "Unearthing the Sex Secrets of the Perigord Black Truffle." I knew from truffles. I had gone truffle hunting in the South of France with a dentist and a Dachshund and wrote about it for Saveur Magazine. This news was the first I'd heard of their sex lives. I hadn't thought much about the sex lives of truffles, I must admit. I suppose I assumed they experienced a rather dull unromantic life of reproduction in an asexual world.
Truffles either are found in the wild, in forests as fruit of fungi that infect the roots of host trees or they are raised on truffle plantations. On those plantations in France, farmers inject the tree's roots with truffle spores. But a plant biologist in France, at the University of Nancy, Dr. Francis Martin, was head of a team that discovered that truffles actually have two sexes.
The black Perigord truffle has a large genome with 7,500 genes that make up their 125 million units of DNA. Dr. Martin said, "Truffle growers don't want us to get the magic recipe to produce truffles by the ton because then price would go down."
Pigs were used to sniff out truffles, but they were a bit unreliable. Sows would get very excited rooting around for truffles with their porky little hooves and snouts because some truffles secrete androstenol, which mimics the hormone secreted by boars just before mating. Dogs are more delicate, especially Dachshunds with their compact little swirled elbows, digging daintily with riveted determination. Dogs are most commonly used in Italy for white truffles.
So really, there's so much lore and romance around truffles. Now we find that they have needed little encouragement from us, they do very well on their own, as illustrated by their performance in bed in the window at Belle'occhio.