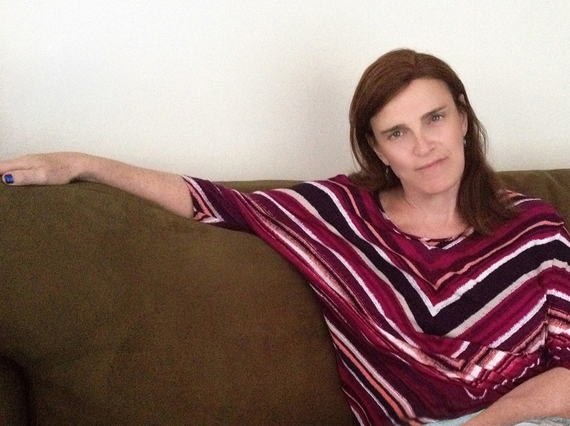 Don't we all pray when going through a long difficult transition? Even non-believers have been known to mutter a heartfelt, "Oh, God!" when crossing rough water.
Imagine going through a transformation as huge and disruptive as a sex change. You'd likely need all the support you could muster for this multi-year, highly visible and widely-reviled process.
A believer needs God and church more than ever to weather the process with any peace of mind. That's an awkward situation for a Catholic.
Christine Connelly, a CPA in Needham, MA, found herself in a painful and infuriating situation when she began to feel that the male body she had been born with was not the one that matched her soul.
She needed God for what was ahead. She needed God every day of the five years since she began the transition from male to female. She says: "My faith is something of a wellspring that needs to be nurtured daily if I'm to be blessed with a few moments of peace."
In the beginning, she faced telling her Boston Irish Catholic family, as well as her wife of 15 years, about her decision. That didn't go so well. She reports "intense family rejection" and being forbidden to see her daughter, who was 9 at the time of her announcement. Connelly is still engaged in a legal battle for parental rights. She wrote:
My entire family has shunned me. I've been dis-invited to Christmas, birthday celebrations and all family activities because I am transgender.  Members of my family have verbally abused me, calling me grotesque, sick, deranged and psychotic. They have told me I should move away and hide.
She greatly needed the support of her church. But her church had to change, or she had to change churches, to get the help she needed. It wasn't easy. She says, "The Catholic Church, espousing a religious belief that denigrates me... their attitude of religious disgust with me (led to) deep and sad disappointment."
And the Catholic teachings likely had much to do with the family rejection. There was nothing to be done about that. But she could still search for a welcoming religious community for herself. She left the Catholic Church. "Being a T in the LGBT community is not a sin, as they appear to be saying, but rather is a gift from God that as of yet I do not fully understand."
In her earlier life, her Catholic years, she had been Edward Connelly: a Little League Batting Champion, a Northeastern University ski team racer, the 25-year-old owner of a nightclub that hosted bands including Aerosmith, Hall and Oates, Joe Cocker, Stephen Stills and David Crosby. Later work included positions with America's oldest national and international telecommunications company and the largest regional CPA and management consulting firm in New England. Edward Connelly married twice and fathered two daughters.
Through all that time, he had always felt uncertainty about being a male and that caused a great deal of suffering: 25 years of depression, searching for medical help and at times self-medication with drugs. Depression and need for medication ended when she came to her gender decision.
But her faith had deepened in her search for help and solace prior to her decision. This occurred as she attended AA meetings and found belief in a higher power that was central to the recovery philosophy there.
Now, as Christine Connelly, she heads Connelly CPA, Inc. And she is Episcopalian. She found a congregation that welcomed her and helped her find self-acceptance. St. Johns Episcopal Church is a 176-year-old congregation in Jamaica Plain, MA. A number of accomplished women were members early in the church's history, at a time when such roles for women were rare; these included writer/publisher Caroline Ticknor, the first woman to present a case before the Privy Council of London, and Paul Revere's granddaughter, who was active in war efforts during the two world wars. From the St. John's website:
The presence of these remarkable women in the parish perhaps presages St. John's current diverse roster of parishioners and commitment to issues of social justice and activism. Today, St. John's is a parish with increasing diversity along race, income and sexual orientation, not just in its membership, but those in leadership positions.
The church is a sort of surrogate family for Connelly. She estimates that the membership is about 30 percent LGBT with her as the only T, or transexual. She joined about three months into her transition. Here giving and receiving of kindness and the absence of judgment, in the context of faith in God have given her some comfort. The draw is not any special treatment or program on gender issues. Instead it's,
Just friends being friends and being treated with respect and others showing interest in your life... and not being treated as a sick individual in need of help."

To believe in God and therefore myself I needed to have faith (believe) that my journey has a purpose which is revealed daily through my efforts and actions... My act to be an active member within my new church, along with my renewed faith, allows me the peace that I seek...

I'm at the beginning of self acceptance. It's kinda like riding a bike for the first time, still a tad awkward at the controls.
The struggle is certainly far from over. A surrogate family is not truly a replacement, she says, but a holding station.
She continues a legal battle for parental rights and began on May 2, 2015, a hunger strike.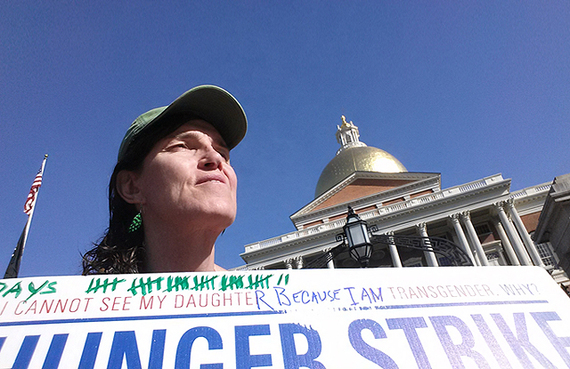 She has also begun writing a memoir and is almost ready to release a children's picture book written in haiku: My First Red Sox Game . It was inspired by her desire to communicate with her daughter.
She says, "As a result of being transgender and accepting myself, my faith has grown deeper but still sits on the shaky foundation laid down by my family, the church and society."
###
About this blogger:
In Peggy Payne's novel, Sister India, a New York Times Notable Book of the Year, a young woman runs away to Hindu holy city and becomes obese -- all to hide from her "dangerous" sexuality. Payne writes here and on her blog about the intersection of sex and spirituality. Visit www.peggypayne.com