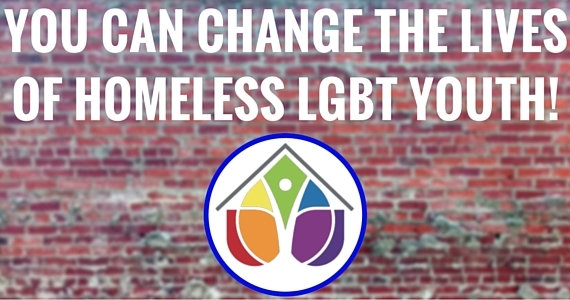 My name is Penelope, and I'm the founder and Executive Director of Lucie's Place, a youth services organization in Little Rock, Arkansas. Lucie's Place works with homeless LGBTQ young adults in the area, providing them the support and services they need to get back on their feet. We need your help!
You're probably familiar with the plight of LGBTQ youth homeless in New York, Chicago, and San Francisco, but this problem exists in small to mid-sized cities and towns across the country. LGBTQ youth and young adults are sleeping on the streets in every city in America. Every single city. Even in Little Rock, a city you may have never heard of.
One problem we face, especially in the South, is much of the funding and grants available to assist homeless folks are earmarked for faith--based initiative charities who may not be well-suited (or in many cases are even unwilling) to help this overlooked population. We regularly work with young adults who have been denied support, services, or shelter from other agencies in the area, due to their sexual orientation or gender identity.
Moreover, a report commissioned by Funders for LGBTQ Issues ("Out In The South") revealed that we in the southern states receive the least amount of LGBT-specific funding ($1.71 per adult vs $10.10 per adult in the Northeast). This despite the fact that more LGBTQ people live in the South than any other region in the country. There is a change sweeping the South, with groups like Southerners On New Ground (SONG) and a successful civil rights ordinance to protect LGBTQ folks in Little Rock last year. But there has, unfortunately, been a historical precedent of national organizations failing to adequately respond to the needs of LGBTQ movements in the South.
Since our founding in 2012, Lucie's Place has helped 130 homeless young adults, and we've experienced tremendous growth for such a short amount of time. Maybe you even helped with an unexpected windfall we had in 2014. Our #DoubleTheDuggars campaign began on a lark and raised $32,000 for Lucie's Place in a month! This was entirely attributable to so many in the Netroots community pitching in.
Thanks to that $32,000, in 2015 Lucie's Place was able to assist 70 homeless LGBTQ identified young adults in the Little Rock, Arkansas area. We find a large majority of our folks became homeless after disagreements with their legal guardians over their gender identity or sexual orientation. Many were either forced out of their homes, or had to leave because they no longer felt safe. Once homeless, LGBTQ young adults in the area have very few places they can go for affirming housing or services. Without the guidance and assistance of a supportive folks in their corner, the road to self-sufficiency is tough for this population.
With this, we're ecstatic to announce that for 2016, Tom's of Maine has made a generous gift of $20,000 to Lucie's Place! But we've set our sights on raising the stakes--three fold! When you help us #TripleToms generous donation and raise $60k, we will finally be able to open a much--needed home where Arkansas LGBTQ youth can be safe and thrive. So, once again, we turn to our grassroots supporters on the internet to put us over the top and make this a reality.
Please take a moment to learn more and change the lives of homeless LGBTQ young adults in Arkansas. Please share this page with your friends on Facebook & Twitter.