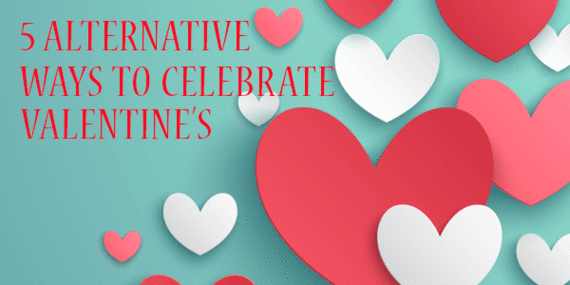 Photo courtesy of Great Nonprofits.org via Themeforest
Valentine's Day is just around the corner. I'm still rounding up stray pine needles stuck in the rug and eating the few remaining arms and legs of broken gingerbread men. I really don't need a tempting box of fancy chocolates or a lavish prix-fixe meal out on the town.
How can I bring more meaning to a day that has become yet another opportunity to show affection and commitment through expensive presents and bouquets of flowers forced to bloom in the dead of winter? You don't have to look far to figure that one out. People in our communities need help all year long. We feel good about ourselves during the holidays when we buy a gift for a needy child or serve a holiday meal at a shelter. Why stop there?
According to last year's Valentine's Day Consumer Intentions and Actions Survey by the Retail Advertising and Marketing Association, the average annual Valentine's Day spending reached $13.19 billion. The amount the average American spends on Valentine's Day is $116.21. Think of how a local non-profit might spend that money.
5 Ways to Celebrate With Meaning
Instead of going out to dinner, stay in and cook a special meal for your loved ones. Consider donating the money you saved to a community meal program, like these 2013 top-rated nonprofits:
FOCO Café (Feeding Our Community Ourselves), Fort Collins, CO.
"This team is focused on providing access to healthy, delicious and sustainable food to all members of our community."
Widbey Island Nourishes, Whidbey Island, WA
One of the volunteers says this program "...provides highly nutritious, ready-made meals at no cost to food insecure youth on South Whidbey Island. Meals are prepared with love by volunteers using high-quality ingredients, including produce from local farms and fruit gleaned from trees throughout the community."
Rather than a buying a bouquet of flowers, give to a community garden. Your donation will continue to give back as the months go by; those flowers will droop in just a few days. Check out these top-rated nonprofits:
Square foot gardening, Ogden, UT.
Volunteers are enthusiastic: "I support this foundation because it saves the environment, promotes healthy lifestyles, reduces our carbon footprint (no more local than in your own yard!) and helps the poor cut their food bills."
Generous Garden project, Greenville, SC
Here's a thoughtful volunteer's comment about this project: "I have truly enjoyed the work and getting my hands dirty, but most of all it's the people that make the difference. It is great to meet new people each week and to know that we are all working to help other people in need."
Instead of a romantic weekend away, a donation can help people find a caring place to sleep or during the harsh winter nights. Check out these 2013 top-rated organizations:
Aurora Warms the Night, Aurora, CO
The mission of this organization is heart-felt: Preserve the life, health and stability of Aurora's men, women, and children experiencing homelessness. "Aurora Warms the Night is a compassionate organization that reaches out to help the homeless of Aurora with vital and life-saving housing assistance on the coldest of nights."
Beverly's Birthdays, North Huntingdon, PA
All children need to be recognized and feel valued. This organization provides birthday celebrations for homeless children living in shelters. As one volunteer says: "I think the most rewarding thing when attending a Beverly's Birthdays party is seeing the smiles on the children's faces."
Set a wonderful example for your kids, showing them ways to embrace others. Ask them to help you pick a need that your donation can fill. These two organizations were top-rated in 2013:
Camp Sunshine at Sebago Lake, Sebego, ME  
This camp provides respite, support, joy and hope to children with life-threatening illnesses and their immediate families from around the world through the various stages of their journeys.
Says one volunteer: "I have now had the opportunity to volunteer at camp four times and will be returning this weekend to volunteer again. As a former client served I cannot even begin to describe how much of an impact this organization has had on my family and my life."
GlamourGals Foundation, Commack, NY  
Teen volunteers in GlamourGals chapters around the country make regularly scheduled visits to senior homes to perform complimentary facials and makeovers. This comment from one volunteer captures the spirit of this organization: "Joining Glamour Gals, I hoped to gain experience and give back to the community. I lost my grandparents a couple years ago and it was very hard because I was so close to them. It left a huge hole in my heart that I thought would never heal. Glamour Gals has healed that hole in my heart. Every month I'm spending time with grandparents who aren't mine, and it's a blessing. "
Help someone in your own neighborhood. You may discover that a senior living near by needs a lift to the doctor or help getting groceries. Here's one organization that matches drivers with riders:
Neighbor Ride, Columbia, MD
This 2013 top-rated organization connects people: "volunteers drive - seniors thrive." One volunteer summed up the experience this way: "While helping others, I get to meet some wonderful people who often touch my life with joy."
About GreatNonprofits: With over 1.5 million nonprofits in the United States alone, how do donors and volunteers find out which charities are making a difference? GreatNonprofits offers a free, easy to use website and tools that allow nonprofits to get feedback and hear the real stories of the community they serve.  GreatNonprofits is like a Yelp of nonprofits, currently providing nearly 200,000 reviews.