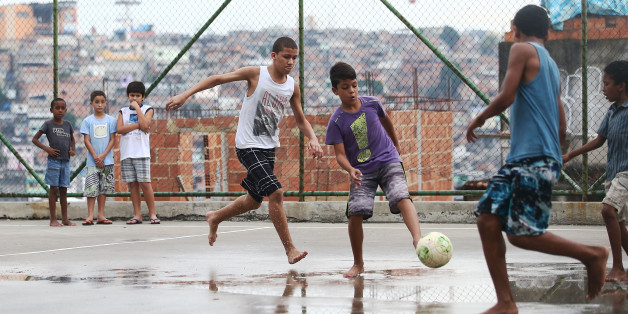 As the World Cup in Brazil approaches, the role of football as a catalyst for social and political change is in the news again, but what about revolutionizing the football industry itself.
Last June the world watched as chaos erupted on the streets of Belo Horizonte. Brazil had just defeated arch rivals Uruguay in the Confederations Cup, but celebrations were on hold as the V for Vinegar Movement remained in full flow. Football was, not for the first time, a platform for popular social and political discontent, and in the coming month, the world waits to see whether this will be taken to another level as the main event -- the World Cup -- unfolds both off and off the pitch.
The anger of the Brazilian people is rooted in stark economic inequalities, widespread corruption in government, poor education and health services and a transport infrastructure in dire need of investment. These are long-term issues that the World Cup has brought bubbling to the surface, primarily with disgruntlement over huge spending on stadiums while bus fares increase. The bitterness against FIFA runs deep, and the words of General Secretary Jerome Valcke in pressuring a constitutional change to enable the sale of alcohol in stadiums have not been forgotten: "Alcoholic drinks are part of the FIFA World Cup, so we're going to have them. Excuse me if I sound arrogant, but that's something we won't negotiate."
It is quite possible that football, or at least the formal structures of football, will inadvertently trigger an uprising in Brazil that will change the course of the country's future.
But what about a revolution within football itself? Is it possible to change the very essence of the football ecosystem to achieve a rebalancing of wealth and a change of focus towards social development? After all, FIFA don't own football, they govern it; and the major clubs don't have monopolies, they are just the market leaders. Because of the disparate nature of football structures, it is hard to envisage how such a campaign could be led and how changes could be driven by the people -- the fans -- who are disenfranchised by the industry they sustain.
Change from within is perhaps more realistic. At Kick4Life in Lesotho we are striving to create a new model for a football club where social development is the ultimate goal, driven and enabled on a new level by elite success on the pitch and financial success off it. It is a big shift from our initial approach where we created an elite team alongside our charity programs purely as an outlet for our talented participants to play competitive football. In fact we kept quiet about it in order not to be wrongly perceived as a talent-based project. Yet as the team has progressed quickly to the Lesotho Premier League, our potential for scalable social and economic change has flourished. As a traditional charity this was capped, but by creating a cross-sector model we believe we can accelerate and deepen our community impact, as well as creating a model for replication by clubs elsewhere.
It is a small beginning but momentum is gathering. streetfootballworld -- the global network of projects using football for social development -- is beginning to champion change within the football industry on a greater scale, representing more than 100 network members that are delivering projects on the ground to disadvantaged groups, using football to promote social change in areas such as health promotion, education, gender equality and peace-building. Throughout the World Cup streetfootballworld have a plaza in Rio at the Museum of the Republic and are aiming to attract hundreds of thousands of fans from across the world to engage in the story of Development through Football. It is a story that started with the murder of Colombian defender Andreas Escobar who scored an own goal at the 1994 World Cup. Twenty years later, a new chapter is underway that aims to take this fringe sector to the heart of the football world.
This post is part of a series produced by The Huffington Post and Kick4Life, which is a non-profit that uses soccer as a vehicle to address social disadvantage and transform the lives of youth in the nation of Lesotho. To see all the posts in the series, read here. To learn more about Kick4Life and their World Cup Challenge on Crowdrise, read here.