... I'll write home every day, and send all my loving to you.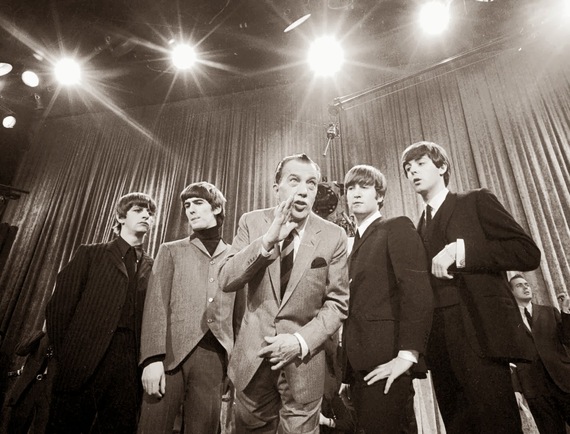 It's the Beatles, of course. This was 1964. Writing home every day meant an actual piece of paper and an envelope, with address and stamp. A trip to the post box. Now, 50 years later, it would be email, text, or FaceTime. I still like paper...
I was thinking about this last night as I watched CBS's The Beatles: The Night That Changed America with a big grin on my face throughout -- much as I suppose I had that big grin back in 1964. I was all of 28 years old and living in Halifax, Nova Scotia, teaching at the apparently still thriving Halifax Grammar School. A couple of days before the February 9 Ed Sullivan Show that marked the band's first appearance in America, I had been approach by a student who'd asked me if I was planning to watch the Beatles on Sunday night. I'd never heard of them and, being still a somewhat convention-bound Englishman at the time, I was appalled when the student showed me pictures of the mop-haired quartet from Liverpool. Their hair alone was an outrageous affront to all that convention held sacred. What, I wondered -- probably aloud -- was the world coming to?
Still, given that my students were all so ecstatic, I did tune in to the show on the tiny black and white television set in the little apartment I shared with my wife, Elizabeth, and our grey cat, Plato. And like virtually everyone who watched that night, we were immediately seduced by the sheer joy the band managed to project beyond the screams of the largely teenage, predominantly female fans in the audience. I had imagined the end of Western culture. What I got was a cheerful challenge to it, a kind of cheeky irreverence that brought an irresistible smile to the face and good cheer to the heart.
What was it about the Beatles that was so powerful that it "changed America"? There were plenty of other bands in the British invasion of the time, but none of them was ever credited with the cultural influence of this one. In part, I think, it was the joy. A reviewer in today's New York Times used the word "lark," and I think it's a great choice. So much of what they did, both in that first appearance and in the years that followed, had the quality of a lark -- a fun-filled adventure in which they followed, with a kind of innocent enthusiasm, wherever their curiosity might take them, whether in drugs, or rock 'n' roll, or spiritual inquiry. They kept moving gleefully on, discovering the new, and sharing the results of their adventure with the rest of the world. This boyish quality was the source of their attraction, and it proved irresistible while it lasted. We were all so disappointed when they finally grew up.
Still, last night's show proved that the spirit was not lost. Certainly, the advances in the technology of performance and sound amplification have changed, and clips from the Beatles' performance on the Ed Sullivan show that night make them look like that "little band" of which Paul McCartney spoke in an interview with Dave Letterman. Their movements look frankly stilted, their music melodic, yes, but a bit tinny by today's standards. The professional musicians who came to acknowledge their heritage and pay tribute had the advantage of vastly enhanced stage production values, and they did a great job in rendering some of the great, unforgettable songs that were written and first performed by the Beatles.
But it was the two surviving Beatles who easily stole the show. Magnificent entertainers who have not lost the charm of their impressive charisma, Paul and Ringo offered a prolonged finale, each at first separately and finally together, that was every bit as thrilling and seductive as their first appearance in America, 50 years ago. They performed with easy mastery and good humor, entirely without guile, arrogance or pretension, connecting with their vast television audience as effortlessly as with those present at the concert. Their tribute to former band-mates John and George was low-key but heartfelt, sincere but unsentimental, entirely appropriate to the moment. Their enthusiasm was as infectious as ever, as was the goodwill they projected to an audience that embraced them with as much adulation as those teenage girls, many years ago... but without the screams.
A delightful show. I wouldn't have missed it. And now that I have it recorded, well, I might even watch it again.