Manhattan can seem exotic just as it is. But try adding a drop of the imaginary and see what you get.
Maybe it's because the authors lived here, but dozens of classic books for kids are set in the center of New York. Crickets in their pages hang out, not in cornfields, but in Midtown. Mice don't run down country lanes: They sail boats in Central Park.
With a copy of Stuart Little and a Manhattan map, you're ready for the kind of city walk where, instead of a licensed tour guide, you'll let an Eloise or Chester Cricket tug you around. If you go with the storybook flow, avenue corners will seem tinged with adventure. You'll see the sights, but through the lens of characters and tales that you sort of, kind of, almost, remember.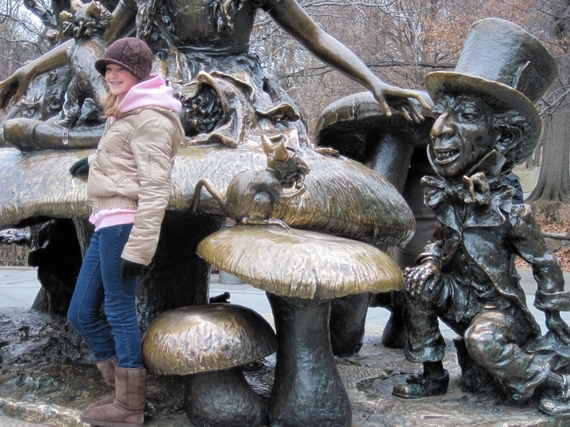 Here are some spots in Manhattan that show up in famous books for children. To supplement the info below, consider taking along the paperback, Storied City: A Children's Book Walking-Tour Guide to New York City by Leonard S. Marcus.
This, and maybe some change for a Mister Softee vanilla cone.
*****
As a Manhattan kid, I used to draw on rolls of packing paper that I'd thumbtack to my wall. I drew what I knew: giant stuff, like the riveted steel George Washington Bridge. My dad and I would read The Little Red Lighthouse and the Great Gray Bridge by Hildegarde H. Swift (Harcourt, 1942) and then head straight to the book's Hudson-spanning bridge and the lighthouse in its shadow on the Manhattan shore. You can too.
In the bestselling book, the lighthouse (officially called Jeffrey's Hook Lighthouse) is extremely pleased with itself until a "great gray bridge" is built over it. In fact, the George Washington Bridge's bright lights made the little beacon obsolete when it opened in 1931. But, at the book's end, the lighthouse decides it still has an important job. That, I'm pretty sure, is letting you visit.
Now on the National Register of Historic Places, the unlit landmark lives at the watery edge of Fort Washington Park. To get up close, walk west on 181st Street toward the Hudson River, take the pedestrian footbridge, and follow the path that leads into the park. Scheduled tours are led by the city's Urban Park Rangers.
In E. B. White's Stuart Little (Harper, 1945) the Little family consoles itself with this line: "In New York City, anything can happen." Mrs. Little has surprised local doctors by giving birth to a mouse. And, as you probably remember, Stuart ends up sleeping in a miniature bed that the family makes out of a matchbox.
What you might not recall is that, in the book, he hops on a Fifth Avenue bus at one point and, since he's about two inches tall, takes the helm in a toy sailboat race in Central Park. Check out the park's Boat Pond where the race took place and rent one of the miniature wooden yachts for yourself (a forgotten city pleasure).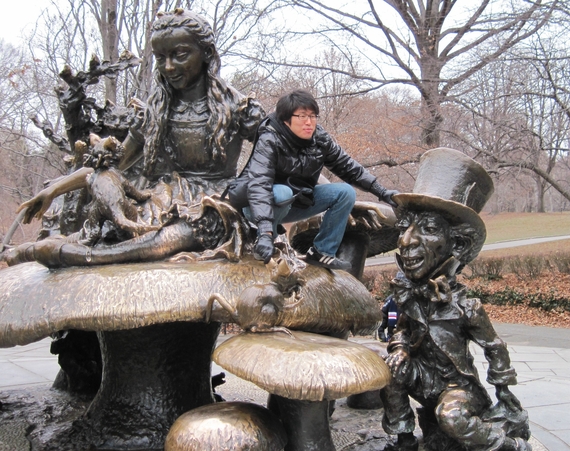 Near here, still in the park, is the Alice in Wonderland sculpture (Alice's Adventures in Wonderland; Macmillan, 1865), a bronze complex of characters that includes Alice, the Mad Hatter, and others from the Lewis Carroll classic. My friends and I used to run to it on Saturdays since it's great for climbing and sliding off of -- hard -- onto the dirt and grass.
Thinking it might be too frilly, I never got around to reading Eloise (Simon & Schuster, 1955) as a kid. I'm sorry I didn't. Kay Thompson's romp of a book about a girl who lives in the Plaza Hotel on Central Park South is the first of her well-loved series about the stuff a formidable little kid can do to a grand old landmark full of proper people wearing furs. With her dog, Weenie, and pet turtle, Skipperdee (you've got to love it) Eloise spends her days pouring pitchers of water down the hotel's mail chute and crayoning her name on expensive wallpaper.
You can take a crack at either of these activities once you get to the hotel on the corner of Fifth Avenue and 59th Street. When you're done, try ordering some hot chocolate at the Palm Court restaurant, a favorite of Eloise, or ride the hotel elevator up and down, like she did, "for no good reason." Before you move on, scan the lobby for the portrait of Eloise by the book's illustrator Hilary Knight. The painting was taken down during recent renovations but is back.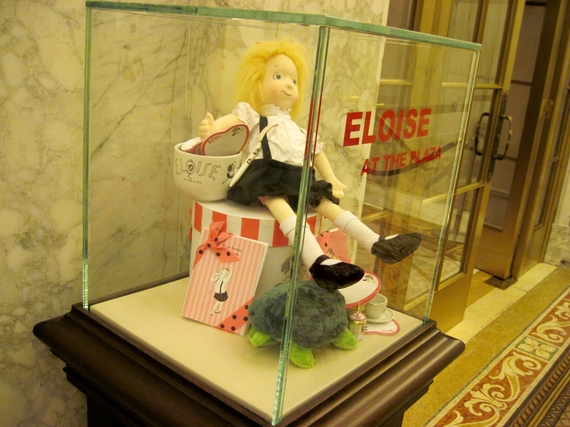 Two of Manhattan's most-visited landmarks have children's book angles. The piece of fruit "as large as a house" in James and the Giant Peach by Roald Dahl (Knopf, 1961) crosses the Atlantic Ocean, arrives in New York City and, with James and his pals inside, lands on the point of the Empire State Building at 34th Street and Fifth Avenue.
The book's illustration of this event made me fuming mad when I was roughly nine. I could see midtown buildings from my bedroom window and knew them pretty well. But the book's original drawing showed a tower that looked more like the Chrysler Building than the Empire State. You can make up your own mind about this by getting up high on the building's main observation deck on the 86th floor.
If you can find a stand or store around here that's not part of a chain, pick up a newspaper and a pack of gum on Broadway and 42nd Street in honor of George Selden's The Cricket in Times Square (Farrar Straus Giroux, 1960). Published before the days of political correctness, the book's original cover shows Selden's main character, Chester Cricket, and his friends, Tucker the Mouse and Harry the Cat, drinking what appear to be small martinis. And talk about seeing the future: Selden has Chester make his home inside a "nearly bankrupt newsstand."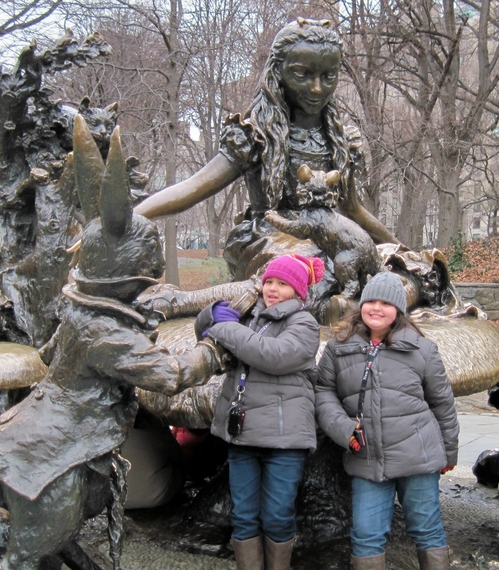 Last and maybe best, is the realm of my favorite picture book of all, the still popular This is New York by Miroslav Sasek (Universe, 1960). "New York is the largest city in the Western Hemisphere," writes Sasek, "and it is full of the Biggest Things. The biggest traffic jams in the world... The biggest stretch of streets to be policed... The biggest Sunday papers." Not all of Sasek's superlatives are still true. But most self-respecting city kids -- and just about any tourist -- will enjoy his Technicolor-cool illustrations.
So, where can you see the Manhattan sights in This is New York? Uptown, downtown, midtown, Central Park? Consider extending your children's book tour. This may take a while.
Peter Mandel is the author of the read-aloud bestseller Jackhammer Sam (Macmillan/Roaring Brook) and other books for kids, including Zoo Ah-Choooo (Holiday House) and Bun, Onion, Burger (Simon & Schuster).