Traffic and parked cars have their seasons. Well, at least in a college town like the one I live in, they do. What during summer was a rich, tropical mix of rusted junk heaps similar to my 1988 Chevy Nova is now suddenly Germanic: October cold and clean.
The silvery new sedans and SUVs of students do this every year. And every year I waste time wondering the same thing: If college is expensive, leading to widespread financial aid, student loan debt -- the whole nine yards -- where are the cream-puff student bombs of old? Can you claim poverty in the educational world, while tooling around in a Range Rover Evoque?
The owners of the blank but brand-new BMW on my block will never know a friend like my '74 patched and spray-painted Plymouth Valiant. May she rest in peace. The drivers of the 2014 Porsche Cayenne crossover won't have a Falcon to remember, like the '64 choke-equipped Ford my grandmother used to allow me to drive.

Everyone nowadays seems to enjoy new-car interior air. But give me a whiff, any time, that brings back memories of adventures and interesting trips over a bunch of years. Here's a look at a few automobiles that I'd pick in a second over a Lexus, that I would drive again with pride -- if only they were still here.

The Cortina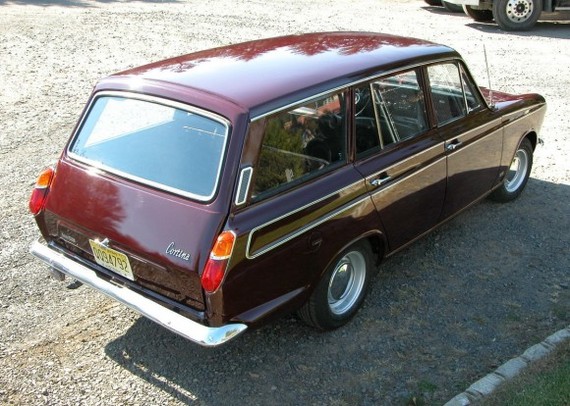 Can anyone remember this tin-foil-thin model made by British Ford? I do. When my dad moved my family from New York to London in 1964 we went car shopping and came home with a miniature mint-green wagon that bounced up and down like a basketball whenever you stepped on its brake. Riding in the "way back" was like sitting on a trampoline, and my brother and I fought over this until one morning on the way to school when we grazed a curb and he pulled off a perfect backwards somersault, landing upside-down against the rear hatch door. We liked The Cortina so much we bought another green one -- still with its English-side drive-shaft -- and when we moved home to New York a year later, it came with us by sea.
The Falcon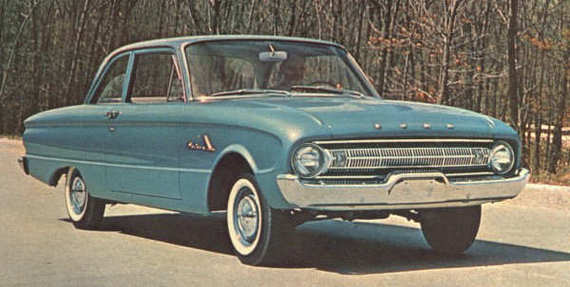 This compact stalwart lived with my grandparents in Vermont -- in Montpelier, a town that is almost all hills. The Falcon huffed and puffed like an out-of-condition hiker. On a good day, it might fire up to 50 m.p.h. on a straightaway like the Barre Road and, while sailing down East State Street, feet ignoring both gas and brake, you could crack open your cigarette window and catch a breeze. But trying to climb back up to Ridge Street, The Falcon would get nervous and stall. My grandmother, whom we called Nanny Liz, would pop the plastic choke in and out, out and in, while pumping the gas. One afternoon a state police car on patrol actually pulled us over for "traveling too slow." Still, the Falcon was a summer-like sky-blue with red, pointy taillights and a grille that smiled broadly. She was the most beautiful small automobile I have ever seen.
The Valiant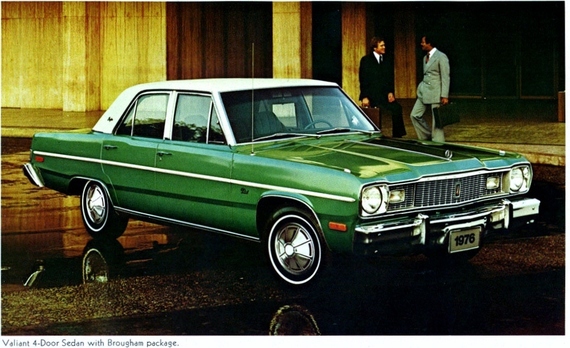 My wife and I lived carless, once, in the city of Boston: Not, by any means, a difficult thing to do. But, when we left the city, early in our 20s, we needed a set of wheels and bought The Valiant from a used car lot in Cincinnati -- with Kathy's mom along to help negotiate the deal. Mrs. Byrd was taken with the deep pile carpeting in this car; I was pleased with the two-tone paint job -- maroon with a sand-colored landau roof -- and my wife kept bringing up the fact that this was the luxury version of the model, the "Brougham." We drove off in a classic Plymouth sedan that, thanks to its slant-six engine, would become a favorite of mechanics from coast to coast. Thing was, a few special features of The Valiant escaped our notice until miles later. Most notably, the window on the driver's side was permanently jammed. No matter what we did, it let in a mystery wisp of air that frosted up everything: dashboard, rear-view mirror, speedometer. Even, now and then, Mrs. Byrd.
The Colt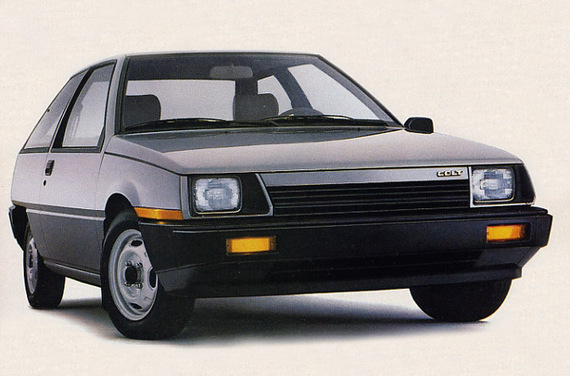 Our 1986 Dodge Colt was the stripped-down hatchback model of the ultimate super-sub-compact economy car. So we called her "Colt-E" or "Coltie" for short. This was the last car made, I guarantee you, with a standard AM-only radio, and our higher-tech friends -- I use the term loosely -- used to punch at the little buttons under the dial and feel around to see if there was a slot where you could slide in a CD. There wasn't. But The Colt took corners like a Triumph, and her standard shift was smooth as glass. Late in life, this excellent gearbox simply gave up one afternoon as my wife was driving back from work and dropped into an unfathomable Colt-E space beneath the floor. Kathy reacted fast, grabbed the top of the stick, and held the whole thing up long enough to reach home. Soon after the repair job, we sold The Colt to neighbors. For a while, we could still visit her -- though sadly, now, she is gone.
Still, like the Valiant, Falcon, and Cortina, grand old cars like Colt-E are never completely forgotten. There are days when I remember a certain buzz from an engine. Days when I try to see around the flanks of some mammoth, lumbering vehicle, and out of nowhere, I start humming. My fingers instinctively stab at dashboard buttons -- they stretch for dials.
Maybe, I think, there's a decent AM station still out there...
Peter Mandel is the author of the read-aloud bestseller Jackhammer Sam (Macmillan/Roaring Brook) and other books for kids, including Zoo Ah-Choooo (Holiday House) and Bun, Onion, Burger (Simon & Schuster).