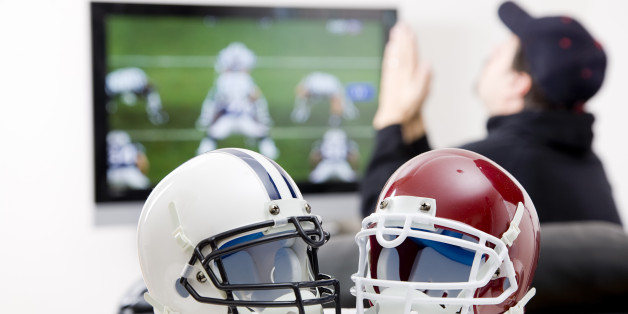 I'm a huge football fan, and have rooted for the 49ers since my dad first exposed me to the game when I was five or six. I spent most of my birthdays growing up at the 49ers training camp in Rocklin, California, not too far from my hometown, and have notebooks full of autographs including Joe Montana, Ronnie Lott, and many from Jerry Rice. But much as I still love watching the games each week, I'm seriously considering boycotting the season given how the league leadership handled the Ray Rice episode, as well as how the 49ers management and Coach Jim Harbaugh have mishandled several similar recent situations, including Ray McDonald. This would be a serious loss for me personally and I'm truly torn.
Let's start with the national story. The news yesterday about the arrest of Minnesota Vikings tailback Adrian Peterson, one of the NFL's greatest running backs of all time, for child abuse is just the tip of the iceberg. The current media and league focus on the second Ray Rice video is completely irrelevant. For instance, Commissioner Goodell says that he hadn't seen the elevator videos until this past week. Yet, he did see video of Rice dragging his wife out of the elevator unconscious before granting the two-game suspension. So, what's the difference? The end result was obvious from the start. There was a video of Rice dragging his unconscious wife out of an elevator.
What has changed is the growing public outrage, propelled further by the gruesome elevator video.
Roger Goodell's acting like a politician (his father was a U.S. Senator), and a bad one at that. If he or the NFL ownership group "managing" Goodell think that this is just a passing public relations storm, taped over by an "independent" investigator, they are woefully mistaken.
Like the NBA's crisis following Donald Sterling's racist comments, the Rice video was a national teachable moment on a scourge to society, domestic violence, yet unlike the strong and ethical leadership from NBA Commissioner Adam Silver, Goodell punted.
Two games.
I'm sorry Mr. Commissioner, but that moment was your moment of truth, to demonstrate what you're really about as a leader. The Emperor has no clothes and you swung and missed so badly that I lost faith in your ethics.
And, it's not as though this is a one-off instance of poor leadership. As the National Organization of Women reported, there have been 56 instances of domestic violence reported during Goodell's tenure. In response, NFL players have been suspended for a combined total of 13 games.

This is real talk, which is what we need nationally, as well as a good deal of reflection as we think about what we're supporting as fans.
Taking a step back, what's this all about, I ask? It's pretty obvious to me that it's largely about money, and a rules or legal structure driven by money. The issues of domestic violence - and violence in general - run deep in the NFL, and we all know it.
It's a national problem that has local solutions. Thankfully, the Minnesota Vikings management won't play Adrian Peterson this weekend. But playing him would have been a moral abomination.
Closer to my home, it embarrasses me to stop, pause and think that more San Francisco 49ers have been arrested than any other team, including All-Pro linebacker Aldon Smith and Ray McDonald, who as the New York Times reported on Friday was arrested in late August on domestic violence charges after an altercation with his pregnant fiancée, who had visible injuries according to police. McDonald played last week in the season opener, as owner Jed York, General Manager Trent Baalke, and Coach Harbaugh declared that they didn't want to rush to judgment until the legal process had run its course.
That's terrible leadership, and it saddens me to no end for a franchise that was once led by one of my childhood heroes Bill Walsh. Known for his great integrity and principles, Walsh would never let something like this happen. He let it be known that he had little tolerance for bad behavior, and created a ethical and winning franchise that was the envy of the league.
These days, winning trumps ethics for the 49ers. While I fault their leadership, these are not bad people. Their actions merely represent an expression for what the rest of us say is important.
Meanwhile, Goodell recently gave Smith a nine-game suspension for two DUIs, three felony gun charges, as well as getting arrested at Los Angeles International Airport for saying he had "a bomb" earlier this year. (Charges were dropped) Interestingly, I saw Smith a few months ago hanging out in San Francisco at the social club "The Battery" (poorly named in this instance), sipping a glass of wine, and checking out the women passing by. Surely, this is not a person who has been changed too significantly by life events. Why should he have been? The consequences are low (needless to say, I kept my distance from Smith at The Battery). Sadly, this is a seriously troubled human being. He needs a lot of help. And yet, 49ers Coach Harbaugh, who I respect for his focus on team and quality, played Smith in a game last year a few days after his second DUI. That was outrageous, a terrible decision by Harbaugh, and one that you would think he now regrets given all the fallout and criticism he's taken.
No amount of rationalizing or equivocating about the legal process or system can suffice. If you are a someone who cares about ethics and basic human values first and foremost, why would you risk even the appearance of impropriety?
It's time for all of us all to act, and to demand much more from those in positions of leadership in the NFL. I also hope that President Obama and Members of Congress voice their views, not to score political blood-score points, but as human beings who are fathers and mothers, who want America to be a place where their daughters don't live in fear.
Back to Roger Goodell: Remember when I said it's all about the money? Well, the NFL is a nonprofit entity, a 501(c)(6). How such a profitable behemoth can be considered a nonprofit, I have no idea. But here's the most ugly fact: Roger Goodell made $44.2 million last year. If that doesn't make your blood boil, perhaps you can play outside linebacker for the San Francisco 49ers for the first nine games.
It's time for some real men and women to stand up and show leadership in the NFL. They're out there, and in spades. This is your moment. America is better than this. We are better than this.
--
Peter Sims is the bestselling coauthor with Bill George of True North: Discover Your Authentic Leadership, and the cofounder of Fuse Corps, a social venture that gives 10-20 professionals each year the opportunity to spend a year helping governors, mayors and community leaders across the United States bring about social change.