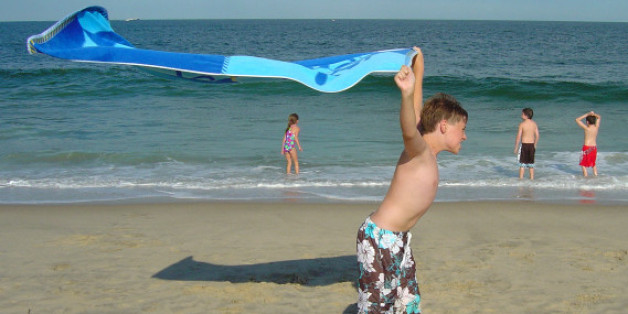 A whole week off work!
Let's just bring phones and iPads
and the one laptop.
Come to Jesus time:
Where is my Miraclesuit?
Dear God, let it fit.
Race to the beach house
to stake claims for the best rooms
against our loved ones.
"We don't need swimsuits.
We're just taking a quick walk."
My famous last words.
Get up too early
and you have to make coffee.
Too late -- it's all gone.
We struggled for blocks
to schlep this gear to the beach.
NOW you have to poop?
Moms are the grounds crew
standing along the shoreline
signaling "Move in!"
Hand up to her ear
"Can you hear the ocean sound?"
she asks her caller.
A dad flails about
grabbing at waves while mom screams
"That's our green bucket!"
Sunset on the sand:
White-shirted barefoot families
and photographers.
Last night at the beach.
Sorting out the wet laundry.
Sorting through the shells.
Beach house sister wives
around the kitchen table
exchange knowing looks.
Why was I nervous?
My girlfriends' husbands are great
for bossing around.
Time for fridge clean out:
Everybody have three beers
and four popsicles.
How can it not fit?
It all fit on the way here.
The exact same stuff.
Home from vacation
I have a new perspective.
%&*$ this place needs work.