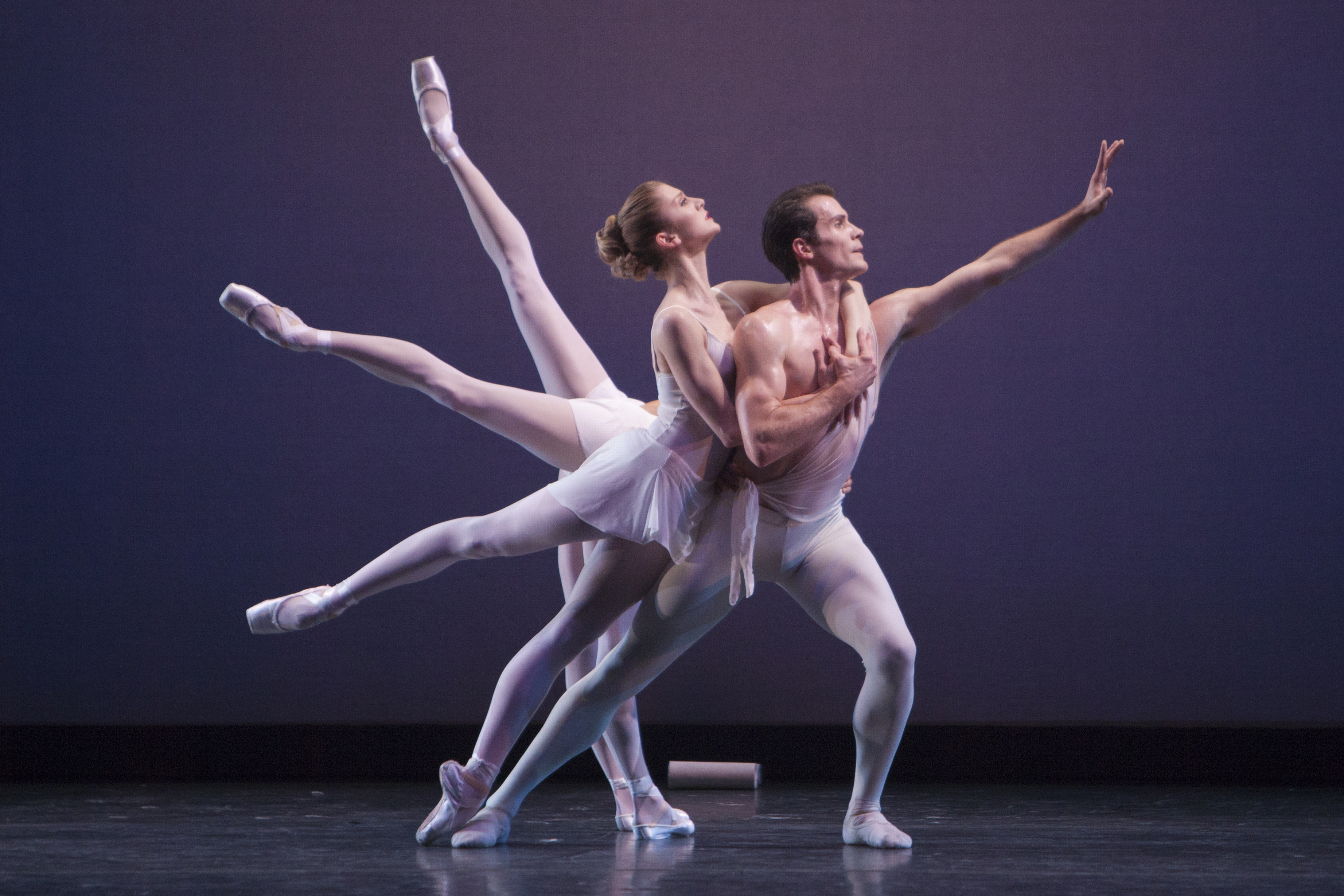 (Pacific Northwest Ballet's Seth Orza, Carla Körbes, Maria Chapman and Lesley Rausch in George Balanchine's "Apollo." Photo by Lindsay Thomas.)
"You must be surrounded by creative people all day since you work in the arts!" When people say that to me, I always assumed it was the dancers, choreographers, costume designers, and musicians they were talking about. However, if you ask anyone who has been associated with a not-for-profit, they will immediately tell you how much creativity is required by the administration in creating a successful business model as well.
I reached out to dance marketing professionals across the country to ask them to share marketing campaigns that were successful for them in their communities. Two companies immediately responded with great examples on both institutional and programmatic marketing. What was the most interesting to me is how both companies wanted to highlight social media; with the advent of platforms like Twitter and Facebook, dance companies are finding new and creative ways to not only reach their audience, but also keep them engaged when performances aren't happening, as these examples both highlight:
Programmatic Marketing
Our first example comes from Andrew Edmonson, the Director of Marketing & PR of the Houston Ballet. As you may know, The Nutcracker is not just a classic holiday tradition for ballet companies, but also a huge revenue stream that sustains the company and helps support more daring productions throughout the year. Here is a great example of programmatic marketing, focusing on a particular event, in this case, The Nutcracker:
Ben Stevenson's staging of The Nutcracker is Houston Ballet's most popular production, bringing in over 50 percent of total ticket sales revenues for the company each year. The perennial challenge that we face is: How do we take a production that is 25-years-old and a beloved classic and devise marketing/PR positioning and angles that are fresh, new and relevant each year that we perform it? In 2012, we decided to focus on the 40th anniversary of Houston Ballet performing The Nutcracker, and how it had grown from six performances when it debuted in 1972 to 37 performances in 2012, generating millions of dollars for Houston Ballet and hundreds of new fans for the art form of ballet in the process. We did extensive research in our archives, found historical photos of the production from the 1970s onwards, and began a quiz on Facebook, posting 20 historical images during the month of December, asking fans to identify which dancers were in the photos and answer trivia questions about Houston Ballet's history with The Nutcracker.

The images generated extremely strong responses, with over 100 likes and many comments. We also asked a former dancer who had performed in all three of Houston Ballet's productions of The Nutcracker to write a historical piece for our blog, sharing her memories of each production. The blog was so well written that the dance critic of our major daily The Houston Chronicle pitched the paper to run it in their print edition, and it appeared on the front page of the paper with a huge color photo on Tuesday, Dec. 18, 2012. Houston Ballet 2012 performances of The Nutcracker were the most successful in its history, finishing at over $4 million -- an increase of $600,000 over our previous best year and a 16 percent increase over Nutcracker 2011 ticket sales.
Follow Houston Ballet on Twitter to see what else they are up to!
Institutional Marketing
Here is a great example of institutional marketing from Pacific Northwest Ballet's Associate Director of Marketing Lia Chiarelli. The campaign addresses both the overall branding of the organization, but also addresses the need to continuously engage their audience despite geography:
Pacific Northwest Ballet (PNB) was thrilled to be sending the entire Company and Orchestra to New York City Center for our first full-company New York City Tour since 1996. Internally, the tour was a very big deal -- but the question was, how could we (with very little budget) make it relevant to our fans in the Northwest, and the rest of the world not able to see the performances, while highlighting and building on the excitement generated during the tour in New York City? We launched a social media campaign to do just that -- and implemented it across all of our social media channels. To capture content in real time, PNB's in-house videographer and photographer joined the Company on tour. Creating and posting content from the moment the Company arrived at the airport generated significant interest from our fans on what would happen next. Images from rehearsal studios, dancer created videos, press photos, dancer blogs, tweets from the Artistic Director all hit before and concurrently to unpaid media, creating a perfect storm of PNB news. Fans at home feel in on the tour, proud of the NYC press and excited for their company. Augmenting the "free" social media buzz is a small budget Facebook advertising campaign, garnering at last count a 3 percent increase in our online fan base.
Follow Pacific Northwest Ballet on Twitter to see what they are up to next!
A healthy organization has time and resources invested in sustaining both programmatic and institutional marketing campaigns, and I highly encourage arts organizations across the world to look into how a commitment to social media (and it is a commitment!) and thinking creatively can help raise the profile of your organization and sustain your base of support throughout the year!