"When a person first comes into the ballet he should come and see, come and discover. If you take a person to see a great painting in a gallery - to see a Michelangelo, for instance -- he might say, "So what? It's very boring, just a man standing there. What is good about it?" So you say, "You might not see anything in the beginning maybe, but look longer." And if he comes again and again and stares -- sure enough, the fifth or sixth time, he will see how beautiful it is, how the air becomes transparent and you can smell it; there is a glow -- the space, the hands, everything is fantastically beautiful. And he wants to see more." - George Balanchine
When I was young, I had the amazing opportunity to visit Inner Mongolia. I'll never forget the sight of the Gobi Desert as we pulled up alongside a last thinning row of trees opening outward towards a vast sea of sand. Dust storms from the desert ("Yellow Dragons") blow across Asia, greatly impacting crops, livestock and human activity for miles, and even contributing to pollution levels in Beijing over 500 miles away.
The "Great Green Wall of China" project works to prevent the spread of the Gobi Desert through the reforestation (the replanting of previous forest sites) and afforestation (the planting of new forests in areas which were not previously forested) efforts in Northern China. The thinning trees I saw were not, as I presumed, the last defiant giants -- but forging pioneers reclaiming the desert for the health of the entire region.
There is no one question that our country is currently experiencing a drought of dance in mainstream American culture; there are few outlets for concert dance despite the popularity of mainstream programming like So You Think You Can Dance and Dancing with the Stars. If the arts are the "oasis of the soul," then how do we replant dance in American culture and push the desert back?
Serge Diaghilev and his legendary Ballet Russes embarked on a major American tour in 1916, exposing many Americans to ballet for the first time. One of the company's spin-offs, the Ballet Russes de Monte Carlo toured the Americas even more extensively. The outbreak of World War II left the company stranded in North America, making our hemisphere the unlikely recipient of some of the greatest dance artists of the 20th century. Most notably, the artistry of New York City Ballet's founder George Balanchine and his star disciples have since lovingly spread dance across the country, capturing America's heart and continuing to define the American style of ballet to this day: strong, fast, bold and brilliant. These ballet pioneers traveled to San Francisco, Seattle, Miami, Philadelphia, Kansas City and countless of other smaller towns across the United States, opening schools and companies and assimilating into the local flora.
But what about communities with no other outlet? The CW network's popular show Breaking Pointe brings ballet to a national reality television audience, and AOL's new City.Ballet delivers Producer Sarah Jessica Parker's online behind-the-scenes look at the world of New York City Ballet. Multiple full-length classical ballets are available on YouTube with minimal searching. But is this enough of a solution for underserved communities? Dance companies are making more and more works available online in the hopes that these brief static experiences will stimulate a larger curiosity for dance and translate into ticket sales.
The city of Cleveland once boasted a professional ballet company whose history mirrors the migratory patterns of a sports team closer than that of a a performing arts organization. The Cleveland Ballet was founded in 1976 by Dennis Nahat and Ian Horvath, both former Principal Dancers with American Ballet Theatre, expanding as the Cleveland San Jose Ballet in 1986, sharing resources with supporters in San Jose, California. Since 2000, the company has operated as Ballet San Jose, where another American Ballet Theatre star, Jose Manuel Carreno, currently tends to its greener pastures exclusively in Northern California.
A small grassroots organization has popped up in Cleveland the the absence of a professional ballet company; Ballet in Cleveland is the brainchild of ballet devotee Jessica Wallis, who founded the organization only last year. Her goal is to "plant the seeds that will make Cleveland a ballet center again" with the the mission to "promote the presence, power and relevance of the arts in our lives." As opposed to reviving a local professional ballet company, the organization focuses on presenting imported ballet programming, a model that affords the community access to a diverse offering of high calibre artists and companies at a fraction of the cost of keeping them in residence. While larger American cities are able to see the many positive advantages of having a full ballet company integrated into the life of the city, smaller metropolitan centers are increasingly relying on presenter models like Ballet in Cleveland to provide a cost-effective alternative to engage people in the artform.
Understanding the power of celebrity, next spring Ballet in Cleveland brings Ballet West soloist Allison DeBona and four male dancers from the company to teach a series of masterclasses and perform excerpts from their repertory. Most people's first exposure to DeBona's dancing has probably not been via one of the Salt Lake City's company's home performances, but more likely on Breaking Pointe, the vehicle that has caused a new audience to discover this previously hidden gem in the family of American ballet companies.
Ballet in Cleveland invited New York City Ballet Principal Dancer Ashley Bouder and myself to Cleveland this past weekend to help begin conversations with leaders in the community who shared Wallis' nostalgia for "the ballet," including WKYC reporter Maureen Kyle. At a brunch fundraiser discussion moderated by Kyle and hosted by Saks Fifth Avenue, she shared her early childhood excitement of dressing up with her sister and going to the ballet with their grandmother, an experience she hopes to recreate with her daughter. This nostalgic spirit of Kyle's story mirrors a larger feeling that exists within the community, tapping into that will be the integral driving force for the organization as it continues to grow.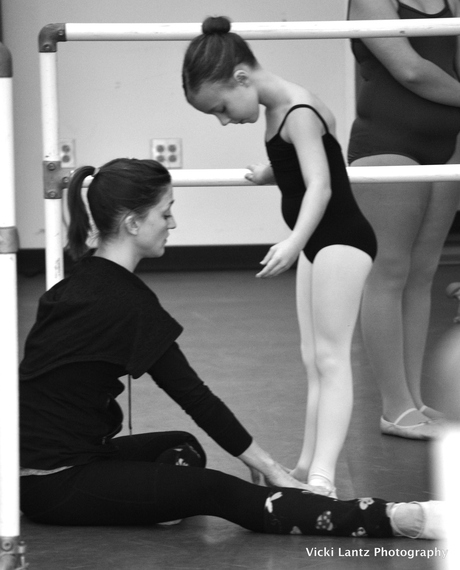 New York City Ballet Principal Dancer Ashley Bouder working hands-on to build new audiences. Photo by Vicki Lantz.
After introducing Balanchine's legacy this weekend through master classes, Bouder intends to return next summer with dancers from both New York City Ballet and its neighbor, American Ballet Theatre. The program will treat audiences to a historical mapping a classical dance from Marius Petipa at his most academically glittering through George Balanchine's neoclassical revolution to contemporary dance of today. The performance will stimulate conversations in Cleveland about ballet as an artform and help create a rich environment for a new regional arts revival.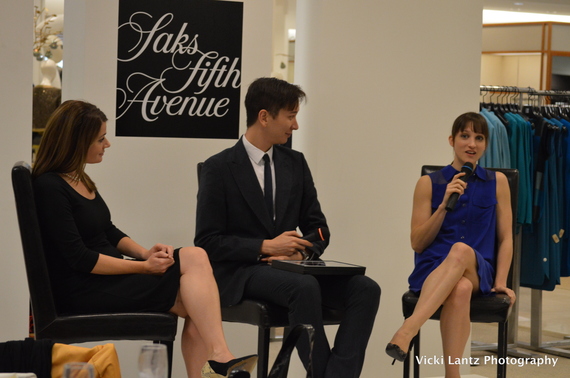 WKYC's Maureen Kyle (far left) moderating a discussion with New York City Ballet's Ashley Bouder (far right) and myself hosted at Saks Fifth Avenue. Photo by Vicki Lantz.
This should not be unique to Cleveland. How can we notch up the conversations with everyone in our communities, regardless of the size or resources available and express that dance is important? How do we find cost-effective ways to present quality live programming in underserved communities? How do we restart conversations with local business leaders and foundations to use the arts again as a system to rebuilding communities? What is the responsibility of young leaders in dance, on both sides of the footlights, to advocate for and nurture a new climate for dance in America?
It's easy as a New Yorker to take for granted the access to dance of the highest calibre -- New York is an Eden of diverse dance offerings by comparison to many other communities. However, the strength of New York dance community is supported by its artists, donors, patrons, administrators -- a vast majority of them transplants from outside of New York. Without grassroots support for access and exposure to high quality arts experiences in every corner of the country, how can expect future artists and arts leaders to have the tools to rebuild strong arts awareness? The case of the "Green Wall" reminds us of the true cliché that we are all connected, and that we need to care for an entire ecosystem to ensure its long-term survival. Once we accept this reality, the need to support groups like Ballet in Cleveland, who are on the arid front lines of this discussion, becomes increasingly key in our efforts to reforest a lush and sustainable national culture of dance.