Alberta Cross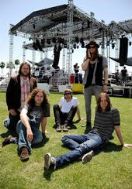 Alberta Cross is the blues-rock quintette founded by Stockholm native Petter Ericson Stakee (vocals, guitar) and Londoner Terry Wolfers (bass) in 2005. Guitarist Sam Kearney, drummer Austin Beede, and keyboardist Alec Higginson round out the Brooklyn-based unit. Alberta Cross has a passionate and profound '70s mysticism amidst sincere rock-'n'-roll swagger. Check out the arresting "Song Three Blues" on their MySpace page--it satisfies. Currently on tour.
Buy: MySpace
Genre: Rock
Artist: Alberta Cross
Song: Song Three Blues
Tour: Visit
Dmitri Shostakovich


Revolutionary 20th-century composer/pianist Dmitri Shostakovich was born in Russia in 1906. Considered a child prodigy, Dmitri began with piano and then moved on to composition. By the age of 19, he penned his first symphony and graduated from the St. Petersburg Conservatory. Dogged throughout his early career by Stalin's minions, he fell into a deep depression after being thrust into the Communist straitjacket in 1960. Along with an Academy Award nomination in 1961, his accolades include the 1966 Royal Philharmonic Society Gold Medal and national awards from Austria (1967) and Denmark (1973). In 1975, Shostakovich passed away in Moscow. His catalog is extensive and brilliant. Start with "Twenty-Four Preludes & Fugues, Op.87: No.1 in C Major (Moderato)" from Great Recordings of the Century - Shostakovich.
Buy: iTunes
Genre: Classical
Artist: Dmitri Shostakovich
Song: Twenty-Four Preludes & Fugues, Op.87: No.1 in C Major (Moderato)
Album: Great Recordings of the Century - Shostakovich
Cory Chisel and the Wandering Sons


Wisconsin-based singer/songwriter Cory Chisel has the voice of an old soul. As the son of a Baptist minister, he grew up with gospel music and his mother's piano playing. His musical army, The Wandering Sons, includes 
Adriel Harris,
 Miles Nielsen,
 Dan McMahon, Adam Plamann, and Noah Harris. Chisel is an authentic artist who knows how to pull tears out of a phrase. The title "On My Side," from his 2008 Cabin Ghosts EP will disarm you. Currently touring.
Buy: iTunes
Genre: Americana
Artist: Cory Chisel and the Wandering Sons
Song: On My Side
Album: Cabin Ghosts EP
Tour: Visit
Sol Hoopii


Hawaiian steel-guitarist/jazz virtuoso Sol Hoopii was born in 1902, the youngest of 21 children in Honolulu. Relocating to L.A. during the roaring '20s, Hoopii started his recording career, creating his thumbprint concoction of jazz, ragtime, folk, country, and blues. He also developed his own guitar tunings. After recording several sides, he devoted himself to spreading the Gospel. His credits include cameo appearances in Bing Crosby and Charlie Chan films. In 1953, Hoopii passed away in Seattle. Remember him with his Appalachian Hawaiian blend "Kauoha Mai," recorded in the 1930s, from the History of Hawaiian Steel Guitar collection.
Buy: iTunes
Genre: Hawaiian Folk
Artist: Sol Hoopii
Song: Kauoha Mai
Album: History of Hawaiian Steel Guitar
Half Cousin


Half Cousin is Scottish-born frontman Kevin Cormack and producer Jimmy Hogarth. Self-described as distorted junkyard pop, this London-based avant-folk electro-unit pulls in unexpected ways. With a million different musical flavors to choose from, including percussive coat hangers and recyclables, Half Cousin is all its own. Collaborations include Hans-Joachim Roedelius, Ingrid Eto (of Zero 7), members of the Mescaleros, and a rotating collective of remixers. Innovative and fearless, "The Diary Fire," from Half Cousin's 2004 debut album The Function Room, leaves the mind full.
Buy: iTunes
Genre: Folk Electronica
Artist: Half Cousin
Song: The Diary Fire
Album: The Function Room
The Chalets


The Chalets are the Dublin-based quintette of Peepee (keyboards, glockenspiel), Pony (keyboards, glockenspiel), Enda (guitar), Chris (bass), and Dylan (drums). Founded in 2001, their music feels like a party that's been going on since the '80s. The Chalets picked up the 2005 Best New Band trophy at the Irish Meteor Awards. But most unfortunately, the unit split up in 2008. Get "Sexy Mistake," from their 2005 release Check In, and blast it.
Buy: iTunes
Genre: Pop/Rock
Artist: The Chalets
Song: Sexy Mistake
Album: Check In