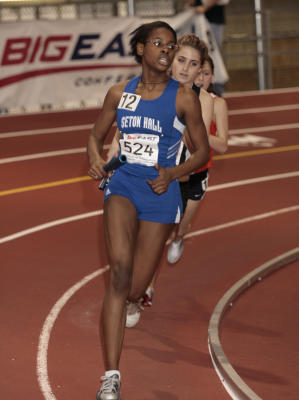 February 24, 2010 marked a sad day in
South Orange
, New Jersey for
Seton Hall University
. This was the day that university President
Robert Sheeran
announced the decision to cut both the men's and women's
track programs
. Reportedly an effort to "ensure sustained athletic competitiveness in the
Big East Conference
," the decision will take effect July 1, 2010. The university estimates a costs savings of $1.5 million. Additionally, the university will add women's golf in order to meet Division I sports sponsorship and
Title IX
requirements.
As a former resident of New Jersey and a Division I athlete, I am saddened by this news. I was born and raised in Orange, New Jersey, approximately two miles from the university. I would often sneak past the security guards and ride my bike around campus on my way to see my grandmother, who lives in Newark. The University's main entrance straddles the boarders of Orange, Maplewood and Newark. So, if you were facing the campus on right you would see huge homes with two car garages, along with lush trees and landscaping. If you looked left you will see liquor stores, police cars, and dilapidated houses. The university is a place where people from both sides of the tracks come to exchange ideas, and its presence is vital to the aspirations of local residents.
In high school, I was All-State in track and football. Throughout my high school career, I competed at Seton Hall, and I remember how excited all the high school athletes were to be in the same facility as the Seton Hall track teams. I can recall plenty of conversations with my fellow student-athletes from surrounding high schools, many of whom aspired to attend Seton Hall and compete in the sport of track. I know the time spent on that track was the only exposure some of my peers had to college, and those experiences spurred an interest in - and opened a gateway to -higher education.
In the early to mid 1990's, Seton Hall enjoyed a variety of success with its athletics teams. As with most colleges in the northeast region, basketball is the premiere sport at Seton Hall. The men's basketball program was in the spotlight as it earned four consecutive NCAA tournament appearances from 1990 - 1994. Despite that high-profile achievement, the track program has had more success than any team at that university - producing 54 All Americans and Big East champions in men's track for each of the past 29 years and in women's track each of the past 22. There aren't many college track programs in the country that had achieved the kind success that Seton Hall had. For any New Jersey high school athlete that wanted to stay at home, Seton Hall was the school to attend.
Today, success in college athletics is not just defined by championships, but the revenue those championships generate. Unfortunately, colleges and universities, like all other businesses, are not immune to the economic downturn.
"Like many universities, Seton Hall has been hit hard by the global economic crisis," President Sheeran explained at a recent event. "As a university, we are faced with difficult choices in which we take no joy." In other words, the decision made by Seton Hall was decision was all business.
In the world of college sports, athletic programs are divided and classified as those that generate revenue and those that do not. Not surprisingly, revenue-generating sports at the Division I level are primarily limited to basketball and football. The important question every collegiate president and athletic director must face is which programs can be used to bring in money to support themselves and other teams.
According to a recent NCAA that examined the financial status of Division I athletic programs from 2004 to 2007, the average total operating athletic expenditure in 2007 was $42.2 million, while the average total athletic revenue in 2007 was only $36.5 million. The economic situation in this country has only become worse since 2007, and today, the majority of Division I athletic programs are operating with a deficit.
This fact is not lost on the NCAA. In his last state of the association address, presented posthumously at the NCAA Convention in January, late NCAA President Myles Brand stated that "just six athletics programs in Division I have been in the black for each of the past five years" and that college athletics programs are facing a "crisis."
Seton Hall stated that its decision will only affect a handful of coaches and student-athletes. The fact is that the decision will have a far more wide-reaching effect, as the loss of a symbolic program in the inner city becomes yet another front line victim of the economy.
Unfortunately, the decision to cut sports programs is becoming fashionable again, just like black skinny ties (equally unfortunate). The college sports world has been here before. When the passage of Title IX and its initial implementation swept across campuses, the simplest solution for universities was to cut men's programs in order to rightfully fund more women's programs. As a result, many opportunities were lost and Title IX unfairly took most of the blame. Title IX is about creating more opportunities for women while not taking away opportunities for men; it is meant to be inclusive rather than limiting in its purpose and scope.
The culprit back then - still present today -- is a lack of commitment to find ways to support athletic programs. Sure, times are tough, but just as other industries in America are finding creative solutions while maintaining their competitiveness, so should our college athletic programs. Just as planning to win on the field includes competitiveness, resiliency and commitment through adversity, so should the plan to win off the field.
Everyone understands that Seton Hall and other universities like them are making pertinent short term decisions. But what about the long-term impact in the community among those for whom this program provided the only gateway to higher education? I guess only time will tell.