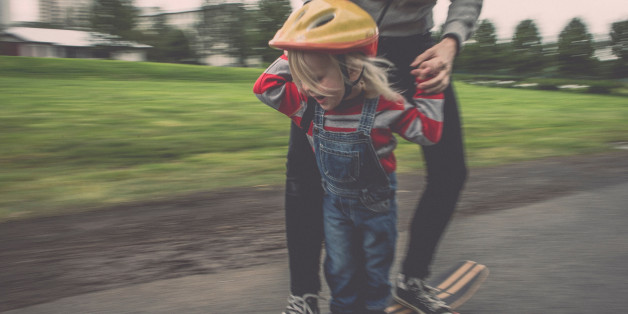 "The Overprotected Kid," Hanna Rosin's excellent article on children's play in The Atlantic, should be required reading for all parents. The starting description of a play area in Wales -- where children wallow in mud, try to swing over a creek on a rope (and often fall in) and even start fires to warm themselves -- will be a form of shock therapy for parents who have been conditioned to think they would go to jail for permitting any of these activities.
America's obsession with safety, as I and others have written, has stunted children's development. It has made play so boring that American children spend hours on the sofa with their video games, contributing to the crisis of obesity. Hovering parents eliminate the excitement and mental stimulation of children taking responsibility for themselves.
By overprotecting our children, experts have concluded, we have subjected them to the far greater danger of not being able to cope with the real risks of adulthood. They will grow up to compete with children from other countries who will be more resourceful and, indeed, if studies are correct, even mentally sharper, than they are.
Safety is a natural urge. Humans are wired to stay in the safety of a cave if hunger doesn't drive us out into the daylight and risks of the real world. I debated someone on children's safety at Yale Law School a couple of years ago who scoffed at the ludicrous suggestion that children should be encouraged to manage risk on their own.
But safety is only half an idea. The question is what we're giving up to get it. Wrapping children in bubble wrap will prevent scraped knees and broken legs. But it will also suffocate them. That's what America is doing to our children. Don't believe me or even Hanna Rosin. Look at the work of Joe Frost, Stuart Brown of the National Institute for Play, Tim Gill (in the UK), Richard Louv (about children and nature), Darell Hammond of KaBOOM!, and Lenore Skenazy.
How do we right this ship? In America's lawsuit-obsessed culture, any accident is sure to result in litigation. Defensive play is standard operating procedure. That's why some schools ban running at recess, and tag. Dodgeball is almost a capital crime. The cure here is a dramatic shift in law: American courts must bar lawsuits over children's accidents unless the judge (or an expert panel) decides that the activity or circumstances posed unreasonable dangers. The standard must no longer be avoiding risk -- risk is often healthy, and attracts children at the same time as it helps them develop resourcefulness. The correct standard is unreasonable danger. Accidents will happen. That doesn't mean someone did something wrong.
There's also a cultural challenge. Parents have no clue anymore what's right or wrong. Just this week, Darell Hammond and I decided to jointly pursue a project to change public perceptions. The safety police have had the tiller for far too long. It's time to take it back, for our children's sake.
For more Howard's Daily posts, visit commongood.org/blog.