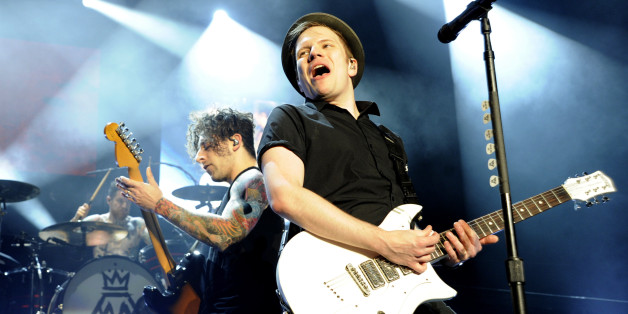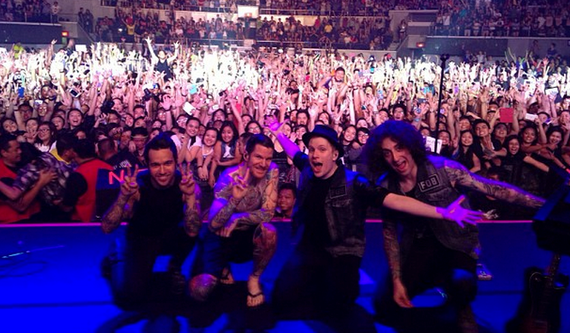 The high octane MonumenTour rocked through Irvine California Saturday night with co-headliners Fall Out Boy and Paramore at the Verizon Amphitheater. The show packed a one two punch as both bands brought their best game to the packed crowd of over 16,000 in the out door stadium.
"We want to thank the fans, because you made this tour possible," said Pete Wentz, bassist and front man for FOB. The words ring true as Fall Out Boy's current album, Save Rock and Roll, debuted at number one last year (their second career number one), which stunned several media critics who had written the band off after a long hiatus.
The 44 date national MonumenTour launched in Connecticut on June 19th and will end on September 12th in Washington state. A recent re-union tour last year by Fall Out Boy for Save Rock and Roll highlights the popularity and impact of the band and that their draw is strong as ever.
FOB stormed through a tight set of pop-rock anthems of heady dissatisfaction with life, love and fame starting with their new single "The Phoenix," then mixed their back catalogue and new hits playing "The Take Over, The Breaks Over," "Sugar We're Going Down," "This Isn't A Scene, It's a God Damned Arms Race," "Just One Yesterday," "My Songs Know What You Did In The Dark (Light 'em Up), songs that have made them famous with their exquisite musicality and soaring vocals by Patrick Stump. A rendition of "Dance, Dance" surprised many fans when Pete Wentz and Guitarist Joe Trohman appeared near the mixing board halfway through the auditorium playing guitar leads to the delight of fans nearby and the rear half of the stadium. Drummer Andy Hurley and lead singer Patrick Stump had an unexpected 'drum off' when the two came sliding out on dual drum sets mid-way through the concert and tore into alternating solos. Other songs off the new album, "Young Volcanoes", "Save Rock and Roll" "Alone Together" and "Miss Missing You," kept the audience on their feet.
The high tech multi-platformed set had massive floating screens with images of the band members from go-pro like cameras attached to their guitars and drum kits. These shots alternated with images to match their songs or words like "God Damned Arms Race" that splashed across the screens as the audience roared the words and the band thundered the song into the night. Many songs were accompanied by a dazzling light show with explosions of fire and fireworks that blasted across the stage and didn't miss one cue particularly on "The Phoenix," "I Don't Care," and "Death Valley."
Aside from the rocket science and musical mastery it was Wentz who took the mike several times to stay real. "You look around and see that things are bad. But it doesn't mean they won't get better. Sometimes it gets darker before it gets light," he shared. One wonders if he's still soul searching about his own suicide attempt in 2005. During another pause Wentz shared his positive outlook; "When you look in mirror and think of your idols and heroes, don't forget to be your own hero," he said to a corresponding roar of delight from the Audience. "Keep doing your art and playing your music. We started in the suburbs of Chicago. If we can make it, you can too!" His comments were always humble, self aware and empowering to the fans in the audience.
The band even took a moment to appreciate the parents in the audience who had brought their kids and Wentz thanked them as the band played "We Are The Champions" Freddy Mercury style for the parents.
Fall Out Boy has returned after five years stronger and more creative than ever. They feel re-fashioned for who they are now without trying to revisit past victories. Good thing too. Hearing them live proves no studio is required to create their complicated sound and soaring vocals, the band was pitch perfect as they roared their melody lines and lyrics past us to the stars.
Opening for Fall Out Boy was Paramore (lead vocalist Hayley Williams, bassist Jeremy Davis, and guitarist Taylor York), the multi-platinum rock band. How can one be both adorable and dangerous on stage? Williams answers this as she hit the stage like a panther, roared her torment and triumph through blistering renditions of their hits 'Still Into You" and "That's What You Get" "For a Pessimist, I'm Pretty Optimistic," and then is disarmingly sweet and upbeat on stage as she engages the crowd, jokes, and laughs with us.
"So for those of you who are new, what took you so long?' she asks. Wearing knee pads, boxing shorts and a sports bra with her familiar red hair now a wild purple she laughs as she looks down at the pit and then up to the back row and says 'wow, people from here - to as far as you can see! Now that's a show!" She laughs telling of being driven in a 12 seat van by her dad to her first gigs at Chain Reaction in Anaheim appreciating how things had changed. "But it wasn't always easy. It's been a roller coaster ride. But roller coasters are fun, right?' She then played "Last Hope" which she said was written at a low point for her and the band and how singing it saved her during darker times.
The band tore through their high energy play list crossing back and forth from a punk rock edge to pop sensibility with "Ignorance," "Pressure" and "Decode," a single released from the Twilight soundtrack. The band also wasn't afraid to be more lyrical with the love song "Only Exception." Then it was back to business with "Last Hope, "Brick By Boring Brick," "Let The Flames Begin," and other great pounding dance songs. A high point of their set was when Hayley brought two young fan girls on stage to sing the bridge of their hit "Misery Business" alongside with her.
Confetti and streamer cannons shot periodically through the band's high energy set filling the sky with a Times Square News Year's Eve worth of paper. Paramore closed for the night with "Proof," and "Aint it Fun" and kept the audience on their feet dancing throughout their performance.
The two bands mix well. Hayley happily noted seeing fans wearing shirts from both bands side by side and thanked them all for being fans that could support both bands.
Each band did a solid 75 minute set giving their all, and either band would have been a worthwhile evening. Paramore jammed out 14 songs, Fall Out Boy thundered through 20 in almost the same time. To see both was a great night of cutting edge pop music.
The young band New Politics started the evening with eight songs and delivered a great energy as well.