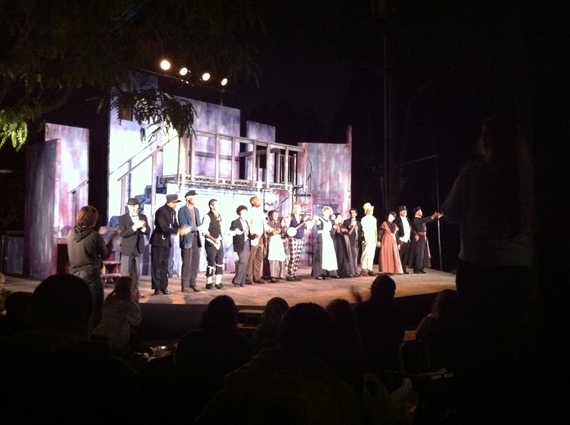 I grew up in New York City where Free Shakespeare in the park and the Joseph Papp Theater became a summer institution not to be missed; one of the many magical things about New York. Imagine my delight as a now loyal Los Angelino when I discovered the Independent Shakespeare Company Los Angeles and their extraordinary free summer program in Griffith Park with their returning ensemble of well versed multi-talented performers.
I've been watching the ISCLA's summer program since 2010 enjoying the tragedy and comedy onstage while experiencing the tragedy and comedy of my own picnic dinners which have become more and more elaborate. Quote from my then eleven year old son on their Macbeth last summer after the bloody finale: "Dad that was in the top five things of anything I've ever seen!" And this from a kid with a PS3. How's that for cultural impact?
David Melville and Melissa Chalsma, the co-founders of the company, started their first summer program over ten years ago in a smaller park, on a smaller stage with an $800 budget. "I had to jump off stage as Hamlet and stop a soccer game that was running towards our audience," says David thinking back to those days. The two met onstage in the 1995 production of Hamlet starring Ralph Fiennes. "I was 'woman in back row'," says Melissa who directed this year's festival's "Twelfth Night" which opened last Thursday, and stars as Kate in "Taming of the Shrew" their second play this summer. The couple married 10 months after meeting on Broadway and now have two children. They are also the co-creators of what has the feeling of the start of a Los Angeles institution. No small feat.
"It may feel like an Institution, but it's completely grass roots," says David. Melissa agrees; "All those people giving us $20 or anything they can. It's what actually keeps us going." Their current budget for this summer's festival is $350,000. Quite a jump from where they started. But they have to pay city staff during each show, pay their actors, pay for light and sound equipment, the list goes on. When I met Melissa she was unweaving material that had been sewn into her sweater which had been just used as wardrobe. And David recalls seeing an actor on stage in a nice jacket that he thought might look good on him. Then he realized it was his jacket. To mount this program every year is a challenge. And to move ahead with such brazen positivity when they're not sure where the budget is coming from is quite a commitment. "Classical plays should be readily available to all," it says on their website. "Like all great art they are a vital part of forming bonds within our community as well as to the past." They practice what they preach.
I visited them at their rehearsal space in Atwater Village a week before opening night in small comfortable space lined with racks of costumes and props. Part of the unusual fun of getting to see a returning ensemble cast is recognizing the players as they evolve through different characters year after year.
Imagine my delight when I entered to see Macbeth (Luis Galindo) sitting on a couch next to Dogberry from Much Ado About Nothing (Danny Campbell) and the Queen from Hamlet (Bernadette Sullivan) all chatting during their lunch break.
Melissa was directing the final scene of Twelfth Night with the full cast and the big question was 'how does Malvolio enter? David, who alternates directing and performing duties with his wife threw out some ideas, as did other cast members. The free and easy style is unusual in an industry where theaters can have rigid hierarchies. Yet this is part of their unusual design. "Most theaters release the cast after a show and re-cast new people when the next one starts," says Melissa. "We have a troupe, a regular company who we know so well." David points out that their growing following starts emailing them when they announce their summer shows and tries to guess which actors will be cast in what rolls. "It's a great side to it," he says.
They also try to keep the shows approachable. "Shakespeare's fool (Feste) in this show is joking about events and politics from 400 years ago that no one knows about," he says. So they make sure to take the liberty of a few modern ad libs, as well as a minimalist and modern costuming style. Their art design is neither period, nor contemporary, but somewhere in the middle; late Victorian or early 20th century, and it works.
Watching the show opening night was another deliver on a promise. Yelling out to the crowd as he welcomed them, David was greeted by a roar of applause. Then he began the show which started in twilight and ended under the stars as Shakespeare's confused and bedraggled company finally confronted one another and found happiness. The performer's love of the material is effusive and their enthusiasm is contagious. At each show the troupe surprises and delights. They will possibly step over you as all of their world is a stage including the audience. Sitting out in nature watching Shakespeare's plot lines crash together makes one feel transported back to a time when the work was current events.
At the finale the crowd cheers and rise to their feet. Afterwards they greet and congratulate the performers who stay on stage to interact with them and happily accept donations they desperately need.
Melissa comes out and stands next to David. She's beaming. "This is our biggest opening yet," she says smiling, with a look that says, "It's all going to happen somehow."
Maybe they are an institution after all and she just doesn't know it yet.
The Independent Shakespeare Company's program runs through the summer in Griffith Park and now winter at their Atwater location as well. They can be reached at www.iscla.org, for their summer schedule, donations, new winter program and yes, even auditions.