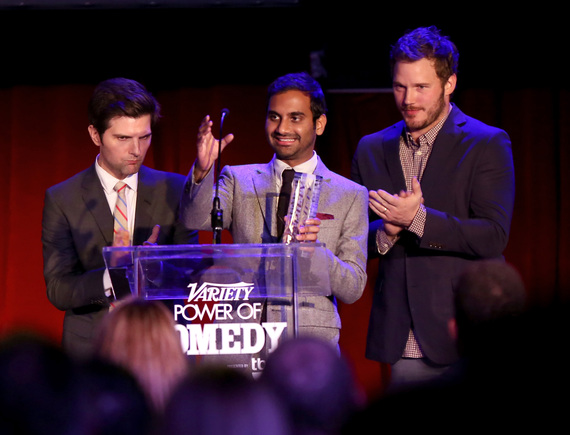 (L-R) Actor Adam Scott, honoree Aziz Ansari, Actor Chris Pratt
Aziz Ansari, riding a well deserved wave of popularity coming off the closing season of Parks and Recreation this year as well as his very successful national touring, received Variety's Power of Comedy award Thursday night at the Belasco Theater in Los Angeles as part of the Noreen Fraser Foundation's benefit to fight and raise awareness for breast cancer. The event was presented by TBS. "I'm very honored to be getting this. Noreen should be getting an award, not me," said Ansari holding the award at the end of the night. "She helps with drug research to fight cancer, and I'm being told it's so great I have tons of twitter followers. Not really the same thing."
Noreen Fraser gave a powerful speech about her own ongoing fight with cancer. Diagnosed years ago with stage four breast cancer she was told she had three years to live. "My kids weren't even in high school yet," she told the capacity crowd at the banquet tables at the Belasco Theater. "Both of them have now graduated college," she said to applause. Ten years later she's still fighting for a better cure for all cancer victims and survivors through her own foundation the Noreen Fraser Foundation.
Aziz told me he had performed at this event two times before in its five-year history, but said receiving the award tonight meant a lot to him. He's been having a good year with ever more recognition, but the next day he was shooting the very last production day of Parks and Recreation. "It's hard to believe it's over, but I'm really looking forward to what possibilities come next," he said. He was able to give back in his own way at this event by making sure the evening's line-up were up and coming comedians, all who have careers of their own, and who are all personal friends.
It's quite a challenge for a comic to stand before a cancer foundation and entertainment executive crowd and make 'em laugh. More than once, performers stopped and leaned towards us sharing their existential confusion: "I'm not really sure what material is exactly appropriate for this crowd," we heard several times, as performers then went fearlessly into their bluest material which is exactly what was needed to keep the three story theater filled with laughter.
Stand outs of the evening were Jerrod Carmichael, with lines like: "I'm on phase one of being a better person, which is just announcing it." And Rory Scoval with observations like: "I used to be a religious person, then I did mushrooms so that part of my life is pretty much over." Watch out for these two names, they don't just bring jokes, but bring their own altered view of the world. Comedians Nick Kroll, Joe Mande and others kept the evening moving at a brisk pace and made it a great success.
Belly laughs are their own cure and the evening brought a great awareness to a great cause as well.
More information on the Noreen Fraser Foundation at the Noreen Frasier Foundation

PHOTO CREDIT: Getty Images for Variety