Each April, The Office of Victims of Crime helps communities in their annual observances of National Crime Victims' Rights Week by bringing public awareness to victims' rights and honoring crime victims and those who advocate on their behalf. Crime Victims' Rights Week was established in 1981 by Ronald Reagan as an initiative to provide for victims of crimes.
Observances are held April 6-12 and this years' theme was "30 Years: Restoring the Balance of Justice." Community members are encouraged to get involved in helping victims of crime.
Last week I attended the National Crime Victims Rights Awareness event in Alturas, California. The event was held on the steps of the Modoc County Courthouse in front of a small gathering of the local community.
Modoc County District Attorney, Jordan Funk, addressed the small gathering and spoke on the importance of protecting the rights of crime victims as well as providing services to those affected by crime. Mr. Funk went on to say that "...from the Judicial side, the emphasis seems to be focused on the defendant" and that more needs to be done to protect and assist victims of crimes and their families.
Robin Farnam, the Director of Victim Services for Modoc County, was presented and award for her continuing efforts and achievements in providing guidance and assistance to victims and families.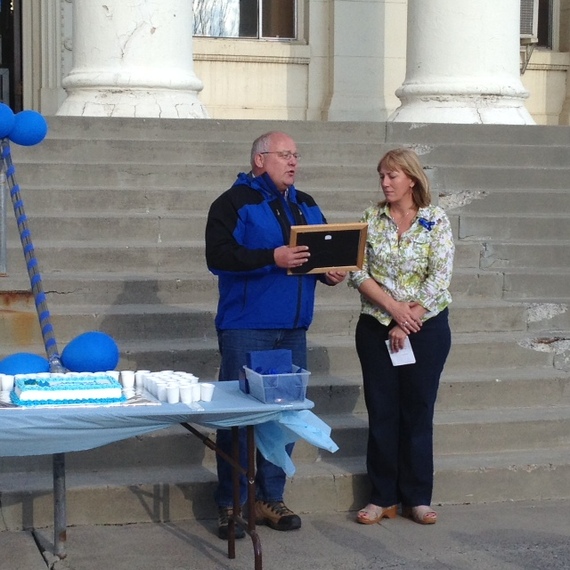 Also recognized was Modoc County Sheriff, Mike Poindexter (right) and Ken Barnes, Chief of Police for the city of Alturas (left).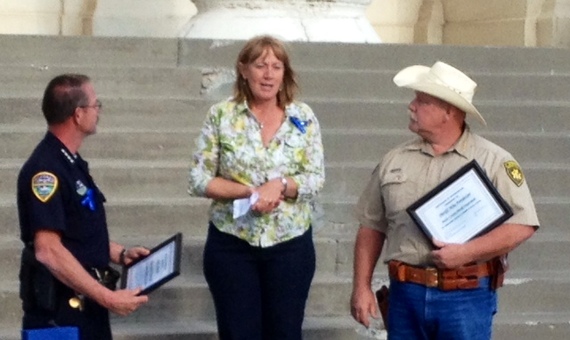 While I'm sure we've come a long way in thirty years in assisting and protecting the rights of crime victims. I know all too well from personal experience that we still have a long way to go. In the aftermath of the recent homicide of my wife Shelia, I've come across a myriad of misinformation and bureaucracy in dealing with the California Victims' Compensation program. Because I live in a remote town in California, I had a difficult time finding a therapist for grief counseling. The nearest psychologist was a good 100 miles away from my home. Ongoing telephone or skype sessions are not covered under the current program. In order to get them, I would need to get special approval. A process which entails sending in yet even more letters, faxes and paper work at a time when I have very little emotional wear with all to deal with red tape. Especially considering the past month was consumed with dealing with police, funeral directors, Veterans Administration, banks, insurance companies, the list goes on.
In their defense, everyone that I've spoken to at Victims' Services has been caring, compassionate and willing to do whatever it is within their means to get me the assistance that I need. However, I'm sure that they're bound by the system that they have to work within and most likely are under staffed and underfunded. Which is why we need to increase awareness to the needs of victims and not just hand out plaques.