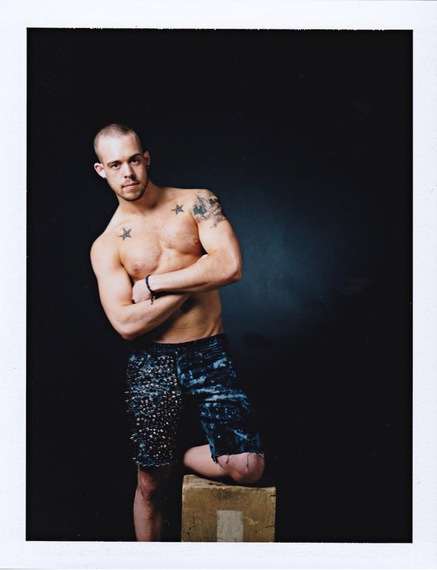 I've been aware of Studmuffin NYC by Kyle Brincefield for a while. He frequently collaborates with my first interviewee, Scooter LaForge, and I've been seeing his brand blow up this year. He was kind enough to hang out with me for a while, so I ended up with far more interview than space allows. Please check out the slideshow to learn more about all the things Kyle is working on right now.
Phillip M. Miner: So where are you from?
Kyle Brincefield: I grew up in Fort Wayne, Indiana, and always had dreams of living somewhere else. After my first visit to New York, it was the only place I could see myself living. I still get excited to live here. I went back home and started saving money to move and left when I was 18 or 19.
I fell into what I'm doing now by wearing my clothes out. I was working at Barracuda in Chelsea and wearing the clothes I made. Pretty soon the DJs and drag queens wanted their own. I never considered it a career path for me, but I was poor and was like, "Let's make some extra cash!"
After that I got picked up by Pat Field! I never imagined knowing Pat Field, let alone working closely with her. From then on it was my focus. I had such a niche with the studs and the spikes. I was working two or three jobs back then, but little by little I would drop another job. Now it's the only thing I do. I sit around and watch TV and stud. [Laughs.]
PM: When did things really start taking off?
KB: I think it was Fashion Week. I had my first show at the Spring/Summer '15 New York City Fashion Week. I think of that collection as my "Welcome to the World" collection. I decided to invest in my brand and get on the fashion calendar. Pat Field was a huge help. She opened up her space for me, which is perfect for a downtown, edgy, streetwear brand. I was lucky enough to work with Pat's PR people, and they helped me out with contacts, so a lot of press came. It was one of the best nights of my life. After that I started getting calls from people asking to pull pieces to see on their models, and before I knew it I had clothes out with Cosmo, ID, Adon, GQ, Vogue.
PM: What kind of people are being dressed in your stuff?
KB: It's really fucking all over the place. It's been everyone from Miley Cyrus to Missy Elliot to Emma Watson to Adam Lambert to Nick Cannon. I'm honored. It's great to see my brand transcend through genres.
PM: Do you think part of that is because fashion is transformational and your clothes are so punk that anyone who wears them takes on this new persona?
KB: Absolutely. The clothes I make are what I wear when I go out. I'm somewhat of a shy person, but I do like to dress in these extreme, extravagant, loud, and flashy clothes and become a different personality.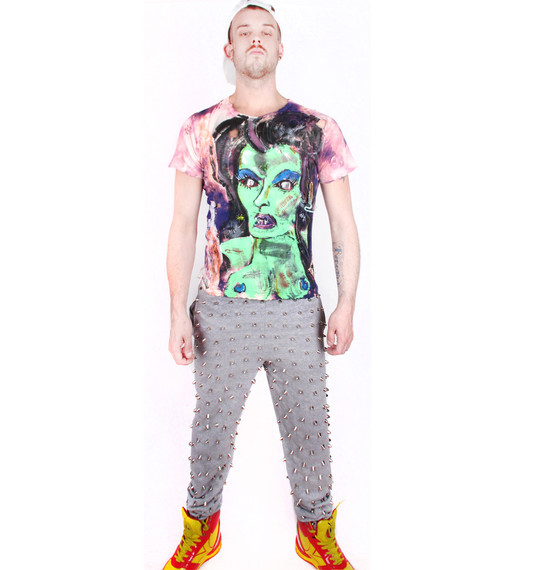 PM: Because these clothes are your personal style, do you feel a connection when you see people in your stuff?
KB: Totally! I see people on the subway and they're wearing my clothes and I want to run up to them and say something, because it's such a cool feeling. I mean, someone saw my style and vision and decided to pay for it! [Laughs.] It's so great, because I never know what anyone looks like who buys my clothes. Since I hand-make everything, I know every piece. When I see it, it's like, "Wow, that's who's wearing it now!"
PM: It's like an army of Kyles running around! How big do you want your army to get?
KB: I would love to keep growing the business. Each year I grow just a little bit more. I would love my own studio and showroom, with a few interns working for me. But people just aren't throwing money at new fashion brands. In 2005-2007 you'd have companies giving money to fashion startups. It's changed. All the advice I get now is "Grow your business slowly, and don't invest anything crazy."
PM: Wait, you have a huge output. You do this all yourself?!
KB: Yes! For shoots they'll ask me to messenger stuff over, and it's just like, "Well, I'm the messenger, so you can give me the details." I think there's a misconception that my brand is a lot bigger than it is because of the press. And that's awesome. I'll go with it.
PM: What is it like to be a startup fashion brand?
KB: I'm poor as hell! [Laughs.] It's up and down. Right now I have a lot of people who want to sell my clothes but not pay me until at least a month later. It's a lot of chasing. My life is emailing and calling and shaking down people for money.
PM: Can you imagine doing a toned-down, mass-produced collection?
KB: Every artist, no matter what they say, wants to make that kind of money, so yes, I would totally do something like that. There are 13-year-olds wearing my clothes now; I should figure out how to break into that market. [Laughs.] I'm kidding, kind of, but I love doing collaborations. I just collaborated with Vogue and am working with Nasty Pig, Converse, and Scooter LaForge for some upcoming stuff. But there will always be one-of-a-kind things coming out of my studio. That's just who I am. My commissions for crazier things are always my favorite to do, and when I'm working on a Fashion Week collection or one-of-a kind pieces, it's the only thing I want to be doing.
PHOTO GALLERY
Studmuffin NYC by Kyle Brincefield
Learn more about Studmuffin NYC here, and be sure to follow them on Instagram @studmuffinnyc.